The Ultimate Kitchen Gadgets Recipe Bundle. Featuring ALL our air fryer, instant pot, slow cooker, and soup maker recipe archives.
Have more than one kitchen gadget?
Want instant pot recipes and air fryer recipes?
Looking for lots of new recipes to use in your kitchen gadgets?
Want your favourite Recipe This recipes in PDF?
Love a special ebook deal!
If you answered YES to any of these questions, then the kitchen gadget cookbook bundle is PERFECT for you!
We're the Milner's.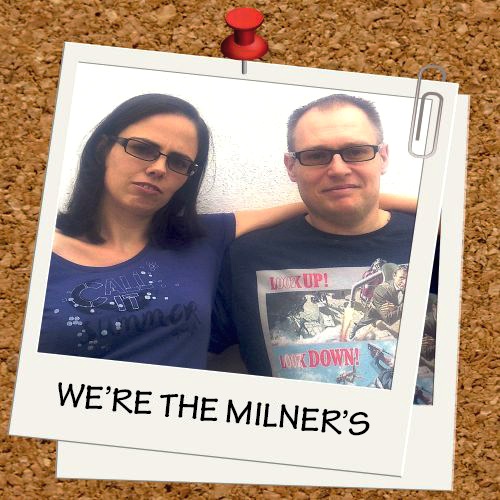 I am Samantha and along with my husband Dominic and son Kyle, we run RecipeThis.com. Our 2 youngest children Sofia & Jorge are our chief recipe testers.
We blog about lots of different kitchen gadgets from our home in Portugal and wanted to share with you today our fantastic ebook mega package that shows you how to cook all your favourite meals in your four favourite gadgets.
Why A Cookbook Bundle?
As a food blogger, there is a yearly bundle I buy every year. It gives me lots of new ebooks to read about blogging and I always look forward to it each year. But it occurred to me that there is a lack of bundles for people like you and me that own kitchen gadgets.
A bundle where you can buy lots of kitchen gadget recipes together in one big pack and then use them as you need them.
They would be ad free and you could pick and choose your favourites.
That is why I created one for you and this is what the ultimate kitchen gadgets bundle is all about.
The Ultimate Kitchen Gadgets Recipe Bundle Includes:
Air Fryer Recipes – Our best seller with more than 300+ popular air fryer recipes to choose from. Many of these air fryer recipes are diet friendly too. With many options for vegans, paleo, keto and WW followers.
Instant Pot Recipes – Including 200+ of our Instant Pot Recipes. Perfect for all brands of electric pressure cookers. Nearly all are beginner friendly too.
Soup Maker Recipes – Every soup maker recipe we have made so far. A delicious soup machine starting point with plenty of recipe inspiration.
Slow Cooker Recipes – Featuring every slow cooker recipe we have cooked so far with lots of classics and some modern slow cooker recipes too.
Best Air Fryer Recipes
It features all our air fryer recipes. Out of all our kitchen gadgets we have the most air fryer recipes and you will find well over 300 air fryer recipes included in this bundle. We use the Philips Air Fryer, Cosori Air Fryer, and our new addition of the Ninja Foodi, in the Milner kitchen.
Here are examples of 10 of the air fryer recipes that are included:
Frozen French Fries
Homemade Onion Rings
Hot Dogs
KFC Chicken
Roast Chicken Dinner
Vegetable Fries
Double Cheeseburgers
Apple Pie
Boiled Eggs
Chicken Wings
Best Instant Pot Recipes
Our second kitchen gadgets for the most recipes is our instant pot. At last count we had 200 instant pot recipes and it is growing. We love our instant pot and have owned instant pots since late 2016 and would be lost without it.
Here are examples of 10 of the instant pot recipes that are included:
Broccoli
Frozen Vegetables
Rotisserie Chicken
Cauliflower Cheese
Whole Butternut Squash
Meatloaf
Mashed Potatoes
Egg Bites
Boiled Eggs
Beef Stew
Best Soup Maker Recipes
We notice that not everyone has an instant pot and instead many have soup makers instead. Popular in the Europe, Australia, and Canada, we have many people that visit Recipe This each day for our tried and tested soup maker recipes.
Here are examples of 10 of the soup maker recipes that are included:
Broccoli + Stilton Soup
Speed Soup
Cauliflower Cheese Soup
Mushroom Soup
Sweet Potato Soup
Beetroot Soup
Chicken Soup
Vegetable Soup
Spinach Soup
Homemade Tomato Sauce
Best Slow Cooker Recipes
It features all our slow cooker recipes. With something for everyone and you could use a classic slow cooker or the slow cooker that comes with your instant pot.
Here are examples of 10 of the slow cooker recipes that are included:
Pulled Pork Sandwiches
Chinese Spare Ribs
Doner Kebabs
Shredded Chicken
French Onion Dip
Greek Chicken Thighs
Hunters Chicken Stew
Brazilian Chicken Casserole
Butter Chicken
Vegetable Korma
Kitchen Gadget Recipe Bundle Highlights
600+ Recipes – Exclusively created by the Milner's team at Recipe This. We don't steal recipes from the internet like so many people do with ours.
Imperial & Metric – We have worldwide customers at Recipe This and we like to help you all and that is why all recipes feature both imperial and metric.
Recipe Photos – Every recipe featured in these ebooks include the recipe photo, so you know exactly what you are going to get!
Zip File – Your kitchen gadget PDFs will be delivered in organised folders making it perfect to plan which recipes you are going to use first.
This Recipe Bundle focuses on a lot of popular kitchen gadget recipes. Do not expect to find recipes with weird ingredients such as potato starch. Only regular ingredients for the lady or gent next door.
All our kitchen gadget recipes work with any brand of the gadget. You can use our instant pot recipes in a Power King Pro or Mealthy. Just like you can use our air fryer recipes in the Gowise and not just the Philips brand of air fryer.
Our archive cookbooks are only available in ebook format.
This is great for you because you can download the ebook to your computer, laptop, tablet, or phone. Then print off a recipe as and when you need them. I also love to have my phone in the kitchen when I am cooking, and I can quickly glance at cooking times as I make dinner.
But even better it saves you waiting for a book to arrive and you can literally start reading our ebooks in a couple of minutes from now.
It is also priced at JUST $45.00, or $75.00 with lifetime updates. Simply click on the banner below for instant access to our ecookbook bundle:
This ebook bundle is downloaded in a Zip file loaded with PDFs. It downloads instantly after payment. You will also receive an email with your download details.