How To Use Instant Pot Settings? Today on the podcast, I wanted to talk about one of my favourite topics, that is the instant pot settings, what each of those instant pot buttons mean, and which ones you really need.
This instant pot Q&A is also featured in the Magic With Gadgets Podcast. Simply search for Magic With Gadgets on your preferred podcast player, then scroll to episode 21 of season 2 to access this awesome episode.
Instant Pot Buttons
Picture the scene. With great excitement you purchase your first ever instant pot pressure cooker after someone else telling you how amazing they are. It is delivered on next day delivery, and you have this great instant pot sat in its box.
With great excitement you open your box, get out your instant pot, do the instant pot water test and then take a look at all those instant pot buttons.
Then you are feeling overwhelmed, wondering now what? and what each of those instant pot buttons mean and its like information overload.
That is why on the podcast today we are answering your top question and that is how to use the instant pot settings, what they all mine and which ones you will really use.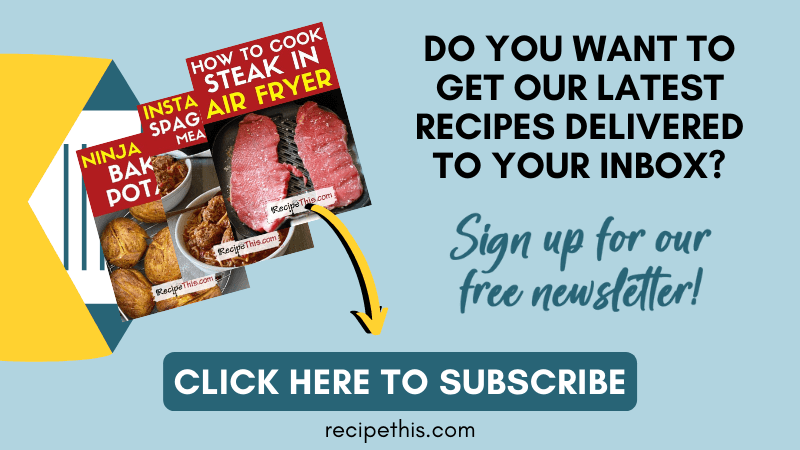 Understanding Instant Pot Settings
The first thing you need to do, is get a greater understanding of the instant pot settings, that way you know before beginning recipes, which buttons you really need and which ones you will never use.
This is when a confession comes my way…. I have been using the instant pot for 5 years and have cooked more than 300+ delicious instant pot recipes and I have still not used every button on the instant pot.
Among the instapot settings I have never felt the need to use:
Multigrain
Delay
Keep Warm
Pressure Level
I have also got an older instant pot, so I don't have one with cake or egg on it either.
You will also find that five years from now, you will not have used every single button on the instant pot and that is okay too.
Instant Pot Settings You NEED
There are instant pot settings that you will need to focus your attention on. And these are the same set of buttons that EVERY instant pot user needs.
Pressure Cook – This is the button that you use to cook on manual. I.e. you are not going to use a preset and are just going to go straight in and hit pressure cook.
Sauté – It amazes me how many times I use this and it's a great feature of the instant pot pressure cooker. What is does is just what is says, you get to sauté your food first using the instant pot before you jump in with a pressure cook. I find this very useful when I am travelling and used this when making instant pot garlic spaghetti.
Cancel – Once you have finished your sauté, you will need to hit the cancel button. Or when you have finished a pressure cook, you also hit the cancel. Its just a quick way to tell the instant pot that you are done.
Adjust – The + and – are essential for when you want to increase or decrease the cook time. I again use these a lot because I prefer to use the pressure cook button above using a preset.
For example, here is Chef Dom adjusting the time whilst making some homemade yogurt in the instant pot.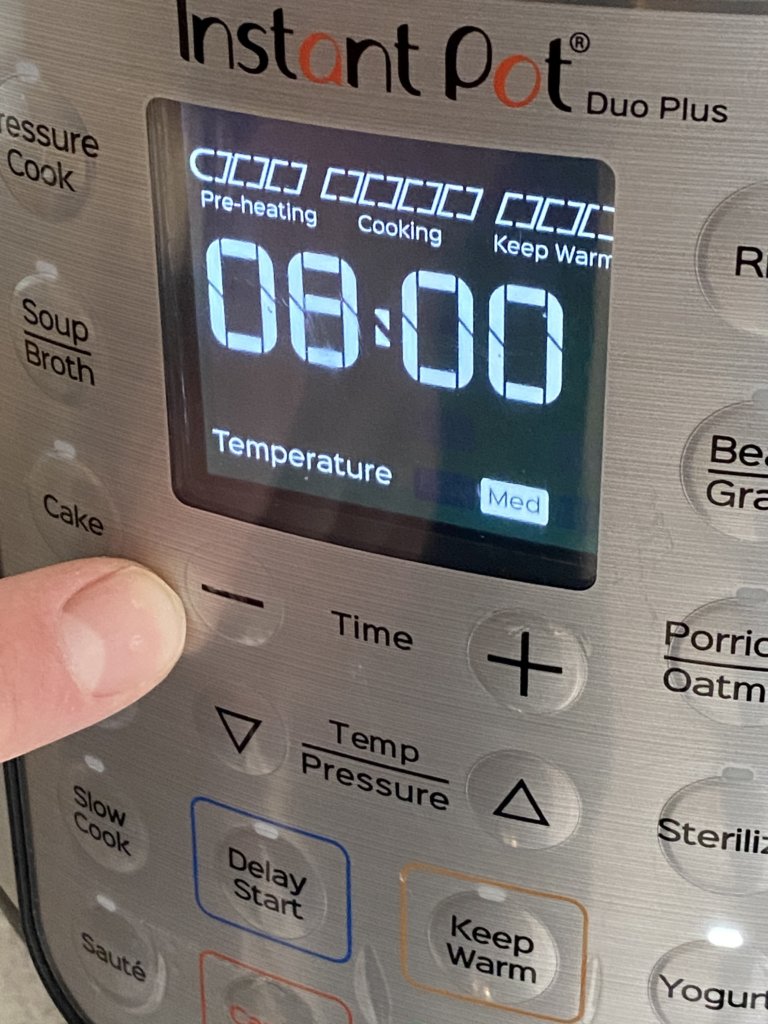 And those are the buttons that are going to be part of your day to day cooking with the instant pot.
More Instant Pot Settings Explained
Then beyond the favourite four here are explanations for the other instant pot settings that you may or may not want to use.
Let's start with these:
Soup/Broth
Meat/Stew
Bean/Chilli
Poultry
Multigrain
Porridge
Steam
All of these are simple presets that you can use for different types of foods that you will be cooking in the instant pot. For example, you have the instant pot soup setting and you might use that when making a batch of instant pot butternut squash soup, or because it also does broths you could use it for a homemade instant pot vegetable stock.
But with the instant pot soup setting or the poultry setting on the instant pot and probably the rest of those above, those cook times are not necessarily the ones that you would personally do.
For example, the instant pot stew setting preset is 45 minutes but on some of the stews I cook I need 60 minutes because the meat I am cooking is rather tough.
In this case, I can either use pressure cook and adjust the time to 60 or use meat/stew and take the time up to 60. In a way they are doing the same thing and solving your problem in the same way.
Its important that you learn that even though these instant pot buttons are helpful, they are not always set in stone for the cook times you need to achieve.
What is interesting is the instant pot rice button, as it's the only preset on the instant pot pressure cooker that runs on low pressure. It is assumed that you will be using it for white rice and need a low pressure cook.
But of course, I much prefer instant pot brown rice and this cooks on high pressure. Though when I do the brown rice, I just use the pressure cook button and then manually set the time.
There is also the slow cooker button. This is a button that we recommend you don't use until you are confident with the instant pot as its not like the same level of heat that you get from a regular slow cooker. You need to press more and then their high is still not quite high enough compared to my favourite slow cooker. But the slow cooker setting is FANTASTIC for a keep warm, even though you have one of those too!
That of course leaves the yogurt button which is how you can make yogurt in the instant pot pressure cooker. We love it and you can simply use the instant pot to incubate the yogurt.
You also have a delay for delaying when the instant pot starts, and a pressure cooker level. For the pressure cooker level my advice is that 99.99999% of recipes are on high pressure and its very rare you will want to do a low pressure recipe.
What Is The Manual Button On The Instant Pot?
Now this is my BIG complaint with the instant pot and one that drives new instant pot owners absolutely CRAZY!
That is with the original instant pot pressure cooker you had a manual button. It is often referred to as manual button on instant pot or manual setting on instant pot.
It is what the instant pot called it before they renamed it to pressure cook.
I prefer the word "manual" as I feel it explains it much better. You see if you are not using a preset you are manually setting the time and pressure on your instant pot.
I am not sure exactly when they made the change but my original instant pot was purchased in 2016 and my second in 2017 and both of them have the instant pot manual setting.
Though my newer instant pots now have pressure cook instead of manual.
Of course, there was a lot of instant pot recipes published and many people still operating on these old instant pots, this means you will often see an instant pot recipe that says press manual.
Instant pot no manual button problem is now solved!
How To Set Cooking Time On Instant Pot?
If you would like to know how to set cooking time on instant pot, or how to set instant pot to high pressure then its easy peasy lemon squeezy as they say!
Place the lid on the instant pot and make sure it is set to sealing.
Then press the "pressure cook" or the "manual" button depending on which instant pot model you have.
Then the time will come up.
Then adjust the + or the – to get to the cook time you need.
Then if you have a newer instant pot then press start, or if its older just wait for the instant pot to make a beep and go to "on".
For example, our newer instant pot has a start button something we have had to get used to after never having one before.
And that is it!
And this is how it will look with the on button and when the instant pot has taken note of the buttons that you have pressed.
You now have instant pot easy instructions. You now know the basics of how to use the instant pot step by step and are ready to cook some great things in the instant pot.
I now recommend that you start with our 101 instant pot recipes for beginners or make some instant pot caramel as that is the easiest instant pot recipe EVER.
Did You Know We Have A Podcast?
We started the Magic With Gadgets podcast in the January of 2021 as a way to offer a different way to enjoy Recipe This. It focuses on cooking with kitchen gadgets. You can find out more about our podcast here.
With twice weekly episodes through September to December. This is episode 21 of the second season and you have the choice between reading this post, listening to the podcast or both.
If you would like to stay in the loop with our podcast, I recommend you subscribe below:
How To Listen To This Podcast Episode?
You can use the player above to listen to this episode of Magic With Gadgets. Alternatively search for Magic With Gadgets on your favourite podcast platform or click the links below:
Subscribe & Review
Thank you for listening to the Magic With Gadgets Podcast. Have some feedback you would like to share? Want to be featured in a future episode? Want to help us spread the word?
Browse other episodes (access them all here)
Leave a comment below the blog post
Share with your friends on social media
Share your thoughts in our Facebook Group (you can sign up here)
Ask me a question or submit a guest request by filling out the form below
If our podcast has helped you, please leave a review on iTunes. Your reviews help spread the word and without reviews our podcast will not get seen. Plus, I love reading each and every one of them.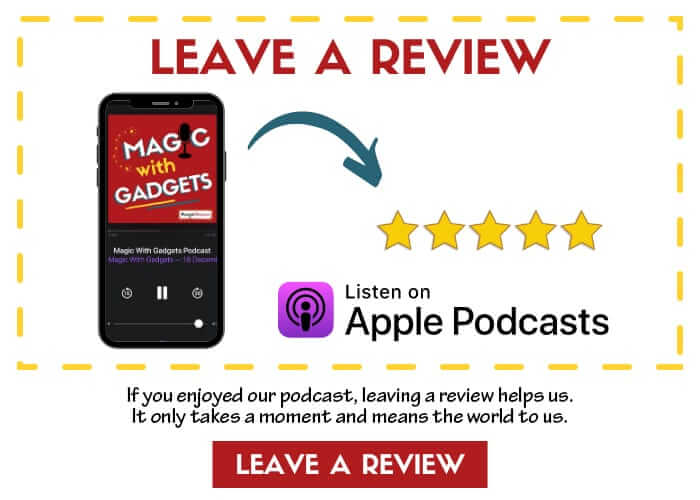 Can't listen now? Then pin it for later!