Instant Pot Cooking Times. Learn how long to cook the most popular foods in the instant pot pressure cooker. This instant pot cooking chart is easy to print and download and perfect for beginners to the instant pot. After printing this pressure cooker cheat sheet, place it on your fridge or in your recipe binder for easy reference during instant pot cooking.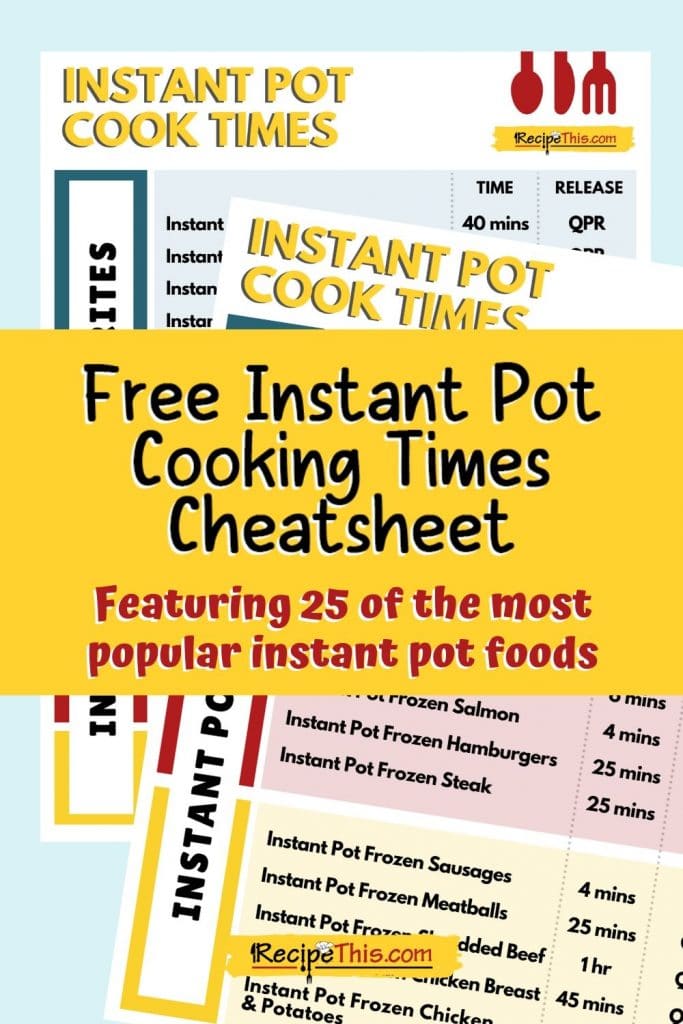 Instant Pot Cooking Times Cheat Sheet
First thing is first, what would you call it? I call it my instant pot cooking times cheat sheet, but you might also call it:
Instant pot cooking times
Instant pot cooking chart
Instant pot cooking times chart
Instant pot cheat sheet
Instant pot cooking times cheat sheet
Instant pot cooking times PDF
Instant pot cooking guide
There are probably a hundred different names for it. But essentially it means the same thing. It is a printable instant pot PDF that lists the top instant pot recipes and their cooking times.
An easy reference that you can re-use as many times as you like when you are about to cook dinner in the instant pot.
Instead of scrolling through a long instant pot recipe, you just want to know the cook time and that is when our instant pot cooking cheat sheet becomes your new best friend.
Even better it is totally free, and you can store it on your laptop, tablet and phone as a PDF and print it too if you wish.
When we took our instant pot travelling for a full summer, I took a printable with me. It listed lots of my favourite instant pot meals and then I didn't need the internet to check the cook times.
How Fast Does Instant Pot Cook?
The instant pot cooks much faster compared to other cooking methods. My favourite comparison is instant pot caramel. You can grab a can of condensed milk and it will turn into caramel in 40 minutes. Compare this to the 4 hours option on the stovetop and you have a massive time saver.
Or I love to make soup maker butternut squash soup, but it takes almost half an hour. Cook instant pot butternut squash soup and its about 5 minutes.
How Long To Cook In Instant Pot?
The speed that food cooks in your instant pot comes down to the food you are cooking and how full your instant pot is.
For example, steaming a small amount of broccoli will not take long to come to pressure and then your cook time combined will be very low.
BUT, if you made a massive pot of instant pot irish stew, then you will have a long wait for it to go to pressure as there is a lot of food to warm up, before it begins pressure cooking.
Also, if you use warm water in the instant pot, it will come to pressure quicker than using cold.
Then of course food like instant pot steamed broccoli has a low cook time and stew has a long cook time.
If you are just wanting to cook vegetables then you don't need to put it in the instant pot long before dinner, but with a stew factor in a 90 minute cook time.
Though in comparison to the slow cooker 90 minutes for tender stew is still amazing.
Instant Pot Manual Cook Times
There is often a debate over whether you should use the instant pot presets or stick with instant pot manual cook times.
Well here at Recipe This we mainly use the instant pot manual button. Or in the newer instant pot models this would be the button called pressure cook.
Instant Pot Cooking Times Chart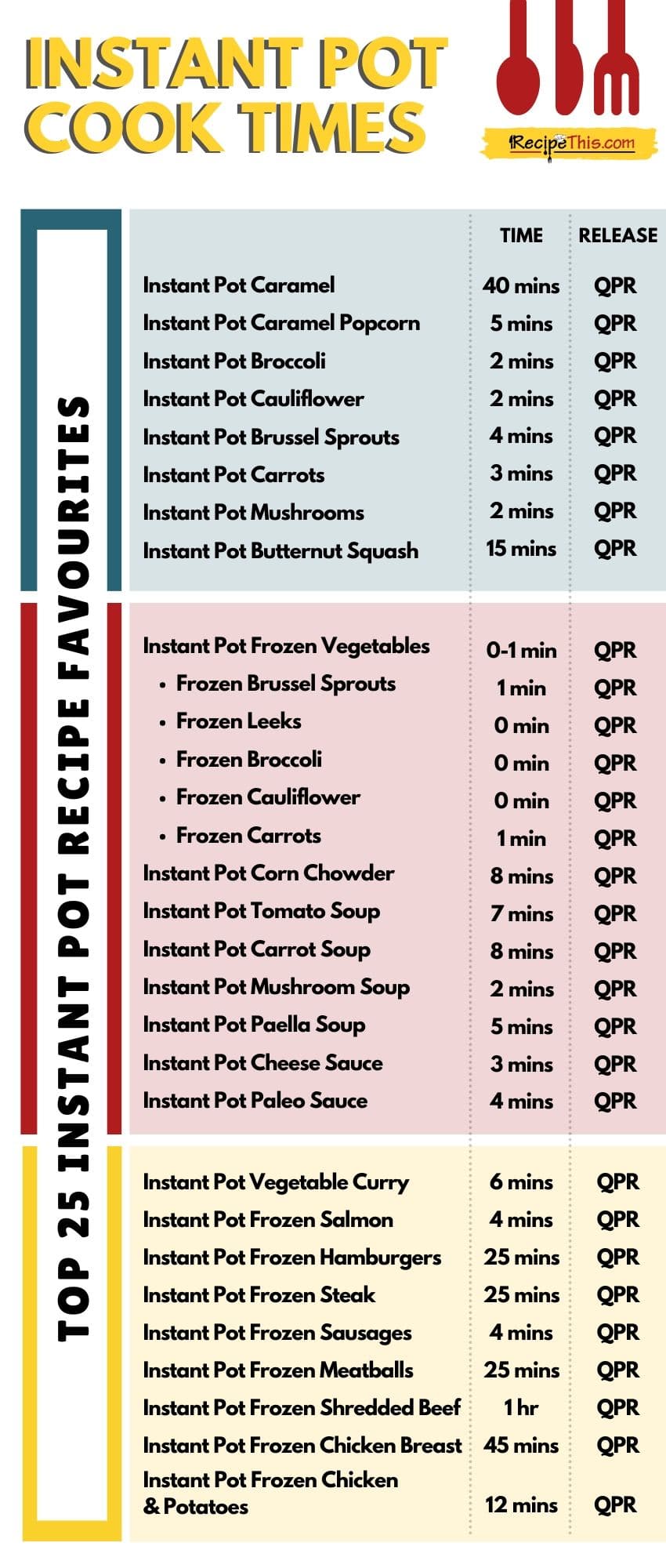 We have more than 200 instant pot recipes on Recipe This and have been pressure cooking since 2016, so which ones do we place in our instant pot cooking chart?
Well for a bit of fun we chose a different approach than usual to compile this instant pot cheat sheet.
We checked online to see what instant pot recipes people want to cook first when they get a new instant pot and went with those.
Making this instant pot cheat sheet ideal for the instant pot beginner that wants to figure out the instant pot cooking times.
It includes 25 best instant pot favourites including:
Printable Instant Pot Cooking Chart
Below you can subscribe for FREE to Recipe This and receive our instant pot cooking chart in PDF.
Though when you enter your email address its not just about the cooking times chart for popular instant pot food, it is about accessing all our free ebooks and printables.
It is through the members area that you can access our instant pot bucket list that includes a free instant pot recipe ebook of all the top 25 instant pot recipes that are mentioned in this cheat sheet. We also have an instant pot mini course and so much more.
It is also though the members area that you get all our other free cooking times printables that can help you plan your instant pot meals more efficiently and know the cook times as you pressure cook.
101 Instant Pot Recipes For Beginners
We also have an amazing instant pot cookbook for beginners. It features 101 beginner friendly instant pot recipes that you can follow along with at home. It is regularly updated to reflect the best and easiest instant pot recipes.
It is ideal for getting to know the instant pot or growing your instant pot knowledge further.
You can download the instant pot beginner cookbook here.
More Instant Pot Cooking Times
Can't read it now? Pin it for later!