January Foods In Season. In episode 035 of the Magic With Gadgets Podcast we are talking about what we are cooking in January, what's in season and which kitchen gadget recipes to get excited about this month.
These foods in season for January are also featured in the Magic With Gadgets Podcast. Simply search for Magic With Gadgets on your preferred podcast player, then scroll to episode 35 of season 1 to access this awesome episode.
Hello January!
That month when they say everyone is depressed because all the joy of Thanksgiving and then Christmas are over and done with and now what?
For me though, January is the month of my birthday and 6 days before my birthday is our Wedding Anniversary as we got married on Burns Night.
Then of course, kids are back at school after the Christmas break and its that cold month when all I want to do is eat soup or stew with loads of crusty bread.
January is also the time of my worst fear and that is ice. I am the person that falls and lands on my head and wondered how I got there. I even bring Dominic with me on the school run for something to hold onto and then he can keep me up, because I am a disaster waiting to happen.
Then let's not forget that January means that everyone is on a diet. Which is often a mix of signing up for Weight Watchers, doing a round of the Whole30 and lets not forget about giving something up for the month of January.
But if I can be stood in front of my kitchen gadgets cooking delicious food in January, then I am happy!
What Should I Stockpile In January?
I am all for doing an all year around stockpile and bulking buying foods at a discount and of course saving them for later.
So, what exactly should you be buying in January to save money?
In the first week in January, you will find supermarkets still have some Christmas food leftover at amazing discounts that they are trying to shift so that they can create some space.
Nobody wants this stuff now, so it's a chance to grab it at an amazing deal.
My favourites are usually the large roasting joints such as gammon, pork, lamb, and beef. Then you can cut it up if too big for your kitchen gadgets and then save it for later.
The best deal I ever picked up in January was 90% off a HUGE gammon joint. Though of course, nobody was buying them, so I bought 4, cut them in half and it kept us in gammon for months.
Top 10 January Foods In Season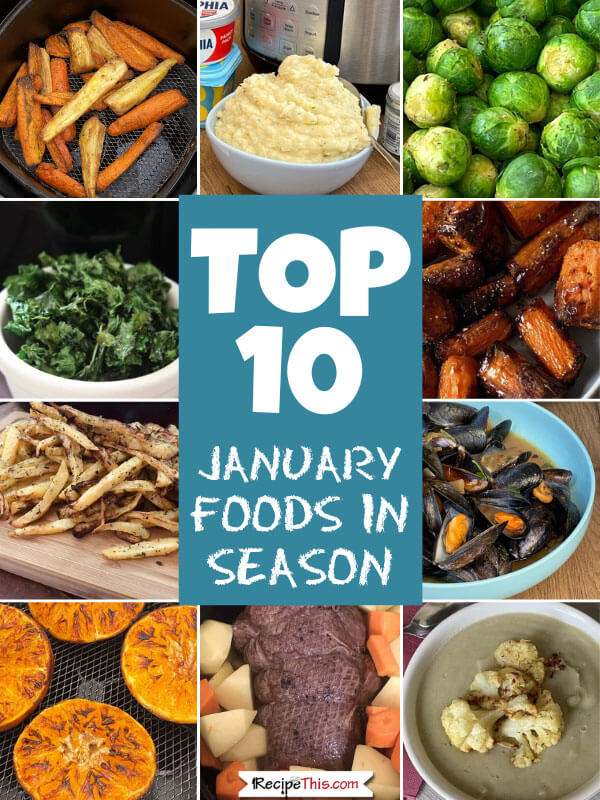 What I love about the foods in season in January, is that it's the aftermath of the holidays.
Foods that you would normally cook at Thanksgiving and Christmas are still in season, and who said that these gorgeous fruit and veggies should only be enjoyed at Christmas?
Let's start with swede. Also known as rutabaga and neeps, it is at its best in January. Buy swede, peel and dice and then either make instant pot rutabaga and serve it simple with some melted butter or go the air fryer route and cook air fryer rutabaga fries, which I could eat all year around every week given the chance.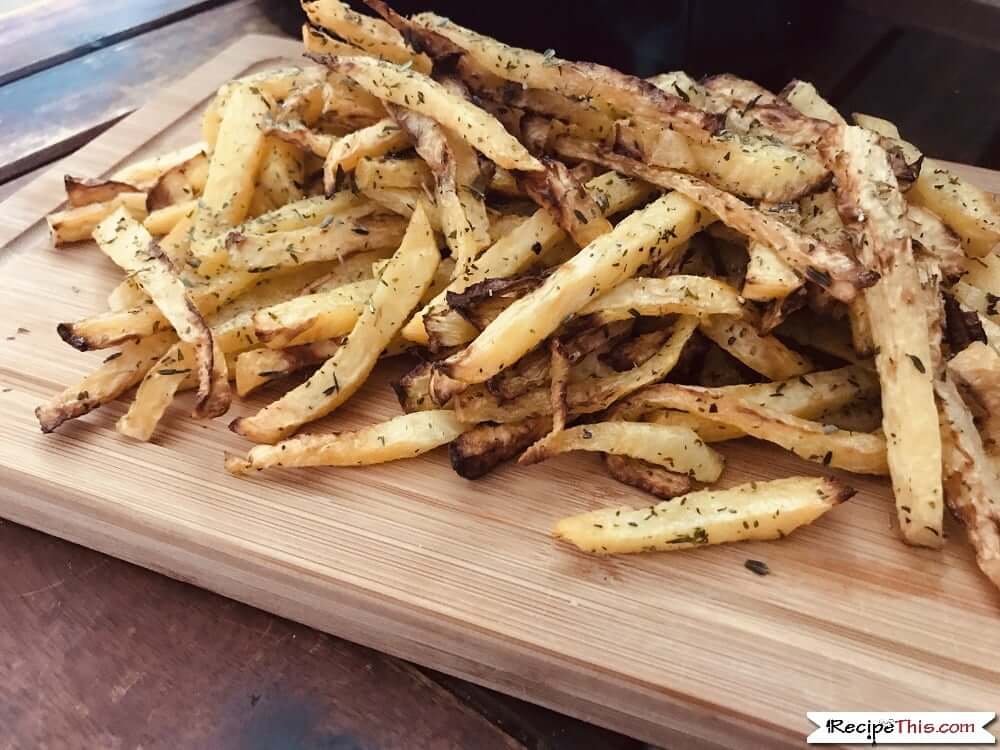 Then my next favourite January root veggie is the parsnip. I often smell parsnips and think how much it reminds me of the smell of winter. Such a gorgeous smell and tastes so good too.
I sneak them into every stew I can think of, but another idea is that the supermarkets are selling cheap the frozen bags of carrots and parsnips and these are perfect for loading into the air fryer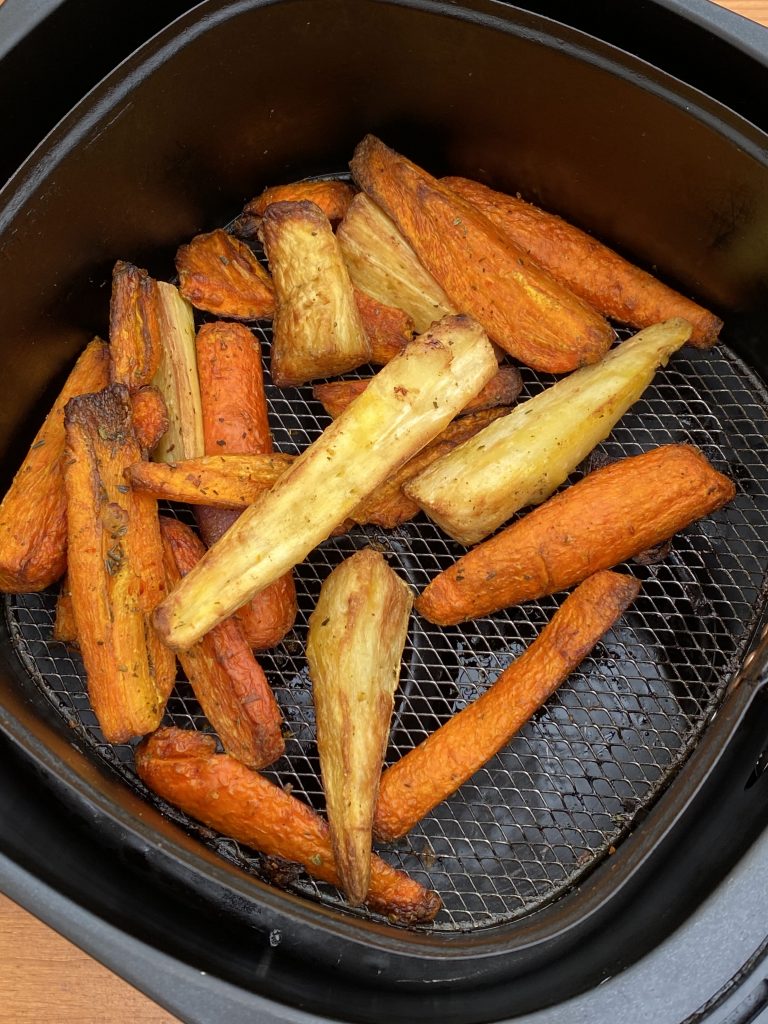 Sprouts are also still in season in January and if you have not had enough of them over Christmas, time to carry on eating those sprouts. And supermarkets bought so many of them and are now selling them for a fraction of the Christmas price.
You can microwave Brussel sprouts which makes it the easiest way and then serve them with some butter for a quick dinner side.
Carrots are another veggie that is still in season in January and its one of those veggies that has a zillion ways that you can cook it. My favourite is to roast carrots in the air fryer, then toss them in a honey glaze. If you have not done air fryer roasted carrots yet, then it's a must. Another delicious option is to steam carrots in the microwave and then use them in our air fryer frittata.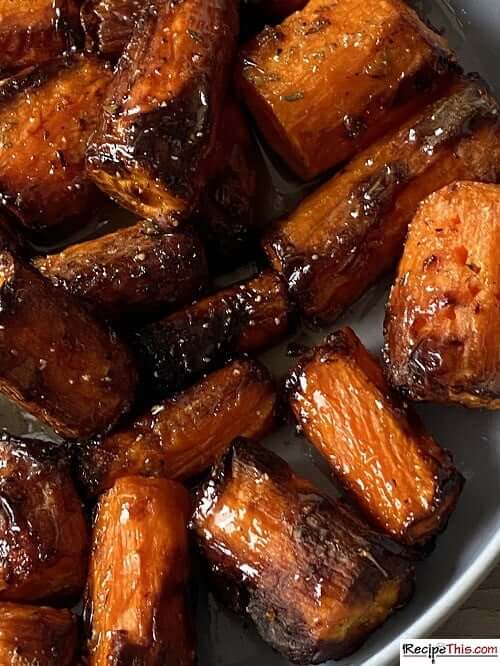 Cauliflower is brilliant as an in season January vegetable. Not only can it be cooked so many different ways, but it is also perfect for the January diet. Don't forget about people loving cauliflower pizza crust, cauliflower rice and so on.
This probably sounds boring, for all the amazing ways that you can cook cauliflower, but I love air fryer frozen cauliflower. It crisps up perfectly and is perfect for an easy lunch.
Though because winter is cold, I also love a bowl of soup maker cauliflower soup.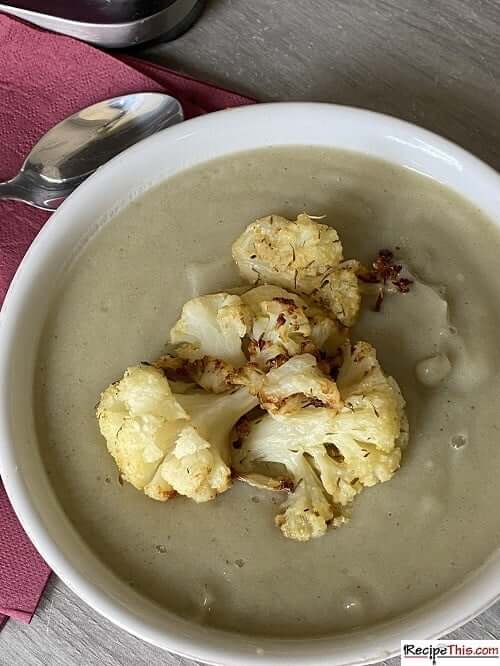 Kale might surprise you for being in season in January, but its everywhere and great for snacking on, especially if you are doing a round of the Whole30 in January. If you have not done it yet, I highly recommend some air fryer kale chips. Though once you crisp them up, you will be wondering where the rest went when a whole bag makes one bowl!
Then with Burns Night being on the 25th January, a special mention has to go to haggis. Haggis is the meat of Scotland and is similar to air fryer black pudding and tastes really good in the air fryer or pressure cooked.
If you are celebrating burns night, then do try our instant pot haggis, neeps and tatties which are all cooked together. Or do it separate, and air fry your haggis, make instant pot neeps following our rutabaga recipe and then of course, try out our instant pot no drain mashed potatoes.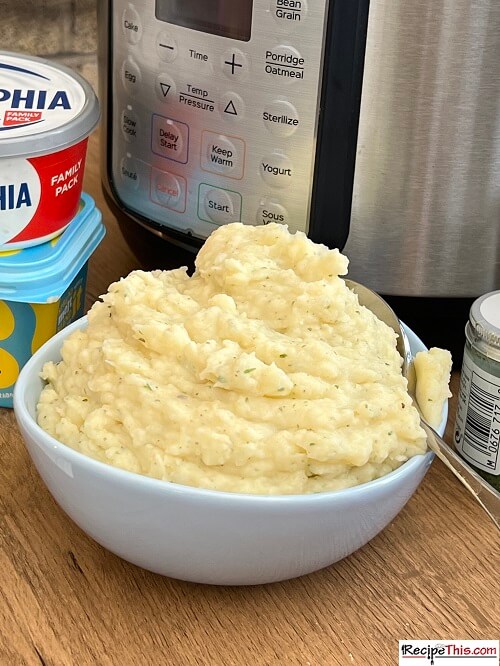 In the seafood department mussels are in season in January and are perfect for dumping in the instant pot and making in the classic French way with the garlic and white wine. In our cheats instant pot garlic mussels recipe, the supermarket is helping us out in the prep department. But it is still delicious.
For the best meat in January, beef is the top choice. It is much cheaper than over Christmas time and cooks so well in the kitchen gadgets. If going with chuck I recommend trying our instant pot frozen pot roast, then if you have topside or a round roast, then an air fryer pot roast is amazing.
It's the month of the citrus fruits and oranges need a mention. If you have not made them yet, then air fryer roasted oranges are just a fun way to eat fruit as a snack using the air fryer. Its perfect for those times when you want a snack and can just grab an orange from the fruit bowl.
What To Dehydrate In January?
You're probably curious to what you should be loading into the dehydrator this month and then saving for later.
Because citrus fruit is enjoying its last month in season I would recommend some dehydrated orange slices, dehydrated lemon slices and dehydrated lime slices.
Did You Know We Have A Podcast?
We started the Magic With Gadgets podcast in the January of 2021 as a way to offer a different way to enjoy Recipe This. It focuses on cooking with kitchen gadgets. You can find out more about our podcast here.
With regular episodes that will help you cook smart with kitchen gadgets. This is episode 35 of the first season and you have the choice between reading this post, listening to the podcast or both.
If you would like to stay in the loop with our podcast, I recommend you subscribe below:
How To Listen To This Episode?
You can use the player above to listen to this episode of Magic With Gadgets. Alternatively search for Magic With Gadgets on your favourite podcast platform or click the links below:
Subscribe & Review
Thank you for listening to the Magic With Gadgets Podcast. Have some feedback you would like to share? Want to be featured in a future episode? Want to help us spread the word?
Browse other episodes (access them all here)
Leave a comment below the blog post
Share with your friends on social media
Share your thoughts in our Facebook Group (you can sign up here)
Ask me a question or submit a guest request by filling out the form below
If our podcast has helped you, please leave a review on iTunes. Your reviews help spread the word and without reviews our podcast will not get seen. Plus, I love reading each and every one of them.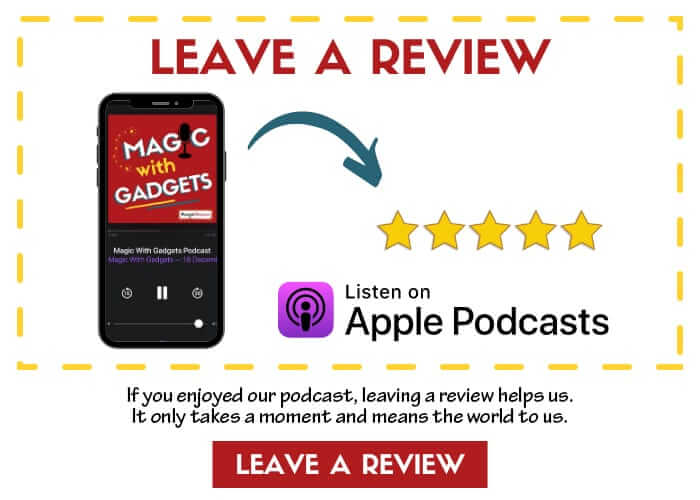 Can't listen now? Then pin it for later!