What Is The Best Air Fryer To Buy?
This Post Contains Affiliate Links. Click Here To Read Our Full Disclosure.
What Is The Best Air Fryer To Buy? Today on the podcast, I wanted to talk about what air fryer is the best, and which air fryer suits your needs the most.
This air fryer Q&A is also featured in the Magic With Gadgets Podcast. Simply search for Magic With Gadgets on your preferred podcast player, then scroll to episode 20 of season 2 to access this awesome episode.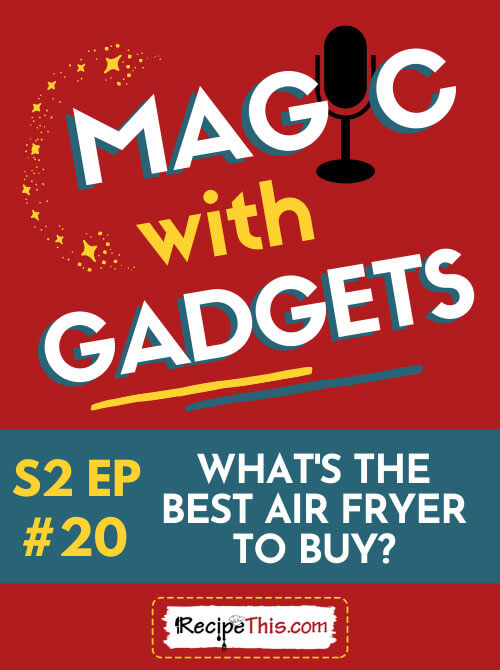 What Is The Best Air Fryer?
When I bought my first air fryer way back in 2011, there was ONLY two air fryers on the market. The original Tefal Actifry and the Philips Air Fryer.
There was no such thing as air fryer reviews and there is no information other than, buy an air fryer if you want to lose weight.
We chose the Philips brand because it was smaller and would fit in our small apartment kitchen better.
Since then, you type what is the best air fryer into Google and you will be overloaded with different air fryers and will have information overload.
Today, I wanted to set the record straight and share with you what is the best air fryer. Then you can buy it, bring it home and follow some of our 500+ air fryer beginner recipes.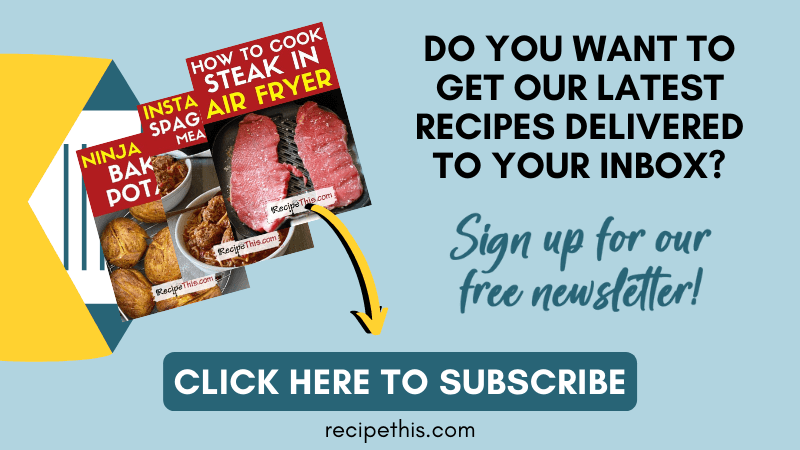 What Is The Best Air Fryer On The Market?
In our opinion, the best air fryer on the market is the Philips Air Fryer XL. This is the air fryer we have in the Milner kitchen, the one used in most of the air fryer videos on our You Tube channel and the air fryer we have the most trust in.
Its also an upgrade and a larger version of the original air fryer that we bought back in 2011.
What Brand Is The Best Air Fryer?
Team Philips all the way. Philips is the original air fryer brand, and we wouldn't be obsessed with air fryer cooking without Philips.
But what is also worth mentioning, is that because Philips was there first air fryer on the market, they have had the longest time to make it better and better.
Plus, a Philips air fryer is built to last and our first lasted over 7 years and we only upgraded because we wanted a bigger one.
What Is A Good Air Fryer?
When you choose an air fryer, what you are looking for in a good air fryer is:
One that will last
One that is from a good quality brand
One that is the right size for your family
One that is a classic air fryer style
Which of course, both Philips air fryer, Cosori air fryer and the Ninja Foodi all tick these boxes.
If you wanted to know what are the top 3 air fryers then note it is them!
What Is The Best Air Fryer Oven?
Or if you prefer an air fryer oven for cooking rotisserie chicken or for the space they bring, then I recommend the Tower Air Fryer Oven.
It's a good size and perfect for air fryer rotisserie chicken, dehydrated banana chips and best of all, air fryer roast duck.
What Is The Best Rated Air Fryer?
After researching online, I found that the best rated air fryer, is the Cosori air fryer and one that we have in the Milner kitchen.
Personally, I don't think it's the best air fryer, but I do think its in the top 3 of air fryers on the market. As they are giving out free air fryers to people like myself as part of their marketing plan, I can see why they have built up the biggest collection of 5* reviews.
But there are not as high quality as the Philips and of course, this is reflected in the price.
What Can I Cook In An Air Fryer UK
If you are in the UK and wondering if you can enjoy the best of British recipes, then there are plenty to go at.
Here are a few of our British air fryer favourites:
What Air Fryer Should I Buy?
When choosing which air fryer to buy, I suggest you think about your personal needs:
Capacity/Size
Presets
Cleaning
Price
Noise
Reviews
For example, if you want an air fryer that is easy to clean, large capacity, has great reviews, has presets and you can handle the noise then get the Cosori air fryer.
Or if you would like a quieter one, that is relatively easy to clean, has amazing reviews, and a large capacity get the Philips air fryer.
Did You Know We Have A Podcast?
We started the Magic With Gadgets podcast in the January of 2021 as a way to offer a different way to enjoy Recipe This. It focuses on cooking with kitchen gadgets. You can find out more about our podcast here.
With twice weekly episodes through September to December. This is episode 20 of the second season and you have the choice between reading this post, listening to the podcast or both.
If you would like to stay in the loop with our podcast, I recommend you subscribe below:
How To Listen To This Podcast Episode?
You can use the player above to listen to this episode of Magic With Gadgets. Alternatively search for Magic With Gadgets on your favourite podcast platform or click the links below:
Subscribe & Review
Thank you for listening to the Magic With Gadgets Podcast. Have some feedback you would like to share? Want to be featured in a future episode? Want to help us spread the word?
Browse other episodes (access them all here)
Leave a comment below the blog post
Share with your friends on social media
Share your thoughts in our Facebook Group (you can sign up here)
Ask me a question or submit a guest request by filling out the form below
If our podcast has helped you, please leave a review on iTunes. Your reviews help spread the word and without reviews our podcast will not get seen. Plus, I love reading each and every one of them.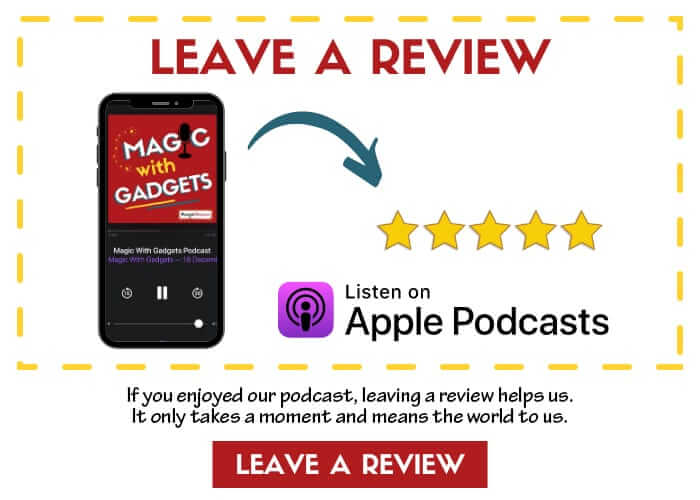 Can't listen now? Then pin it for later!