What Is An Air Fryer? Today on the podcast, I wanted to talk about one of my favourite topics, what is an air fryer and how does it work.
This air fryer Q&A is also featured in the Magic With Gadgets Podcast. Simply search for Magic With Gadgets on your preferred podcast player, then scroll to episode 18 of season 2 to access this awesome episode.
What Is A Air Fryer?
When I purchased my first ever air fryer back in 2011, I was full of excitement for what was described at the time as a fad.
A kitchen gadget that would produce deep fried style food with the calories of baking in the oven.
It just seemed like such an amazing concept and one that I was glad to be a part of.
Then I spent the next few years moaning to Dominic, that why hadn't the world gone crazy for the air fryer, a few years later it did and since then year on year more and more people have joined the wonderful world of air fryer cooking.
But so many people are yet to get an air fryer and still want to know what is a air fryer.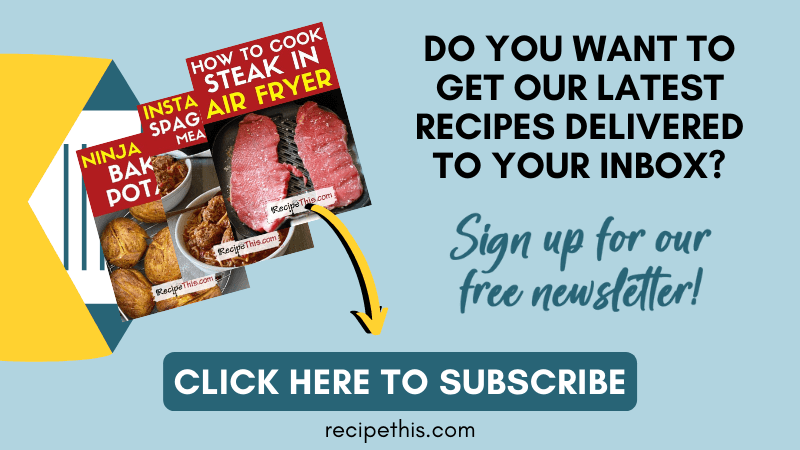 What Is An Air Fryer & How Does It Work?
The simple way of explaining it, is to say that the air fryer is a small convection oven. But its not like what you expect from a convection oven as it is so much more.
For example, because the air fryer is such a small cooking area, it rarely needs a preheat, it cooks food much faster and because of its speed and because of its wattage, you will see a drop in your electric bill if you swap your cooking appliance for an air fryer.
Many will also call the air fryer a small countertop convection oven, as well as describing it as a deep fat fryer that is NOT submerged in oil. Kind of like a healthy deep fat fryer.
The air fryer works by adding a small amount of oil (air frying drops oil consumption by 85%) directly on the food and then you have an air fryer basket to cook the food in.
The food is placed in, just like how you add food to a grill and is often described as a replacement for the grill, oven, toaster, toastie machine, deep fat fryer, wok, sheet pan and skillet.
Though I am sure it replaces more, its just that are my first thoughts.
What Is The Purpose Of An Air Fryer?
The purpose of an air fryer is the ability to reduce fat in your diet and that is why Philips created and launched their first air fryer in 2010. They wanted us to be able to cook air fryer French fries with the calories of oven baked French fries.
It also wanted us to be able to just use enough oil and reduce saturated fats in our diet.
Or for those on a diet to enjoy fries without the guilt.
In the beginning it was never thought of for making air fryer whole chicken or air fryer popcorn and these trends came much later.
What Is Special About Air Fryers?
That there are air fryer recipes that are perfect for everyone, that everyone can recreate their favourite recipes using the air fryer.
You don't have to want to cook a whole chicken, you might be vegan and getting excited over air fryer rutabaga fries, or you might love your bread and want to make air fryer pull apart bread rolls. Or you might be a guy on your own and want a quick air fryer sirloin steak.
What Is An Air Fryer Used For?
The air fryer has many amazing uses and here are just a few of the great things that you can use an air fryer for:
With an air fryer oven, you have the added bonus of being able to dehydrate food and use the rotisserie to make the best ever roasted meats.
Though with the regular air fryer you can do most things that your oven, deep fat fryer, grill, wok, sheet pan, toaster, toastie machine could do and a few other things too.
You can make air fryer roast potatoes, cook air fryer lamb chops, get excited over dehydrated banana chips and my personal favourite make all in one dinners similar to the skillet like our air fryer balsamic chicken and vegetables.
Then beyond dinner, you can also use it for breakfast, lunch, snacks and don't forget about the yummy air fryer chocolate chip cookies.
As my mum always said to me when I was small, your life is your oyster, well this certainly applies with the air fryer.
The air fryer we recommend you buy is this one, or read our best air fryers for under $100, top 5 air fryer ovens, or top 10 air fryers to buy.
What Do You Air Fry?
In the Milner house we have a few favourite air fryer recipes that we cook time and time again. These are our firm favourites that are on repeat all the time.
For breakfast it is often air fryer egg cups or air fryer soft boiled eggs and if we want to make ahead breakfast then our air fryer breakfast bundt cake.
Then for lunch the family favourites include air fryer veggie fries, air fryer frozen steak (while the kids are at school!) or best of all air fryer tuna steak.
Or for dinner we LOVE air fryer whole chicken with stuffing, air fryer cajun fries, air fryer harvest dinner with variations depending on the time of year, plus there is always some air fryer fries on the menu somewhere.
Did You Know We Have A Podcast?
We started the Magic With Gadgets podcast in the January of 2021 as a way to offer a different way to enjoy Recipe This. It focuses on cooking with kitchen gadgets. You can find out more about our podcast here.
With twice weekly episodes through September to December. This is episode 18 of the second season and you have the choice between reading this post, listening to the podcast or both.
If you would like to stay in the loop with our podcast, I recommend you subscribe below:
How To Listen To This Podcast Episode?
You can use the player above to listen to this episode of Magic With Gadgets. Alternatively search for Magic With Gadgets on your favourite podcast platform or click the links below:
Subscribe & Review
Thank you for listening to the Magic With Gadgets Podcast. Have some feedback you would like to share? Want to be featured in a future episode? Want to help us spread the word?
Browse other episodes (access them all here)
Leave a comment below the blog post
Share with your friends on social media
Share your thoughts in our Facebook Group (you can sign up here)
Ask me a question or submit a guest request by filling out the form below
If our podcast has helped you, please leave a review on iTunes. Your reviews help spread the word and without reviews our podcast will not get seen. Plus, I love reading each and every one of them.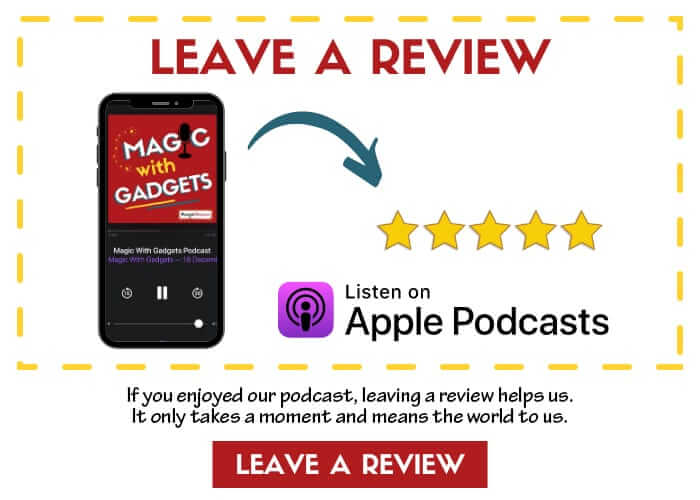 Can't listen now? Then pin it for later!