Silicone In Air Fryer. Today we wanted to share with you a few of our favourite silicone accessories for using in the air fryer, along with our best air fryer silicone recipes.
This air fryer silicone guide is also featured in the Magic With Gadgets Podcast. Simply search for Magic With Gadgets on your preferred podcast player, then scroll to episode 16 of season 3 to access this awesome episode.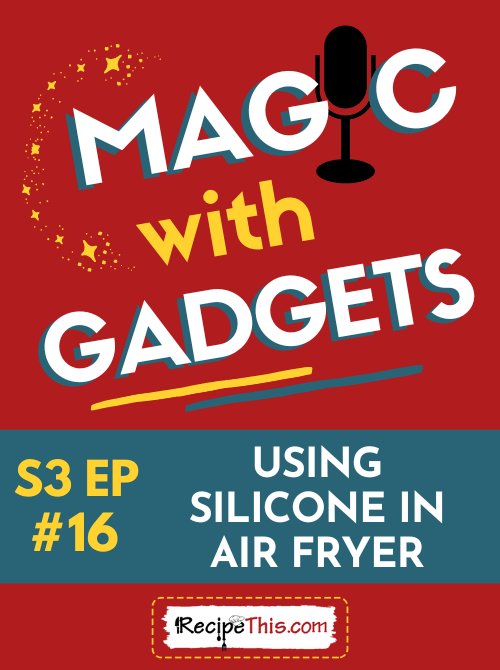 Air Fryer Silicone
I call silicone my air fryer best friend and just wish I had met my best friend years ago and not had to wait until air fryers became fashionable when I got one.
If you have not used silicone before then it's a great way to avoid greasing your bakeware, you don't need any parchment paper and they require hardly any washing up.
Quite often you can peel the silicone away from what you have cooked, and it makes it the easiest way to remove food from its container.
You can also get silicone for cakes, muffins, heart shaped and so many other varieties.
Though my all time favourites are these round cake pan style ones that you can use in everything from frittatas to birthday cakes and more.
Today on the podcast I wanted to share with you my favourite air fryer silicone recipes as well as what silicone is my favourite.
Plus, as well as our free newsletter, we also have a free air fryer mini course. It is ideal for air fryer beginners or those that want to get more confident with their air fryer. The free course runs for 5 days with a new lesson delivered each day to your inbox.
Can You Use Silicone In An Air Fryer?
Yes, you can use silicone in the air fryer, whilst a lot of air fryer beginners want to know if you can use foil in the air fryer, silicone is the better option because you can reuse it, and it lasts a long time and is a real money saver.
Though do note silicone in the air fryer, can slow down your cook time a little due to the air fryer air circulation.
Can I Put Silicone Cups In An Air Fryer?
Yes, you can also put silicone cups in an air fryer. I find that they are perfect for muffins, cupcakes, little omelette cups and so much more. And unlike paper liners, they don't fly about in the air fryer.
Air Fryer Silicone Recipes
But I get it. You want value for money and when you buy your silicone for the air fryer, you want more than one use from it. So, you are probably looking for some delicious silicone air fryer recipes which we have included below and talked about many of them on the podcast.
Plus, I also recommend the following for using with the silicone muffin cups:
Did You Know We Have A Podcast?
We started the Magic With Gadgets podcast in the January of 2021 as a way to offer a different way to enjoy Recipe This. It focuses on cooking with kitchen gadgets. You can find out more about our podcast here.
With weekly episodes that will help you cook smart with kitchen gadgets. This is episode 16 of the third season and you have the choice between reading this post, listening to the podcast or both.
If you would like to stay in the loop with our podcast, I recommend you subscribe below:
How To Listen To This Podcast Episode?
You can use the player above to listen to this episode of Magic With Gadgets. Alternatively search for Magic With Gadgets on your favourite podcast platform or click the links below:
Subscribe & Review
Thank you for listening to the Magic With Gadgets Podcast. Have some feedback you would like to share? Want to be featured in a future episode? Want to help us spread the word?
If our podcast has helped you, please leave a review on iTunes. Your reviews help spread the word and without reviews our podcast will not get seen. Plus, I love reading each and every one of them.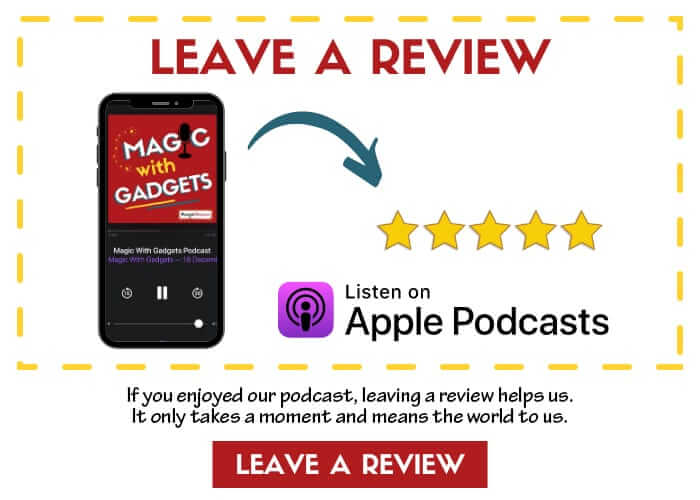 Links Mentioned In This Podcast
Can't listen now? Then pin it for later!