How To Make Dinner In The Air Fryer
This Post Contains Affiliate Links. Click Here To Read Our Full Disclosure.
Make Dinner In The Air Fryer. Today on the podcast we are sharing with you how to make all in one dinners the air fryer and converting your sheet pan dinners and skillet dinners to the air fryer.
These air fryer dinners are featured in full on the Magic With Gadgets Podcast. Simply search for Magic With Gadgets on your preferred podcast player, then scroll to episode 10 of season 3 to access this awesome episode.
Can You Cook A Full Meal In An Air Fryer?
Yes, you can cook a full meal in the air fryer, and you have so much choice with what you can make.
You can convert your wok recipes, skillet recipes, sheet pan dinners, traybakes and much more to the air fryer.
You can also do full roast dinners in the air fryer too.
Though of course, it is personal choice to what dinners you might prefer in the air fryer.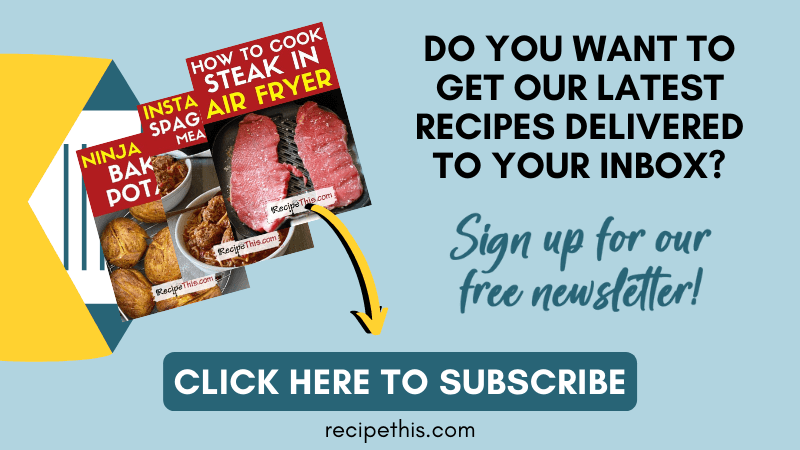 Plus, as well as our free newsletter, we also have a free air fryer mini course. It is ideal for air fryer beginners or those that want to get more confident with their air fryer. The free course runs for 5 days with a new lesson delivered each day to your inbox.
What Should I Make For Dinner In My Air Fryer?
Okay, so you want simplicity, but you want a great dinner too and you are probably wondering what you should make for dinner in the air fryer and what is the easiest and the hardest.
Sheet pan dinners – You can take any sheet pan dinner or traybake and load the ingredients into the air fryer. You can also reduce the oil too as you will only need about 2tsp of extra virgin olive oil to feed 4 people. I did this post on how to convert sheet pan recipes to the air fryer and have a good read. Also pick out your favourite sheet pan dinners and load it into the air fryer and you will be amazed at the results. A good example is our air fryer balsamic chicken and vegetables. Or if you have the air fryer oven a sheet pan can be split over two shelves like our air fryer leg of lamb.
Wok – The air fryer is also fantastic for recipes you would normally cook in your wok for dinner. Check out our air fryer stir fry post for more info on this. Or think of ingredients added to the wok into the air fryer instead.
Skillet – I love skillet recipes but who wants to clean it and stand over it? My favourite conversion is our air fryer harvest casserole which can easily be adapted for what food is in season.
Roasts – The same goes for roast dinners that you would normally cook in the oven. I can never decide if I love our air fryer roast chicken dinner or our air fryer pot roast recipe the most. Both are brilliant and perfect for a quick dump a roast dinner in the air fryer kind of meal.
More Air Fryer Dinners To Try:
And I am sure these air fryer dinner recipes have given you plenty of ideas to roll out at home in your air fryer.
Did You Know We Have A Podcast?
We started the Magic With Gadgets podcast in the January of 2021 as a way to offer a different way to enjoy Recipe This. It focuses on cooking with kitchen gadgets. You can find out more about our podcast here.
With weekly episodes that will help you cook smart with kitchen gadgets. This is episode 10 of the third season and you have the choice between reading this post, listening to the podcast or both.
If you would like to stay in the loop with our podcast, I recommend you subscribe below:
How To Listen To This Podcast Episode?
You can use the player above to listen to this episode of Magic With Gadgets. Alternatively search for Magic With Gadgets on your favourite podcast platform or click the links below:
Subscribe & Review
Thank you for listening to the Magic With Gadgets Podcast. Have some feedback you would like to share? Want to be featured in a future episode? Want to help us spread the word?
Browse other episodes (access them all here)
Leave a comment below the blog post
Share with your friends on social media
Share your thoughts in our Facebook Group (you can sign up here)
Ask me a question or submit a guest request by filling out the form below
If our podcast has helped you, please leave a review on iTunes. Your reviews help spread the word and without reviews our podcast will not get seen. Plus, I love reading each and every one of them.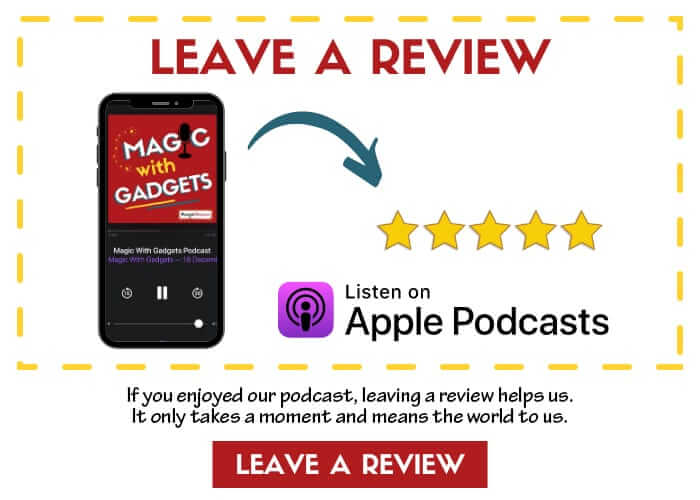 Can't listen now? Then pin it for later!