Healthy Air Fryer Frozen Foods. Today on the podcast we are sharing with you 10 must buy healthy frozen foods for the air fryer to make everyday mealtimes easier and involve less meal prep.
These healthy frozen food favourites are featured in full on the Magic With Gadgets Podcast. Simply search for Magic With Gadgets on your preferred podcast player, then scroll to episode 9 of season 3 to access this awesome episode.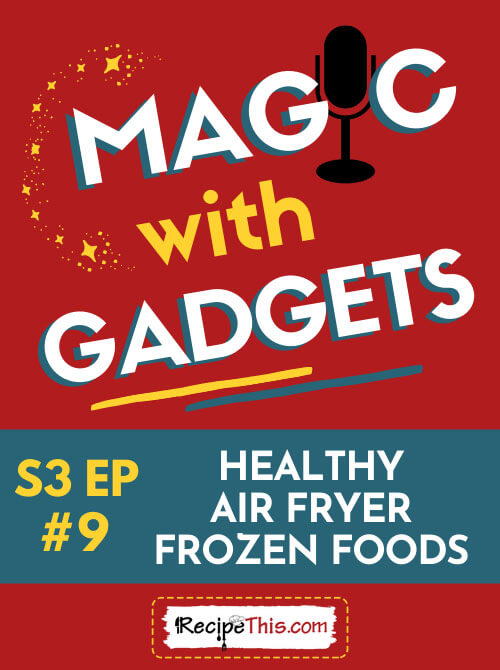 Is Air Frying Frozen Food Healthy?
I often get asked is air frying frozen food healthy and I often say this depends.
It depends on what you are air frying and how you would have cooked the food before you got an air fryer.
Take air fryer frozen chicken nuggets as an example. Whilst they will never be considered a healthy food, the family that cooks them for the kids most days will see a big drop in calories by air frying them instead of deep fat frying.
If someone uses a fat fryer regularly then this is a big step in the right direction.
However, when I think of healthy frozen food in the air fryer, I am thinking about the amazing fruits and vegetables you can buy and cook from frozen in the air fryer.
Today on the podcast I will be sharing with you my top 10 favourite healthy frozen foods that are ideal for the air fryer.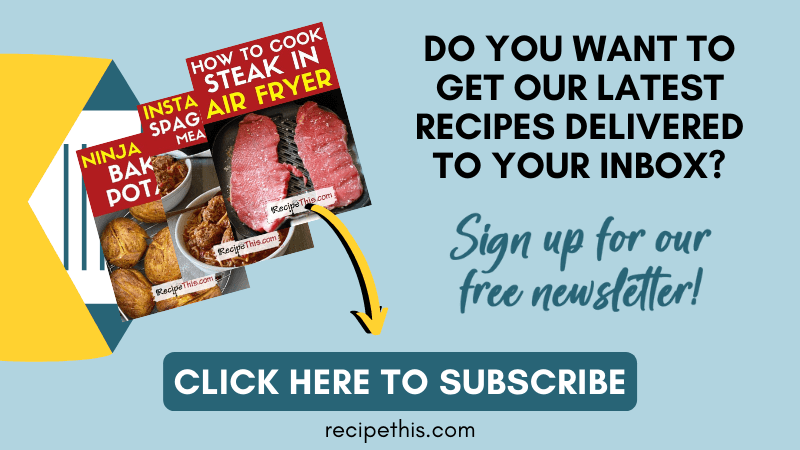 Plus, as well as our free newsletter, we also have a free air fryer mini course. It is ideal for air fryer beginners or those that want to get more confident with their air fryer. The free course runs for 5 days with a new lesson delivered each day to your inbox.
Top 10 Best Healthy Frozen Foods For Air Fryer
Green Beans – air fryer frozen green beans are delicious and the fastest way to do veggies in the air fryer. You can load into the air fryer basket frozen green beans, add your favourite seasoning, spray with a little extra virgin olive oil and they become a wonderfully crispy veggie for dinner.
Corn On The Cob – Another favourite is air fryer frozen corn on the cob. You can buy the minis from Iceland and then load them into the air fryer frozen. After 12 minutes, transfer to foil and do 3 more minutes with salt, pepper, and butter.
Fish – Frozen fish is a dieters best friend in the air fryer. Simply grab some of our favourite frozen fish such as frozen salmon and then air fry it from frozen. Or follow our frozen salmon in the air fryer recipe that is cooked with green beans.
Broccoli – I love air fryer frozen broccoli and always have bags of frozen broccoli, cauliflower and sprouts in the freezer ready to air fry. It's a quick way to get veggies on the dinner table with little effort and little prep.
Shrimp – I adore frozen already cooked and peeled shrimp and also buy it in bulk. You can then use it for our air fryer shrimp fajitas for a quick lunch. You can also use the air fryer to cook your frozen shrimp and serve it in salads, sandwiches etc.
Squash – Even though I love to do air fryer butternut squash with fresh squash, its also fantastic for when squash is out of season. You can air fry and then serve with either breakfast, lunch, or dinner. Or air fry and then add into your curry for a delicious baked texture.
Garlic – I have fallen in love with frozen chopped garlic. You don't have to peel it; you don't have to chop it and its just ready to go in a cute little bag. Simply grab some garlic direct from the freezer and add it to the air fryer with your other ingredients.
Onion – That same rule applies to onion. Forget crying eyes and having to prep onions. Simply grab your onion from the freezer and load into the air fryer. Perfect for our air fryer onions recipe or for loading into air fryer sheet pan dinners.
I also recommend having plenty of chicken breasts that you can freeze into packs, and the same for bacon and other favourite meats. You then have a stockpile for when you are thinking about what to cook for dinner.
Did You Know We Have A Podcast?
We started the Magic With Gadgets podcast in the January of 2021 as a way to offer a different way to enjoy Recipe This. It focuses on cooking with kitchen gadgets. You can find out more about our podcast here.
With weekly episodes that will help you cook smart with kitchen gadgets. This is episode 9 of the third season and you have the choice between reading this post, listening to the podcast or both.
If you would like to stay in the loop with our podcast, I recommend you subscribe below:
How To Listen To This Podcast Episode?
You can use the player above to listen to this episode of Magic With Gadgets. Alternatively search for Magic With Gadgets on your favourite podcast platform or click the links below:
Subscribe & Review
Thank you for listening to the Magic With Gadgets Podcast. Have some feedback you would like to share? Want to be featured in a future episode? Want to help us spread the word?
Browse other episodes (access them all here)
Leave a comment below the blog post
Share with your friends on social media
Share your thoughts in our Facebook Group (you can sign up here)
Ask me a question or submit a guest request by filling out the form below
If our podcast has helped you, please leave a review on iTunes. Your reviews help spread the word and without reviews our podcast will not get seen. Plus, I love reading each and every one of them.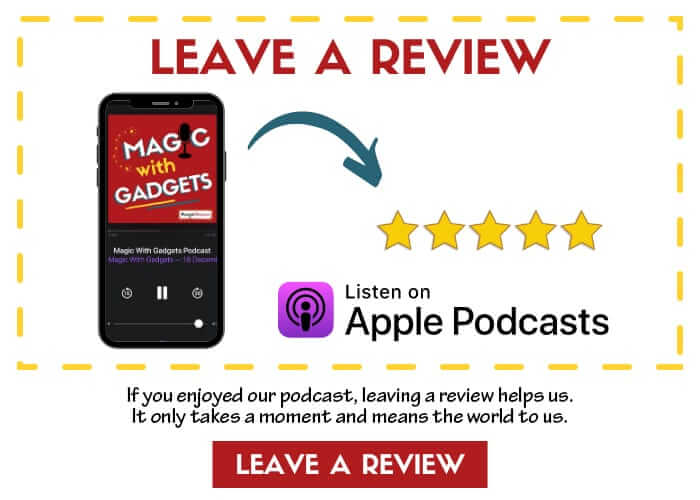 Can't listen now? Then pin it for later!