Ask Me Anything! Today, I wanted to help you out with your top questions that you want to know right now about your kitchen gadgets.
This kitchen gadget Q&A is also featured in the Magic With Gadgets Podcast. Simply search for Magic With Gadgets on your preferred podcast player, then scroll to episode 32 of season 2 to access this awesome episode.
Kitchen Gadgets Help!
The downside of being early to the party, is that you have no one to ask your burning questions to and everything has to be about trial and error.
That was us when we first got a soup maker, ninja foodi, air fryer and our instant pot.
Especially our air fryer as we were so early to the air fryer party, that the only results in Google was for about 5 Pinterest pins in German!
Today on the podcast we wanted to do something a little different. We asked on Facebook what questions people would like answering the most and answered as many as we could so that you would be full of great information and feel more confident with your kitchen gadgets.
Instant Pot FAQ
We will start with your top questions for the instant pot including:
Can you cook pork chops in the instant pot?
Is there a rule of when to use the trivet?
Do you have to put meat on a trivet?
Best pot roast method for the instant pot?
Can the instant pot be used as a crockpot?
My yoghurt is on for 5 hours can I stir it?
Ninja Foodi FAQ
We will then talk about your top questions for the ninja foodi including:
Any tips for a pork casserole in the Ninja Foodi?
I have the Ninja Foodi is it worth getting the Ninja soup maker too?
Air Fryer FAQ
We will then talk about your top questions for the air fryer including:
Is it true you can't use frylight in an air fryer?
I cooked hard boiled eggs they are rubbery, what did I do wrong?
Can you do a whole chicken with stuffing?
Can I use my air fryer without accessories?
And of course, on the Podcast we will be going into great detail of all the questions asked.
Did You Know We Have A Podcast?
We started the Magic With Gadgets podcast in the January of 2021 as a way to offer a different way to enjoy Recipe This. It focuses on cooking with kitchen gadgets. You can find out more about our podcast here.
With twice weekly episodes through September to December. This is episode 32 of the second season and you have the choice between reading this post, listening to the podcast or both.
If you would like to stay in the loop with our podcast, I recommend you subscribe below:
How To Listen To This Podcast Episode?
You can use the player above to listen to this episode of Magic With Gadgets. Alternatively search for Magic With Gadgets on your favourite podcast platform or click the links below:
Subscribe & Review
Thank you for listening to the Magic With Gadgets Podcast. Have some feedback you would like to share? Want to be featured in a future episode? Want to help us spread the word?
Browse other episodes (access them all here)
Leave a comment below the blog post
Share with your friends on social media
Share your thoughts in our Facebook Group (you can sign up here)
Ask me a question or submit a guest request by filling out the form below
If our podcast has helped you, please leave a review on iTunes. Your reviews help spread the word and without reviews our podcast will not get seen. Plus, I love reading each and every one of them.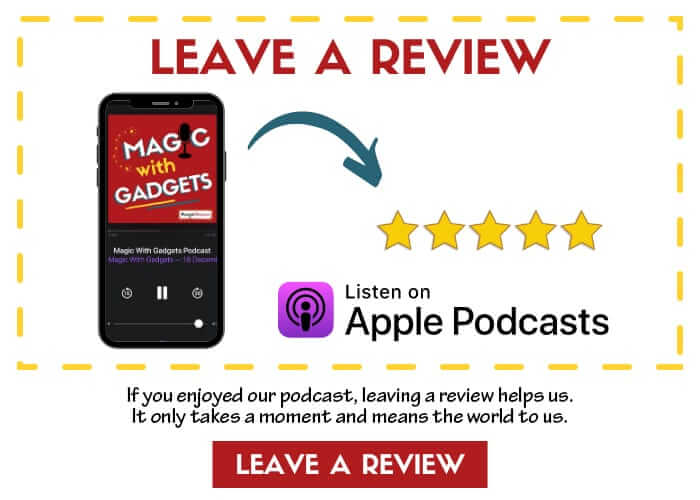 Links Mentioned In This Episode
Can't listen now? Then pin it for later!