40 Air Fryer Mistakes You Need To Avoid
This Post Contains Affiliate Links. Click Here To Read Our Full Disclosure.
Air Fryer Mistakes. Today on the podcast we are sharing with you 40 air fryer mistakes you need to avoid making with your air fryer. Avoid these mistakes and you will feel much more confident with your air fryer.
These common air fryer mistakes are also featured in the Magic With Gadgets Podcast. Simply search for Magic With Gadgets on your preferred podcast player, then scroll to episode 5 of season 3 to access this awesome episode.
Air Fryer Mistakes
I was approached by one of our podcast readers just before Christmas. I love it when I get feedback because it helps me improve the podcast episodes and give you the air fryer info you want.
Jacky mentioned a few great things she would love covered and what podcast episodes she liked the most.
One thing she mentioned was that we had not covered air fryer mistakes yet.
I thought rather than just doing a list of 7 common air fryer mistakes, that you see everywhere, that we go into a lot more detail.
It is also my 40th birthday the day that this Podcast airs, so I thought we could turn it into a cute cheesy theme and do 40 air fryer mistakes from 10 years of air frying.
Plus, rather me just sharing my air fryer mistakes that I would include mistakes others have made.
I polled over 500,000 people from different air fryer groups and this list of 40 is the result.
You can write them down, save this podcast episode and then refer back to it whenever you need a quick reminder.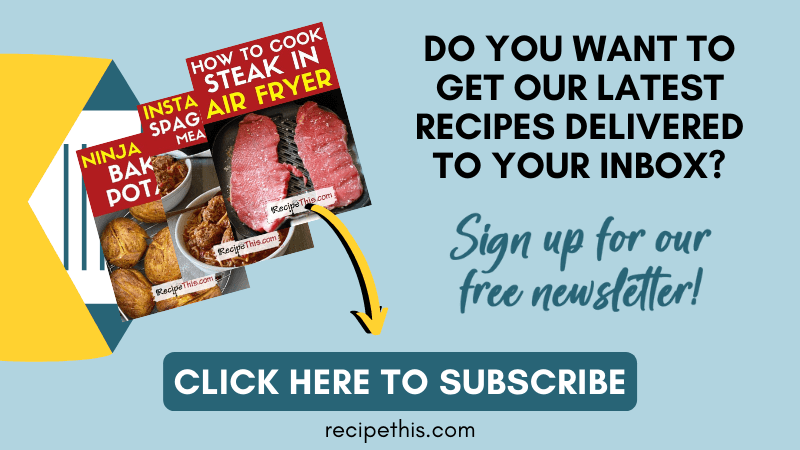 Plus, as well as our free newsletter, we also have a free air fryer mini course. It is ideal for air fryer beginners or those that want to get more confident with their air fryer. The free course runs for 5 days with a new lesson delivered each day to your inbox.
Top 10 Common Air Fryer Mistakes
You can of course, listen to the podcast for the full list of 40 most important air fryer mistakes and these are the top 10 that happen the most.
Cheese flying off – I think this has happened to us all at some point, especially when making air fryer grilled cheese or air fryer quesadillas. Because of the air, the cheese takes off and you end up with a cheese mess in the air fryer. The solution is to use a cocktail stick to hold it in place. Or follow our air fryer Zucchini pizza slices as it uses more cheese to hold it in place.
Preheating too often – I recommend you check out our guide for when to preheat the air fryer, because it explains it in much better detail.
Failing to use foil – Check out our guide for using foil in the air fryer, but in a nutshell many people don't use foil at all and it's a life changer for keeping your air fryer clean.
Using oil all wrong – This is probably the biggest air fryer mistake of them all. Many people use too much oil in the air fryer, others don't use enough, and some don't use any. They also often use products like frylight or pam in the air fryer and this can slowly ruin the air fryer.
Leaving it on top of the stove – A few readers recently sent me a link to a story in the newspapers. Someone had left their air fryer on top of their cooker, whilst the cooker was on, and it had melted their air fryer.
Only cooking frozen food – Whilst I recommend you start air frying with air fryer frozen fries to build up your confidence, there is a lot of great foods you can cook in the air fryer.
Not buying a bigger one – It amazes me how many times I hear this from air fryer users. That the air fryer they have is too small for so many air fryer recipes. I recommend you use the Cosori Air Fryer or the never fails Philips Airfryer XL.
Overcrowding the food – I know Dominic used to do this too much. Rather than doing air fryer fries over two batches he would do one big lot and it would take forever and then were never as good.
Taking advice from the wrong people – You could search now online for air fryer recipes and the top results will often be corporate brands and most have not ever used an air fryer. They have paid someone else and not properly tested the recipes. This results in many air fryer beginners trusting recipes that are not properly tested and then they get upset when it doesn't work and put their air fryer back in its box.
Don't forget to scroll below and listen or download the air fryer mistakes podcast episode and get access to 30 more air fryer mistakes people make.
Did You Know We Have A Podcast?
We started the Magic With Gadgets podcast in the January of 2021 as a way to offer a different way to enjoy Recipe This. It focuses on cooking with kitchen gadgets. You can find out more about our podcast here.
With weekly episodes that will help you cook smart with kitchen gadgets. This is episode 5 of the third season and you have the choice between reading this post, listening to the podcast or both.
If you would like to stay in the loop with our podcast, I recommend you subscribe below:
How To Listen To This Podcast Episode?
You can use the player above to listen to this episode of Magic With Gadgets. Alternatively search for Magic With Gadgets on your favourite podcast platform or click the links below:
Subscribe & Review
Thank you for listening to the Magic With Gadgets Podcast. Have some feedback you would like to share? Want to be featured in a future episode? Want to help us spread the word?
Browse other episodes (access them all here)
Leave a comment below the blog post
Share with your friends on social media
Share your thoughts in our Facebook Group (you can sign up here)
Ask me a question or submit a guest request by filling out the form below
If our podcast has helped you, please leave a review on iTunes. Your reviews help spread the word and without reviews our podcast will not get seen. Plus, I love reading each and every one of them.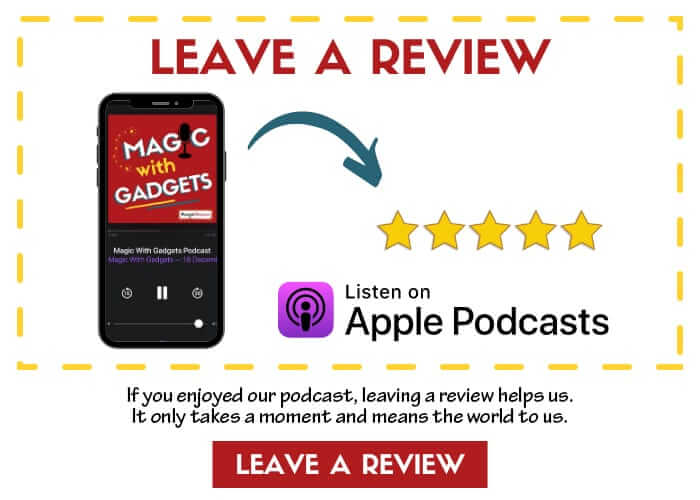 Can't listen now? Then pin it for later!