Welcome to my best ever Air Fryer jacket potatoes.
I bet you hadn't thought of the jacket potato in the Air Fryer? Well it makes a brilliant lunch or dinner and is easier than you think. Plus the highlight for me with jacket potatoes is for the skin to be super crispy and this is a certainty when cooked in the Air Fryer.
What I love about jacket potatoes is that you can have that many different toppings on it and some can be more filling or more fattening than others, based on what you're in the mood for.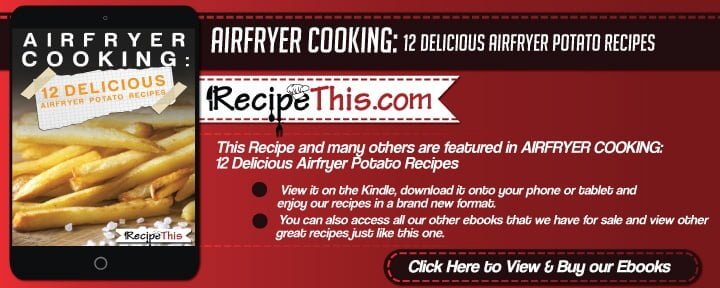 My favourite fillings include beans, tuna and mayonnaise, cheese, coleslaw, mince and of course sour cream. I used to remember visiting a jacket potato van that used to visit the local market and I used to always have my jacket potato filled to the top with cheese and coleslaw. I thought it was the tastiest thing in the world and it was the only time when I really bothered with one.
The Best Ever #AirFryer Jacket Potatoes from @recipe_this
Click To Tweet
The Best Ever Air Fryer Jacket Potatoes
Instructions
Grab two medium sized potatoes and stab them with a fork so that they can breathe. Place them in the Air Fryer for 15 minutes on a 180c heat.

While they are cooking prepare your filling. Mix together sour cream with cheese and chives until it is equally mixed.

When the jacket potatoes are cooked open them up and spread with butter followed by your topping mix.

Serve it with a salad.
Recipe Notes
This recipe is based on a medium sized jacket potato so if you don't want to wait this long for it to cook then downsize your timing.