Welcome to our super soft Airfryer chocolate chip cookies.
Like many food bloggers we are always up for a challenge. So when we were chatting to some fellow airfryer users last month on Instagram and they asked why we didn't have any desserts as part of our airfryer recipes, we decided that it was something that we needed to do next.
In my mind an airfryer is for making chips, heating up chicken wings, making a jacket potato crispy and certainly isn't a place for making super soft chocolate chip cookies. After all, that is what an oven as invented for!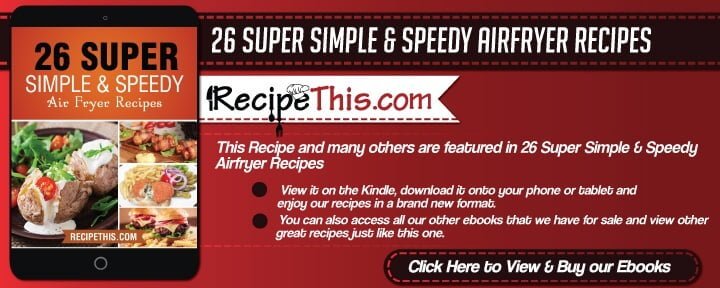 But we love a challenge and being married to a chef has its perks so we decided why not? We would challenge ourselves to a month of delicious puddings and try not to put too much weight on in the process of experimenting for our blog!
So throughout February every Monday through to Saturday will be dedicated to new Airfryer recipes that we have created. Expect lots of family traditional recipes that you will want to eat straight away. So if you're on a diet look away now!
Can you believe I have been married to a chef for a whole 13 years and he has never once made me chocolate chip cookies? Well as this is all for the readers I wasn't going to turn down his cookies. Oh and ladies and gents – THEY ARE AMAZING!
Testing out Super Soft Airfryer Chocolate Chip Cookies recipe from @recipe_this #airfryer
Click To Tweet
Super Soft Airfryer Chocolate Chip Cookies
Instructions
Preheat the airfryer to 180c.

In a large bowl beat the butter until soft and add the sugar and cream them together until they are light and fluffy.

Stir in the honey and flour and mix well.

Using a rolling pin smash up your chocolate so that they are a mix of medium and really small chocolate chunks.

Add the chocolate.

And the milk and stir well.

Spoon the cookies into the airfryer on a baking sheet and cook for six minutes at 180c. Reduce the temperature to 160c for a further 2 minutes so that they can cook in the middle.

Serve!
Recipe Notes
We made nine cookies from this mixture but we like ours quite small, so if you like big fat American cookies it will probably make six!