Can I Use All Purpose Flour Instead Of Bread Flour?
This Post Contains Affiliate Links. Click Here To Read Our Full Disclosure.
Can I Use All Purpose Flour Instead Of Bread Flour? Today, I wanted to help you out with one of the biggest cooking questions and talk about bread flour and all purpose flour and if you can substitute one for the other.
This bread machine Q&A is also featured in the Magic With Gadgets Podcast. Simply search for Magic With Gadgets on your preferred podcast player, then scroll to episode 30 of season 2 to access this awesome episode.
Strong Bread Flour
I grew up with an amazing grandma (known as Kitty to her friends and family) that was an amazing baker.
She taught me how to knead bread, how to make the best shortcrust pastry (see it in our air fryer pie crust recipe) how to make rock buns (long before they were a Harry Potter thing) and of course many old school pies and pastries.
One thing I always remember shopping for was bread flour. We would go looking at the supermarket specifically for strong bread flour that we could use in various recipes.
We would usually opt for Hovis strong bread flour. After all, Hovis was often the leading brand for bread, so you had to use their flour!
Then when we got into making homemade bread ourselves such as our bread in the bread maker, I am sure it was no surprise that strong bread flour was used.
Today I wanted to discuss bread flour vs all purpose flour and if you can sub one for the other.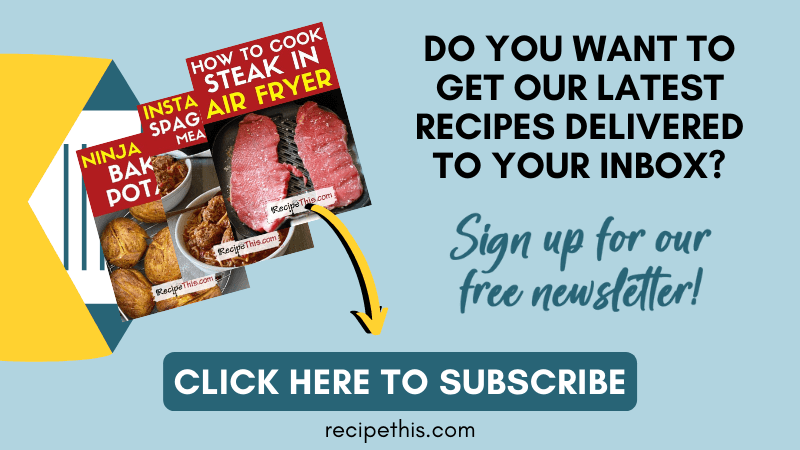 What Is Bread Flour?
Bread flour, or strong bread flour as it is also known, is a higher quality flour that also has extra rising agents that is perfect for cooking bread with.
It is often of a higher quality than regular all purpose flour and this results in a better bread dough and a better tasting loaf of homemade bread.
Difference Between Bread Flour & All Purpose Flour?
The difference between bread flour and all purpose flour, is that bread flour is designed with the purpose of making homemade bread and bread products.
Whilst all purpose flour, is exactly how it sounds and used for all purposes of baking.
You can use all purpose flour for making our air fryer chocolate chip cookies, air fryer quiche and let's not forget about using it to make air fryer sausage rolls.
Is Bread Flour The Same As All Purpose Flour?
No, it isn't. Bread flour and all purpose flour are slightly different from one another.
One is made for everyday baking (all purpose flour) and the other is used for bread products (bread flour).
Strong bread flour as it sounds is much stronger than regular flour, making it perfect for bread making.
And you can of course, use bread flour in a recipe that calls for all purpose flour or self raising flour as a quick substitute.
Can You Use All Purpose Flour Instead Of Bread Flour?
Yes, you can. But note that when you substitute all purpose flour, that the bread goods that you make will not be as good.
It's a bit like going from some good quality potatoes for the cheapest ones, or the ones that are starchy. You all comment that dinner is nice, but you say the potatoes could have been better if some just bought King Edwards had been used rather than some that are past their best.
That same rule applies when making the bread. I have made many batches with all purpose flour when I have no bread flour and don't have time to go grocery shopping and I am craving bread machine dinner rolls.
Just think of using all purpose flour for bread as your backup plan.
Can I Use Plain Flour To Make Bread?
Yes, you can. Plain flour is the same as all purpose flour, its just what us Brits call it.
Though if you can, swap plain flour for self raising flour instead and it will produce a better bread product.
Did You Know We Have A Podcast?
We started the Magic With Gadgets podcast in the January of 2021 as a way to offer a different way to enjoy Recipe This. It focuses on cooking with kitchen gadgets. You can find out more about our podcast here.
With twice weekly episodes through September to December. This is episode 30 of the second season and you have the choice between reading this post, listening to the podcast or both.
If you would like to stay in the loop with our podcast, I recommend you subscribe below:
How To Listen To This Podcast Episode?
You can use the player above to listen to this episode of Magic With Gadgets. Alternatively search for Magic With Gadgets on your favourite podcast platform or click the links below:
Subscribe & Review
Thank you for listening to the Magic With Gadgets Podcast. Have some feedback you would like to share? Want to be featured in a future episode? Want to help us spread the word?
Browse other episodes (access them all here)
Leave a comment below the blog post
Share with your friends on social media
Share your thoughts in our Facebook Group (you can sign up here)
Ask me a question or submit a guest request by filling out the form below
If our podcast has helped you, please leave a review on iTunes. Your reviews help spread the word and without reviews our podcast will not get seen. Plus, I love reading each and every one of them.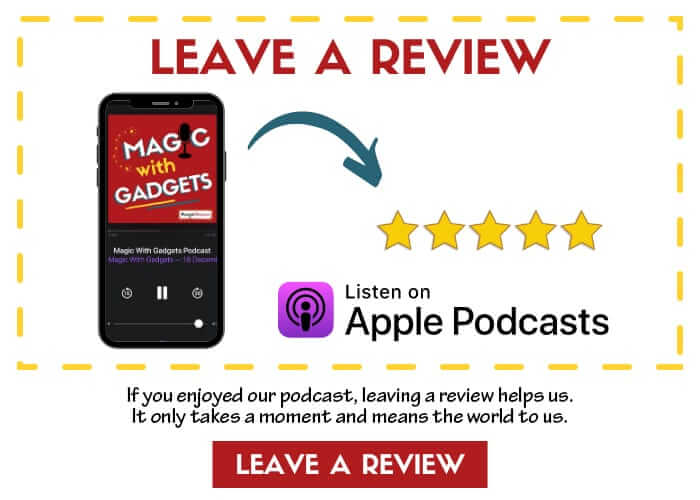 Can't listen now? Then pin it for later!