Slow Cooker Mince Recipes
This Post Contains Affiliate Links. Click Here To Read Our Full Disclosure.
If you are looking for some delicious ways to cook mince in the slow cooker, then it doesn't get any better than this binge worthy list of slow cooker mince recipes.
Or if you live in the US, you might call them the best slow cooker ground beef recipes. Either way, they are a great way to cook a cheap dinner in the slow cooker.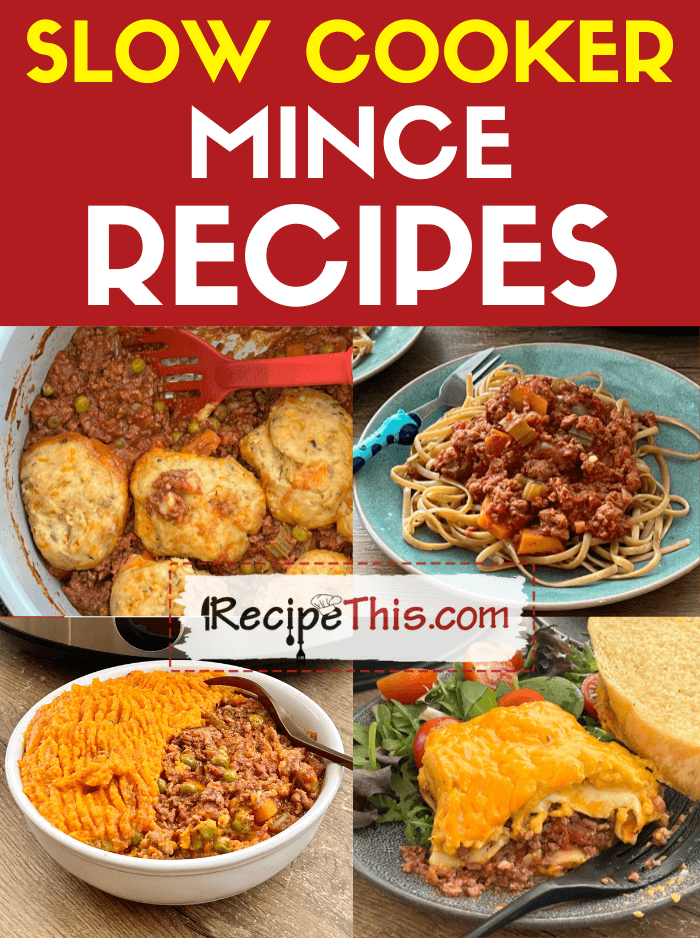 Mince In Slow Cooker
If I have an ingredient that is frugal, works well in a variety of dishes and always tastes amazing it is minced beef.
I love the 750g minced beef packs from Tescos, Asda or Aldi and will always have some spare packs in the freezer, ready for mealtimes.
I can then Defrost mince in the microwave or defrost overnight and then load into the slow cooker the next day.
Today, I wanted to share with my collection of slow cooker mince recipes, for those times when you have a pack of mince in the freezer and are looking for an easy way to slow cook mince.
Are You New To The Slow Cooker?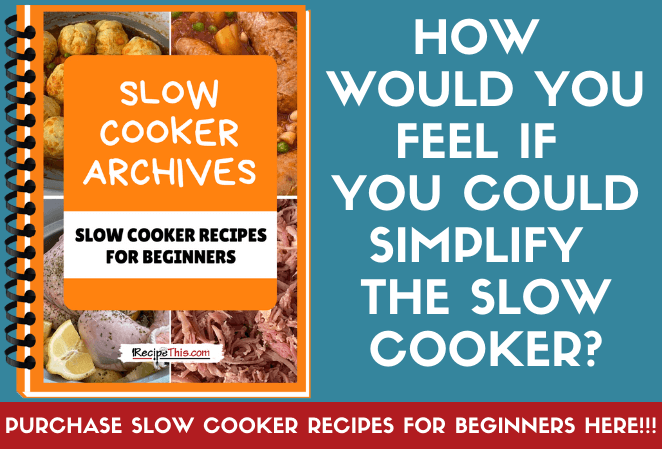 This is perfect for you if you want to get more recipes for your slow cooker. Loaded with a lot of British classics and something for everyone.
Click here or on the banner above and you will have access to it in an instant.
What You Need To Slow Cook Mince?
When we slow cook mince, we use one of our slow cookers to do the trick. We have a super old slow cooker that we use now mainly for warming up food as it can't keep its heat as much. As well as our Crockpot Slow Cooker & a Ninja Foodi which has a fantastic slow cooker function.
You will also need some mince and I recommend having a stockpile with the usual ingredients that go into slow cooker mince recipes such as:
Tinned Tomatoes
Tinned Black Beans
Dried Red Lentils
Tomato Puree/Paste
Dried Oregano/Basil
Frozen Chopped Garlic
Frozen Peas
Worcester Sauce
As with these simple ingredients, you can make a lot with some mince in the slow cooker.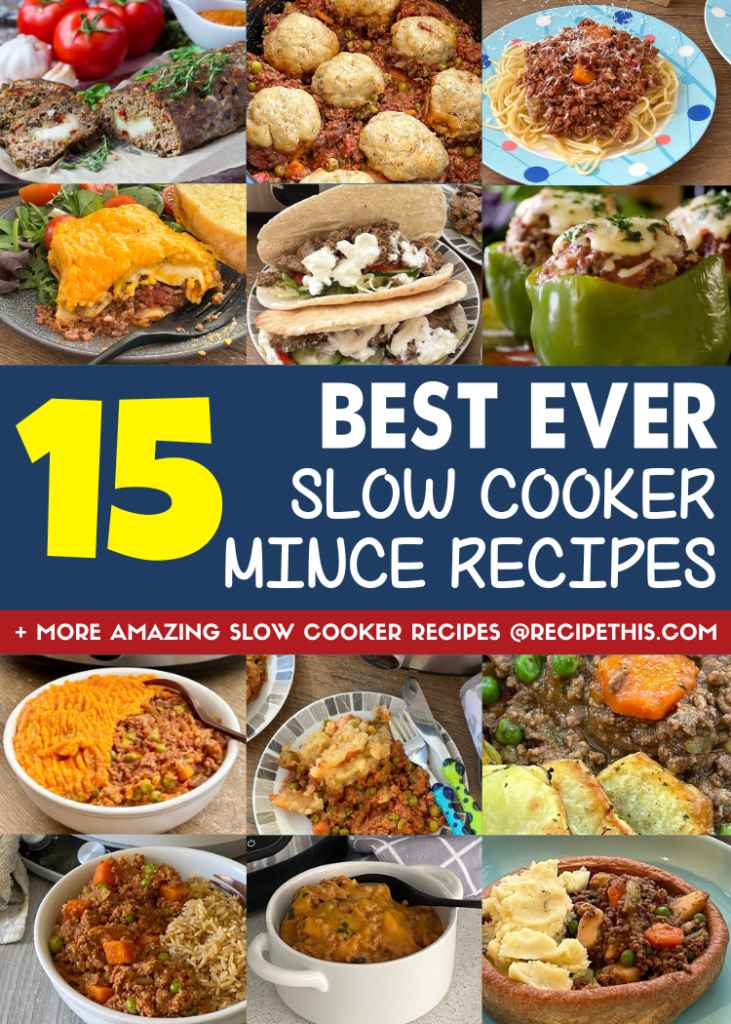 What Mince Can You Use In The Slow Cooker?
You can use any mince you like. I recommend you go with 5% lean steak mince because others can hold a lot of fat and make your slow cooker food greasy.
But you can use quorn mince for a vegetarian option, or go with pork, lamb, chicken, turkey etc.
Top 10 Slow Cooker Mince Recipes
Let's kickstart my slow cooker mince recipes, with the ultimate top 10 of things to make with mince.
Slow Cooker Doner Kebabs – My ultimate favourite slow cooker mince recipe and tastes so good. Using lamb mince its an easy dump and forget slow cooker recipe.
Slow Cooker Shepherd's Pie – My other favourite lamb mince recipe in the slow cooker. You cook the mash first, then use the slow cooker to slow cook the mince. It is 100% delicious and you can reheat the leftovers in the slow cooker too.
Slow Cooker Cottage Pie – Perfect for those lazy days when you want mince and mash and can't decide what to make. Plus, it is rather filling too.
Slow Cooker Mince Pasta Bake – There is nothing that shouts out comfort food more than pasta with mince and loads of melted cheese.
Slow Cooker Spag Bol – If you love spaghetti Bolognese then you must make the Bolognese sauce in the slow cooker. So easy and reheats well too.
Slow Cooker Lasagne – Our eldest son Kyle's favourite meal and slow cooker lasagne is so easy too. In this healthy slow cooker lasagne recipe we are loading the cheese sauce with hidden veggies.
Slow Cooker Mince & Dumplings – Lets go 100% old school and make the classic mince and dumplings meal in the slow cooker. What's great about this is that its like stew and dumplings but with mince and mince is half the cost of braising steak.
Slow Cooker Minced Beef Hotpot – Do you love a Lancashire Hotpot? Then make it much cheaper with this minced beef version and yes, we have it coated with lots of air fryer sliced potatoes.
Slow Cooker Savoury Mince – I am a Yorkshire girl and us Yorkshire girls can not eat a slow cooker meal without a giant Yorkshire pudding! The Yorkshire pudding heats through in the air fryer, whilst the savoury mince cooks slow in the slow cooker. The perfect combo!
Slow Cooker Keema Curry – This is one often forgotten about. Minced beef is turned into an Indian curry and then cooked in the slow cooker. Perfectly served with some garlic naan bread.
Would you like easy & amazing slow cooker recipes from slow cooker experts? Click here and join the Recipe This Newsletter. We will then send you the BEST slow cooker beginner recipes direct to your email inbox along with other useful kitchen gadget resources.
More Slow Cooker Meals With Mince
Here are few more mince slow cooker recipes that are perfect for dumping in the slow cooker for weeknight dinners:
And there you have it. 15 of the best slow cooker recipes with mince. You no longer need to ask what to make with mince beef with these easy to follow slow cooker recipes.
You just have to decide which mince in slow cooker recipe you want to cook first!
Can't read it now? Then pin it for later!