Air Fryer Leftover Turkey Recipes
This Post Contains Affiliate Links. Click Here To Read Our Full Disclosure.
Tis the season for leftover turkey air fryer recipes. If you have an air fryer and are looking for something delicious for your leftover turkey, then we have you covered.
We have everything from air fryer burgers to air fryer turkey pot pie to air fryer turkey pizza and much more.
This delicious list of easy air fryer leftover turkey recipes is updated for thanksgiving and Christmas 2022 and happy holidays!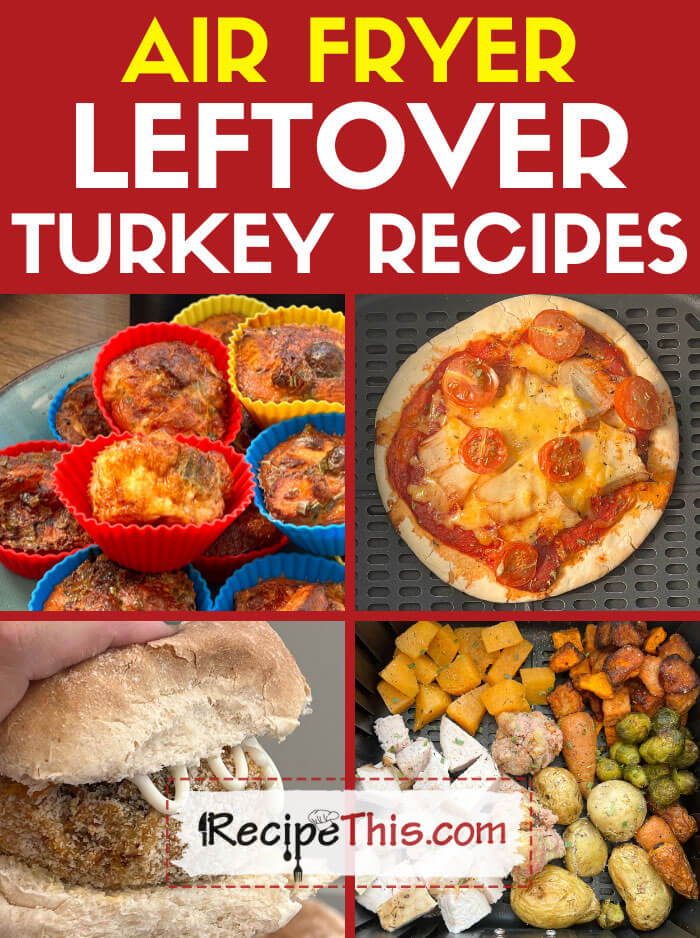 Air Fryer Turkey Leftovers
Today I wanted to share with you what I do with my turkey leftovers and what I cook with my leftover turkey in the air fryer.
If you are new here, you probably don't know about how obsessed I am with turkey leftovers.
In fact, I love the leftover turkey recipes that I make more than I love eating the turkey as part of a Thanksgiving or Christmas dinner.
I get excited by how many awesome turkey leftover meals I can make and how frugal I can be with a single turkey.
Or I also hunt for discounted turkeys after Christmas that I can freeze and then make into leftover turkey meals later.
One Boxing Day I managed to get a huge amount of turkeys, but sadly, I have not been this lucky since:
Dominic rolls his eyes when he sees me getting excited over leftover turkey, but soon changes his look to a smile when I load his dinner plate with yet another delicious air fryer turkey meal.
If you are sat there browsing the internet wondering what on earth you are going to do with your turkey leftovers, then look no further than my round up of a mix of the best ever air fryer leftover turkey recipes.
There is a bit of everything, so I am sure you will find something that fits in with your leftover turkey and ingredients you have in your pantry.
If you don't have an air fryer yet, this is the Philips one we have used for many years for cooking our air fryer leftover turkey dishes.
Plus, as well as our free newsletter, we also have a free air fryer mini course. It is ideal for air fryer beginners or those that want to get more confident with their air fryer. The free course runs for 5 days with a new lesson delivered each day to your inbox.
What To Cook With Leftover Thanksgiving Turkey?
My mum used to use the same saying all the time to me as a kid. She would roll her eyes when she thought I was being indecisive and say "Samantha the world is your oyster".
I think of that saying when I think of the zillions of different things that you can cook with leftover turkey.
Like with leftover chicken and other leftover meats, there is so many opportunities for delicious recipes.
You can make pies, burritos, casseroles, a stir fry, a sausage roll, sandwiches, pastas and so much more.
Though my biggest go to is a turkey version of air fryer bubble and squeak or air fryer leftover turkey burgers.
Though you can also freeze your leftovers and then make air fryer frozen turkey burgers later.
What To Do With Leftover Sliced Turkey?
My favourite option for sliced turkey is to serve it as it is cold, as you are stood in front of the fridge, wondering what bigger snack you are going to make yourself.
Then a Plan B would be sandwiches or do dice it and make into warm sandwiches or even better a turkey salad.
Best Ever Leftover Turkey Recipes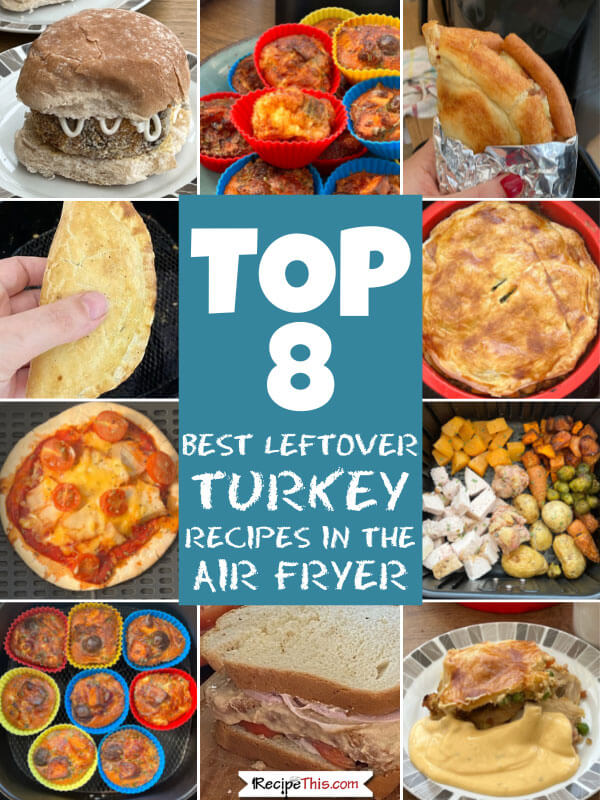 Below you will find all our popular air fryer leftover turkey recipes. You can also scroll to the bottom for a quick list of links in case you are in a hurry.
Do share in the comments below what you have made in the air fryer with your leftover turkey and which of our air fryer leftover turkey recipes you have enjoyed the most.
#1 Air Fryer Turkey Pizzas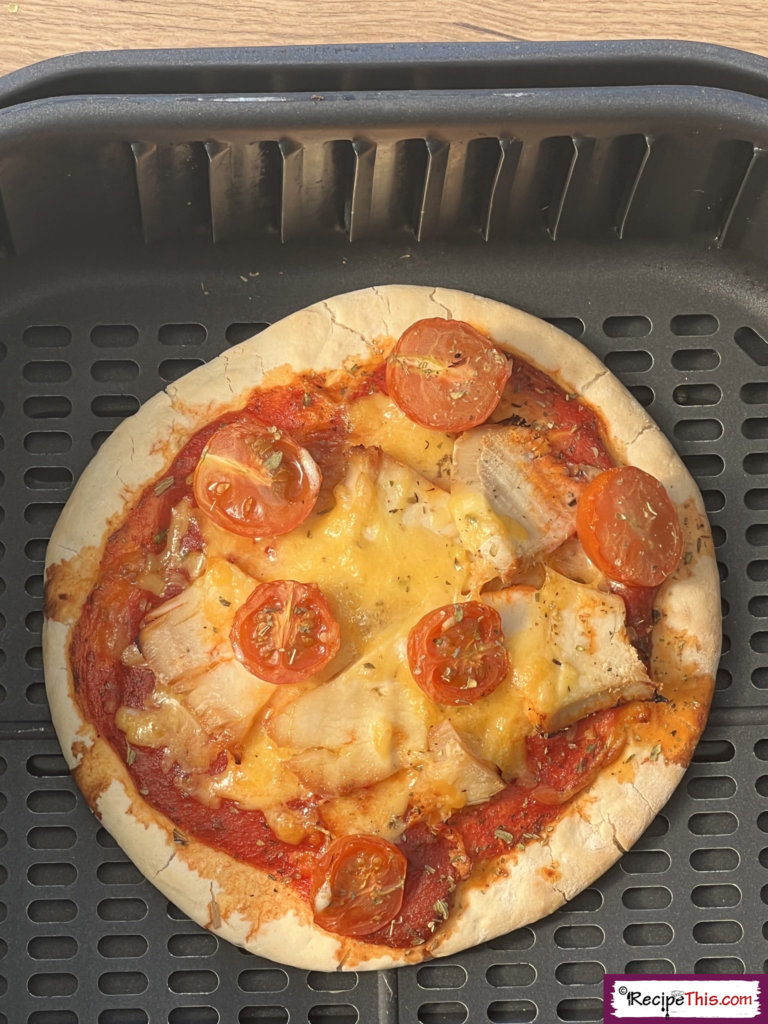 This leftover turkey pizza idea is a no fuss way of using up your leftover turkey.
Get some mini pizza bases, then load up with tomato sauce, turkey slices, a little cheese and some cherry tomatoes.
Then air fry for 7 minutes at 170c/340f and they are amazing.
#2 Air Fryer Turkey Hash
I love this for a quick gather of ingredients that you can air fry together to quickly warm up your leftovers.
You can load into the air fryer leftover turkey, baby potatoes, sprouts, stuffing, veggies or whatever you have that you want to use up.
I did this for a few days after thanksgiving last year for breakfast and it was great to just grab a few items and then air fry them.
I cooked our air fryer turkey hash for 5 minutes at 180c/360f.
This is the most eaten turkey leftover recipe in the Milner house. Grab your leftover turkey bits and pieces, make into turkey burger patties, coat in breadcrumbs and air fry.
These cute turkey burgers also cook well from frozen too.
These stuffing muffins are delicious and use up leftover turkey stuffing along with other turkey roast leftovers. They are made in a similar way to our air fryer egg cups and are perfect for brunch or taking to work.
I love this layered turkey pie that is cooked in silicone cake pans in the air fryer. You will love how easy it is to assemble this turkey pie and how you can do it with turkey or any other leftover roast dinner.
If you love Friends, then you will be a big fan of the moist maker. But it gets better, you can make the turkey sandwich, which is known for its gravy layer, in the air fryer.
You can also use this as the base for some leftover turkey alternatives to air fryer grilled cheese too.
If you have not heard of a calzone before, then think of it as a pizza that is folded over and kind of looks like a homemade pasty.
The best thing about a calzone is that it makes a fantastic use of leftover turkey and you can load your calzone up with turkey.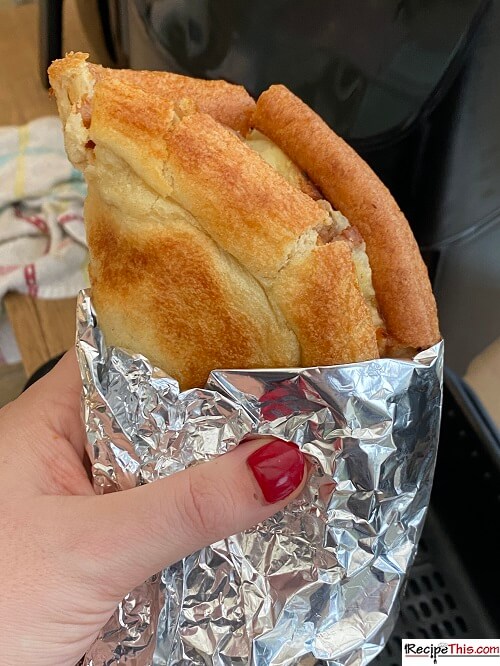 And of course, you can use the Yorkshire pudding wrap as a basis for roast turkey leftovers wrap. Simply swap roast beef for roast turkey and you are all set.
And there you have it, the best stuff to do with leftover turkey! Of course, I am sure your brain is going at a million miles per hour, thinking about other ways you can use your leftovers and hopefully we have given you some inspiration.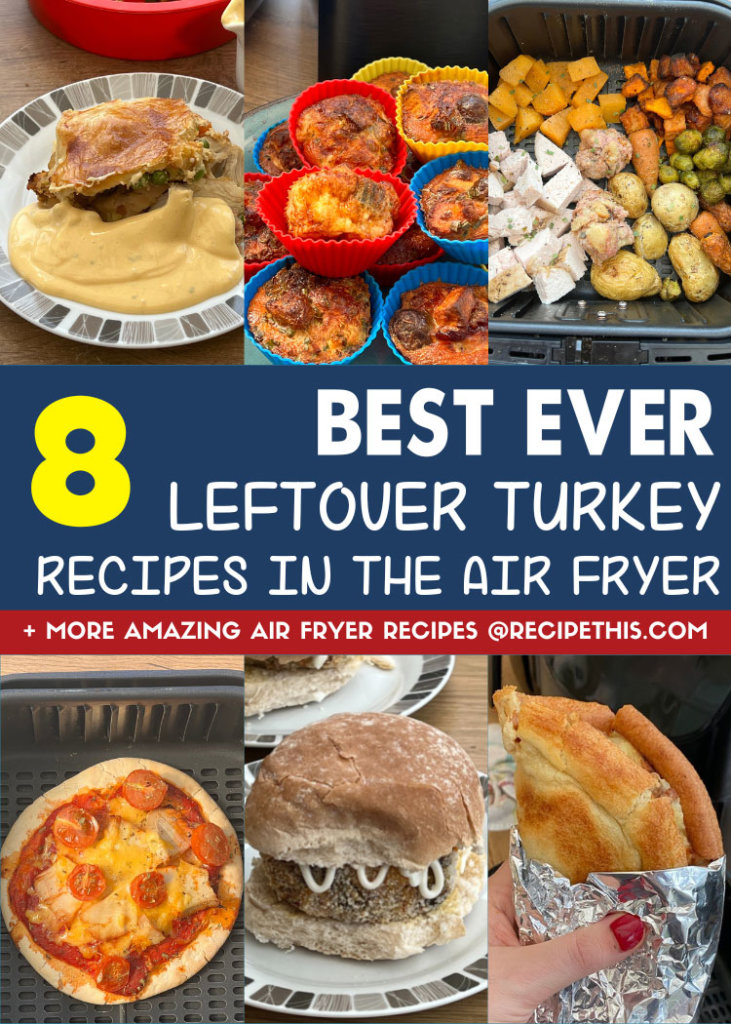 Reheating Thanksgiving Foods In The Air Fryer
Before you jump off the sofa and go and make turkey leftovers, you can also use the air fryer to reheat your leftovers. This is perfect if you just want to warm up your turkey and don't want to make it into something new.
You can reheat your turkey in the air fryer and then make it into a salad, or just enjoy warm turkey slices.
Air Fryer Turkey Leftovers Quick Links
Can't read it now? Then pin it for later!