Tis the season for leftover turkey instant pot recipes. If you have an instant pot pressure cooker and are looking for something delicious for your leftover turkey, then we have you covered.
We have everything from instant pot turkey soup to instant pot turkey and rice and much more.
This delicious list of easy instant pot leftover turkey recipes is updated for thanksgiving and Christmas 2022 and happy holidays!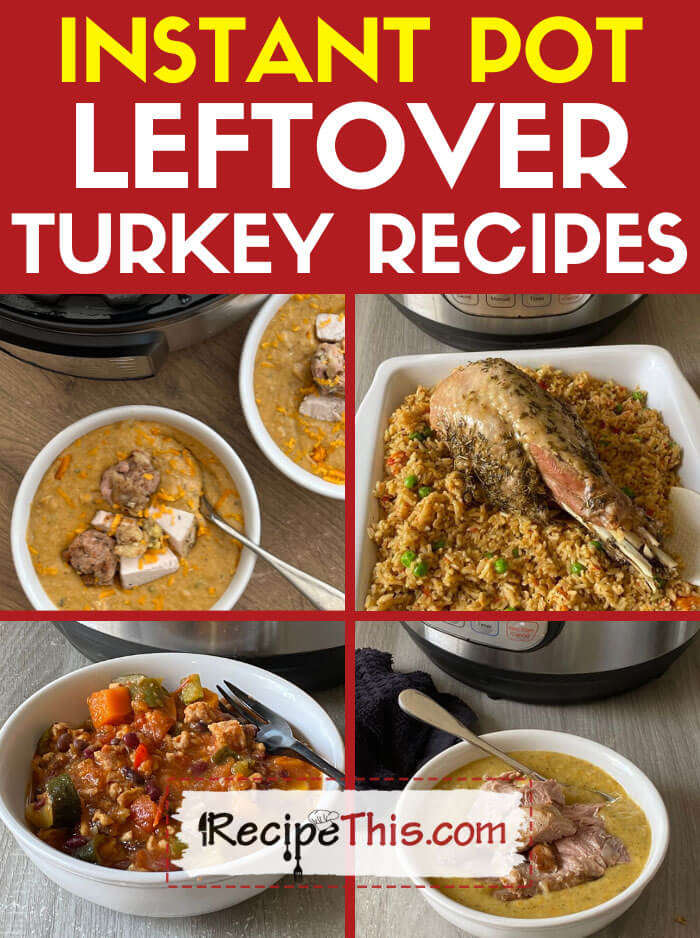 Instant Pot Turkey Leftovers
Today I wanted to share with you what love to cook in the instant pot pressure cooker with my turkey leftovers.
My turkey leftovers obsession started a few years ago and I am sure I get worse as each turkey season approaches.
Dominic will strip the turkey of all its meat over Thanksgiving and Christmas and then I will set to work in making as many Instant Pot Turkey Leftover meals and of course we use the air fryer for air fryer turkey leftovers too.
Though, in recent years I have been buying turkeys on clearance (post Christmas) when they are at a reduced price and then I can freeze them and make lots of turkey leftover meals with them later.
This is a great way to save money on groceries and that $6 turkey can turn into 17 meals for you and your family.
But today, I am just sharing you our best Instant Pot Turkey Leftovers, with a bit for everyone and perfect for using up what turkey you have in your fridge so that no turkey gets wasted.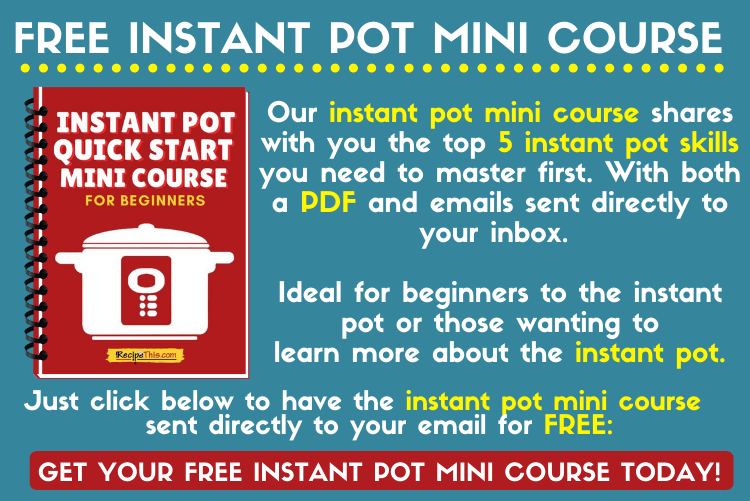 Plus, as well as our free newsletter, we also have a free instant pot mini course. It is ideal for instant pot beginners or those that want to get more confident with their electric pressure cooker. The free course runs for 5 days with a new lesson delivered each day to your inbox.
Best Leftover Turkey Instant Pot Recipes
Below you will find all our popular instant pot leftover turkey recipes. You can also scroll to the bottom for a quick list of links in case you are in a hurry.
Do share in the comments below what you have made in the instant pot with your leftover turkey and which of our instant pot leftover turkey recipes you have enjoyed the most.
#1 Instant Pot Leftover Thanksgiving Soup
This leftover turkey soup is my favourite out of my all my leftover go to recipes and tastes even better months after Thanksgiving when we can have a bowl of this from the freezer.
The idea came about with our boxing day soup. The idea that you can throw all your leftovers with some gravy and stock into a machine, blend and you have soup.
In the instant pot version, I sauté an onion first with extra virgin olive oil, deglaze with 2 cups (480ml) of a mix of stock and white wine and then I load up the instant pot with what I have left.
Which is usually a mix of turkey, mashed potatoes, rutabaga, sweet potato, sprouts, stuffing, carrots, baby potatoes and some salt, pepper and dried garlic and onion.
A 3 minute quick pressure release later and then after releasing pressure add in leftover dips, grated cheese and a little milk if too thick.
Then serve your thanksgiving soup with a little stuffing and turkey on top.
You then have an amazing thanksgiving soup and then I will batch freeze it and I have loads for beyond thanksgiving.
Then what is often overlooked is when you are cooking your turkey and making use of the turkey neck. You can remove the turkey neck and as you air fry turkey breast, you can be making turkey neck soup for the freezer at the same time.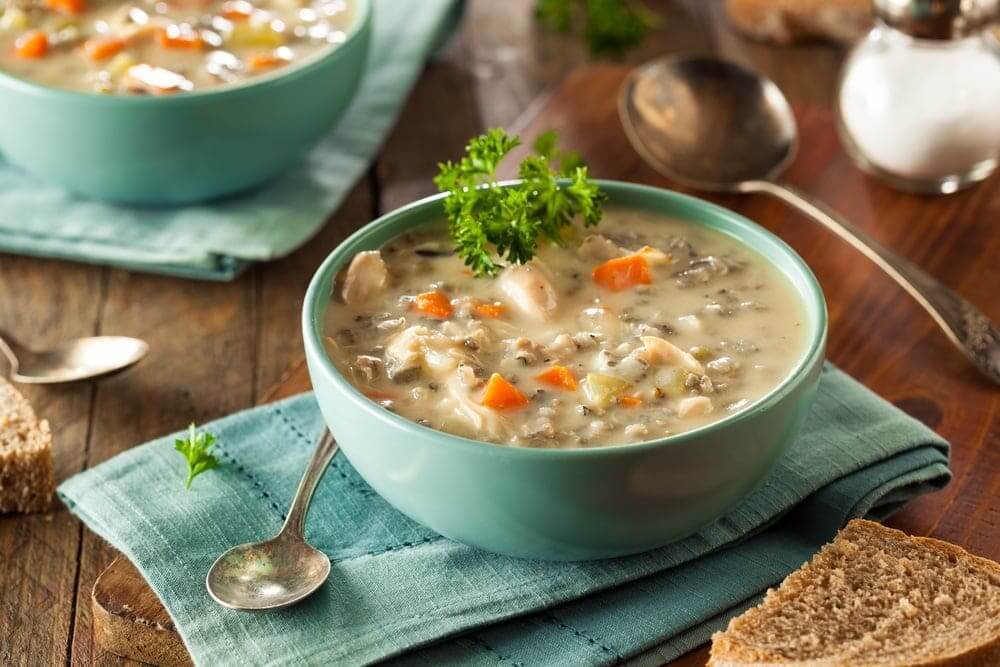 Or another delicious instant pot turkey soup to make during the holidays is turkey wild rice soup. It's a healthier option and is loaded with wild rice which cooks perfectly in the instant pot.
Or instead of our Thanksgiving soup that is more about using up the whole of the turkey dinner, this turkey soup is more of an in between that focuses more on the turkey leftovers.
This leftover turkey soup is perfect for after 2 days of turkey you are lost for turkey ideas.
Or even better this soup recipe also shows you how to make turkey soup from leftover stock and gravy and no turkey.
Every time I cook a whole turkey and after making some turkey neck soup, I save the carcass to make some delicious turkey stock with. It makes the best turkey stock and then I can save it into ice cube trays and into foil containers.
My favourite is the foil containers because you can peel the foil off frozen turkey stock and cook with them from frozen in the instant pot.
You can then use this spare turkey stock in many instant pot meals and it can also be used in recipes that call for chicken stock.
Another favourite of mine is teriyaki turkey and rice. You can cook the turkey with rice and then it comes together as a delicious one pot dish.
Ideal for when turkey is in season, and you want something yummy.
This recipe is fantastic for using up the spare ground turkey when its in season and using it to make a turkey chilli with. Its absolutely delicious and perfect for reheating in the microwave.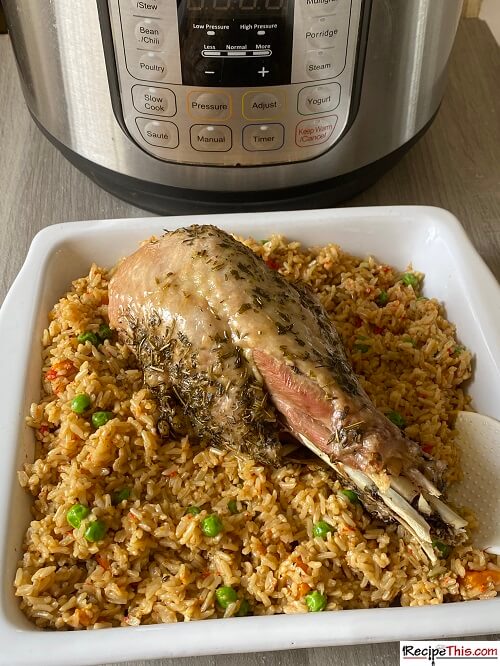 This recipe uses uncooked turkey legs that are often in season around turkey season.
It's all about a turkey leg and rice cooking together and the delicious flavour of the turkey dripping onto the rice. I recommend bulk buying some turkey legs when they are on a special offer and saving them in the freezer for later.
Instant Pot Turkey Leftovers Quick Links
Can't read it now? Then pin it for later!