Instant Pot Weight Loss Meal Plan. Today on the podcast we are sharing with you an easy to follow 7 day instant pot weight loss meal plan, that I followed to lose 5lbs in 7 days.
You can read all about it below and it is also featured in the Magic With Gadgets Podcast. Simply search for Magic With Gadgets on your preferred podcast player, then scroll to episode 7 of season 4 to access this awesome episode.
Instant Pot Weight Loss Recipes
In our weekly newsletter (it comes out every Friday morning if you are interested) I mentioned that I was following Weight Watchers on their new personal points plan and how with the help of the air fryer I was averaging a 3 pound a week weight loss in January. And that I then did it just for the instant pot and lost another 5 pounds.
As well as this, I also ate out twice, went for a weekend away and still managed to make the instant pot work for my weight loss.
I was then amazed by how many emails I received asking for my 7 day air fryer and instant pot weight loss meal plan, as they also wanted help losing those extra pounds.
I also received many requests to feature my instant pot weight loss recipes on the Magic With Gadgets Podcast and today is the day you have all been waiting for.
Today, is the day of the 7 day instant pot diet meal plan and if you wanted the air fryer version simply click here.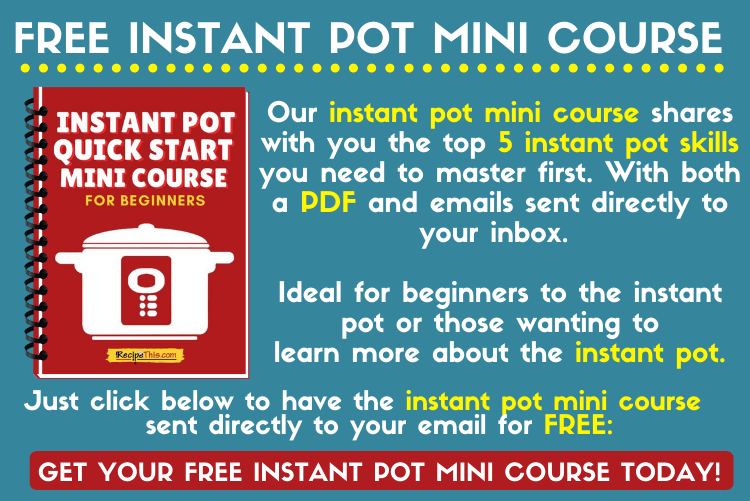 Plus, as well as our extremely popular instant pot mini course which teaches you the instant pot basics in 5 days, we also have our instant pot bucket list. That is loaded with 30 FREE bucket list worthy instant pot recipes.
Can You Lose Weight Using An Instant Pot?
Yes, you sure can use an instant pot for weight loss and I have done this many, many times. You see, the instant pot fits in very well around diets like Slimming World and Weight Watchers where you want to cut the fat from your diet and create a lot of meals with protein and fibre.
You can cook food without oil, or very little oil and you can make hearty one pot dishes.
But this doesn't mean that the food will be bland or boring or that you will be feeling hungry all the time.
Top Instant Pot Recipes For Weight Loss
Now that I have answered your question and confirmed that an instant pot is good for weight loss, let me share with you my instant pot recipes I personally used for weight loss.
Instant Pot Steel Cut Oats – For a fantastic weekend start to the day I had steel cut oats, and then reheated the leftovers for the next day. Perfect for if you are on a day out over the weekend.
Instant Pot Whole Chicken – This was fantastic for keeping the whole family happy. We could pressure cook a whole chicken and I would have a breast with no skin, and they could enjoy the rest of the chicken. Then it was served with my favourite instant pot steamed cabbage.
Instant Pot Salmon & Broccoli – I love to combine salmon and broccoli in the instant pot for a quick lunch. We had it twice for our lunch. You can also swap the salmon for any other fish fillet.
Instant Pot Frozen Veggie Soup – Then for a quick fix we had frozen veggie soup. Its so easy to make and works well with a lot of different frozen veggies.
Instant Pot Baked Potato Bar – For our lunch on the Saturday and for my potato treat of the week we had a baked potato bar. Perfect for an effortless lunch and great for families.
Instant Pot Cottage Pie – Then for lunch on the Sunday I made cottage pie. So delicious and easy to make in the instant pot. Then to make it more weight loss friendly I swapped white for sweet potato mash.
Instant Pot Lentil Curry – This originally came about to make use out of leftover veggies and to make them more filling. It's now one of my favourite recipes for the instant pot. Best of all, it's loaded with green lentils and is fantastic for filling you up. We also made a big batch in our 8qt so that it would feed us for dinner for 4 days.
Instant Pot Leftover Turkey Chilli – Then finish the week with a big pot of leftover turkey chilli. Which is a great way to use up the leftover veggies you have in your house and make a zero point dinner.
And those are the 9 BEST instant pot weight loss recipes that we followed for 7 days. The dinners we ate the most, but its nice to have something you cooked once and can eat several times.
PS: Cheap Instant Pot Weight Loss
The most important thing to mention about our healthy instant pot recipes for weight loss, is that the majority of them are made using Aldi produce.
Quite often when we go on a diet everything is expensive, yet I often recommend that instead of joining a diet club to buy an instant pot instead. Then use the delicious food of Aldi in your pressure cooker.
PPS: Instant Pot Diet Recipes Meal Plan
Also, below our very talented graphic designer has put together the instant pot meal plan into a PDF for you. Along with the links to the recipes featured.
You can click here and subscribe to Recipe This and then download your free diet meal plan and then follow it along at home.
Did You Know We Have A Podcast?
We started the Magic With Gadgets podcast in the January of 2021 as a way to offer a different way to enjoy Recipe This. It focuses on cooking with kitchen gadgets. You can find out more about our podcast here.
With weekly episodes that will help you cook smart with kitchen gadgets. This is episode 7 of the fourth season and you have the choice between reading this post, listening to the podcast or both.
If you would like to stay in the loop with our podcast, I recommend you subscribe below:
How To Listen To This Podcast Episode?
You can use the player above to listen to this episode of Magic With Gadgets. Alternatively search for Magic With Gadgets on your favourite podcast platform or click the links below:
Subscribe & Review
Thank you for listening to the Magic With Gadgets Podcast. Have some feedback you would like to share? Want to be featured in a future episode? Want to help us spread the word?
Browse other episodes (access them all here)
Leave a comment below the blog post
Share with your friends on social media
Share your thoughts in our Facebook Group (you can sign up here)
Ask me a question or submit a guest request by filling out the form below
If our podcast has helped you, please leave a review on iTunes. Your reviews help spread the word and without reviews our podcast will not get seen. Plus, I love reading each and every one of them.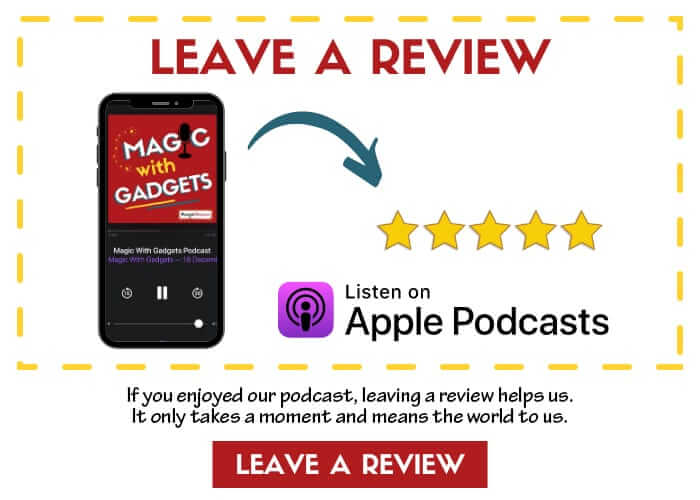 Can't listen now? Then pin it for later!