Air Fryer Frozen Food Cook Times
This Post Contains Affiliate Links. Click Here To Read Our Full Disclosure.
Air Fryer Frozen Food Cook Times. A free air fryer frozen food cheat sheet sharing with you how long to air fry all your favourite frozen foods. Print out the list of frozen cook times and place on your fridge for quick access next time you want to quickly cook frozen food in an air fryer.
Can You Put Frozen Food In An Air Fryer?
Firstly, I am sure you are wondering if you can put frozen food in an air fryer? Well the answer is a big FAT yes. Frozen food is AMAZING in an air fryer and once you load frozen food in once, there is no going back.
Plus, air fryer frozen food isn't just about air fryer frozen wings, or air fryer frozen breaded chicken, as healthier frozen food is also delicious in the air fryer.
For example, you can cook frozen meat in air fryer, or even your favourite shrimp or vegetables.
Air Fryer Frozen Food Cook Times
The first thing I ever cooked in the air fryer was frozen chicken and even now several years later, it still amazes me how many different frozen foods you can cook in the air fryer.
Or more specifically, the huge amount of frozen foods that are amazing in the air fryer.
In the Milner house our all-time favourite air fryer frozen food is air fryer frozen broccoli, followed by air fryer frozen onion rings. You can throw them in and then let the air fryer do its magic.
But how often do you look in the freezer, plan what you want to cook from frozen and then be left angry that frozen food instructions are not on the packaging? Then you spend hours on the internet looking for the air fryer frozen cook times and then still feel like the cook time is off a bit?
It made me think, that if I was a beginner to the air fryer and wanted to cook frozen food, that I would love some printables that I could keep in the kitchen for my favourite air fryer foods.
The printable I wanted to share with you today is just for air fryer frozen food and you can download it for FREE below.
How Long To Air Fry Frozen Food?

What is your favourite frozen recipe that you want to cook in the air fryer? Mine is always either frozen vegetables or frozen shrimp. I love to load the air fryer with frozen cooked and peeled shrimp and then make a quick light lunch. Or cook frozen veggies to go with some chicken. Though, I am sure my kids would be saying frozen chicken nuggets if I asked them!
If you are wondering how long to cook frozen food in the air fryer, then here are a few cook times to get you started: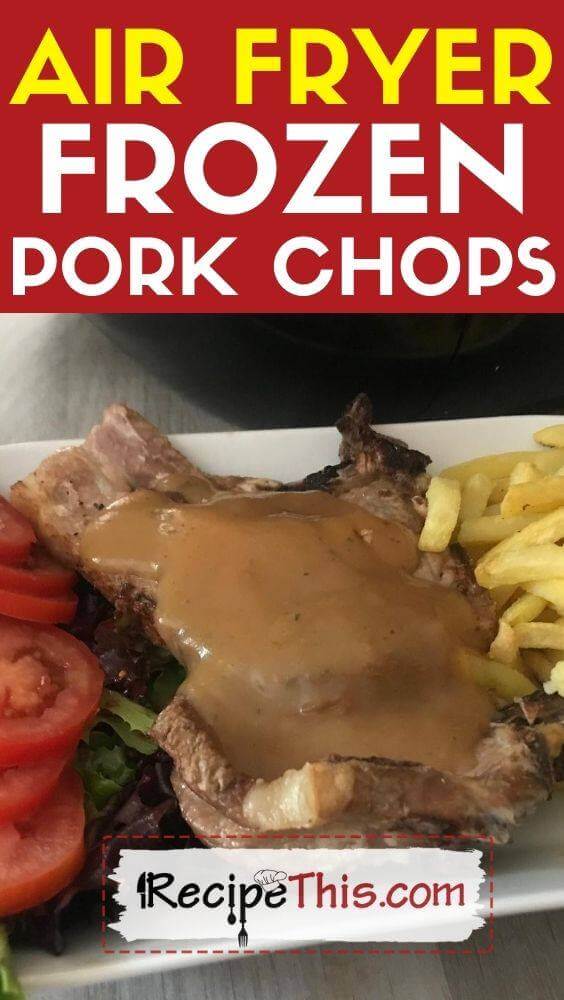 You can of course click on any of the links above and it will take you to the recipe and then you can read about how we cook our air fryer frozen food, the temperature, how to season them and our recommended air fryer frozen cooking tips.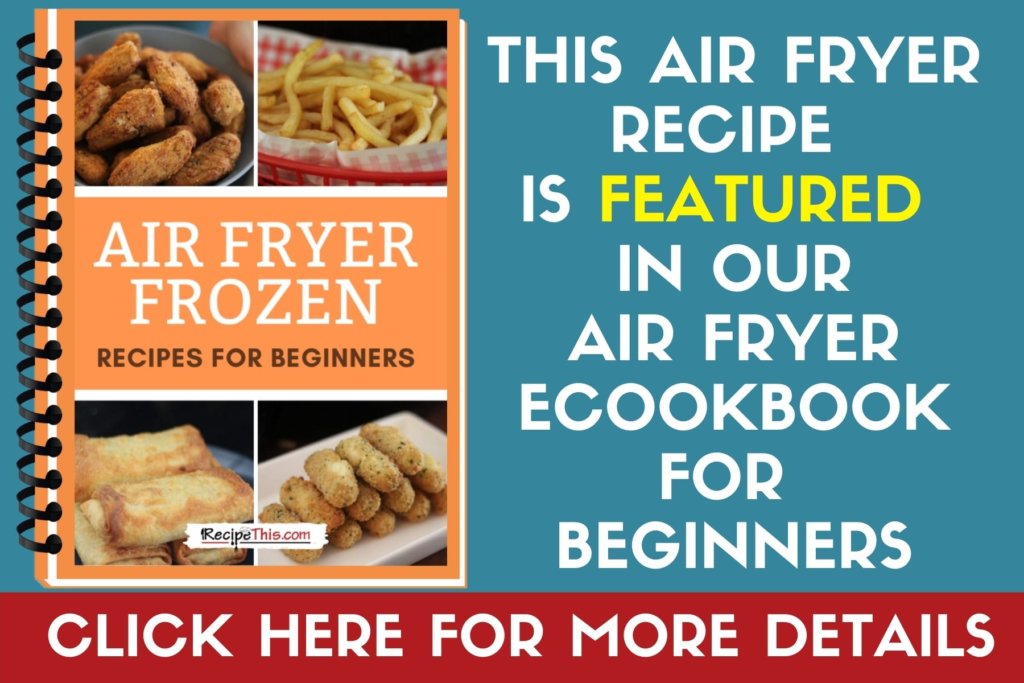 Air Fryer Frozen Food Cook Time Chart
Below you can subscribe for FREE to Recipe This and receive our air fryer frozen cook time chart in PDF. My favourite feature though, is that the frozen is organised by category, making it perfect for easy reading.
Though when you enter your email address its not just about the cooking times chart for frozen food, it is about accessing all our free ebooks and printables.
It is through the members area that you can access our air fryer bucket list that includes a free air fryer recipe ebook with the top 25 air fryer recipes of all time.
It is also though the members area that you get all our other free cooking times printables that can help you plan your air fryer meals more efficiently and know the cook times as you air fry.
Air Fryer Frozen Tips
The first thing we ever cooked in our air fryer back in 2011 was air fryer frozen chicken strips, but we soon became obsessed with lots of different ways to cook frozen food in the air fryer.
Looking back, I think what advice I would give myself now about frozen foods in the air fryer, after all those years would be:
Get a spray bottle – To avoid that soggy texture on your frozen breaded chicken spray the breadcrumbs with extra virgin olive oil. Do this about 5 minutes before the end of the cook time to get the best results.
Two different cook times – I do this a lot with frozen foods. I will start off on a lower temperature of 160c/320f and finish off at 200c/400f. This will ensure that the food is thoroughly cooked in the middle and crispy on the outside. Many recipes call for a higher temperature only and the food will often be dry and slightly burnt.
Careful for crumbs – It amazes me when you open a box of breaded frozen chicken how many crumbs have come off the breadcrumbs. Make sure you brush these away before cooking your chicken. It will stop lumps in your chicken crust and prevent extra mess in your air fryer.
Air Fryer Frozen Foods Cookbook
We also have all our air fryer frozen food recipes that are in the free cooking chart in our air fryer frozen cookbook.
The cooking chart is on the last pages after all our popular air fryer frozen food recipes. What we love most about it is that the recipes are easy to print and you can place them on the fridge or in your favourite recipe binder.
You can download the air fryer frozen foods cookbook here.
More Air Fryer Cooking Times
Can't read it now? Pin it for later!