Air Fryer Chicken Cook Times. A free air fryer chicken cheat sheet sharing with you how long to air fry chicken. Print out the list of chicken cook times and place on your fridge for quick access next time you want to cook chicken in an air fryer.
Air Fryer Chicken Cook Times
The first thing I ever cooked in the air fryer was chicken and along with air fryer potatoes, it must be our most cooked food in the air fryer.
In the Milner house we will often cook chicken and potatoes for dinner and normally one chicken in one air fryer and potatoes in the other, making it ideal for feeding a family of five on a busy weeknight.
But how often do you have a plan for cooking chicken for dinner and just want to quickly know the cook times and then get dinner on the table?
Because I have been cooking chicken for such a long, long time in the air fryer, many of the cook times I know in my head. I know how long to air fry a whole chicken or how long to cook some marinated chicken thighs.
But long before I did it from memory, I had a printable that I kept next to my air fryer that I could just reference as I put dinner on. It listed my favourite air fryer foods and was so useful to me.
It made me think, that if I was a beginner to the air fryer and wanted to cook chicken, that I would love some printables that I could keep in the kitchen for my favourite air fryer foods.
The printable I wanted to share with you today is just for air fryer chicken and you can download it for FREE below.
How Long To Air Fry Chicken?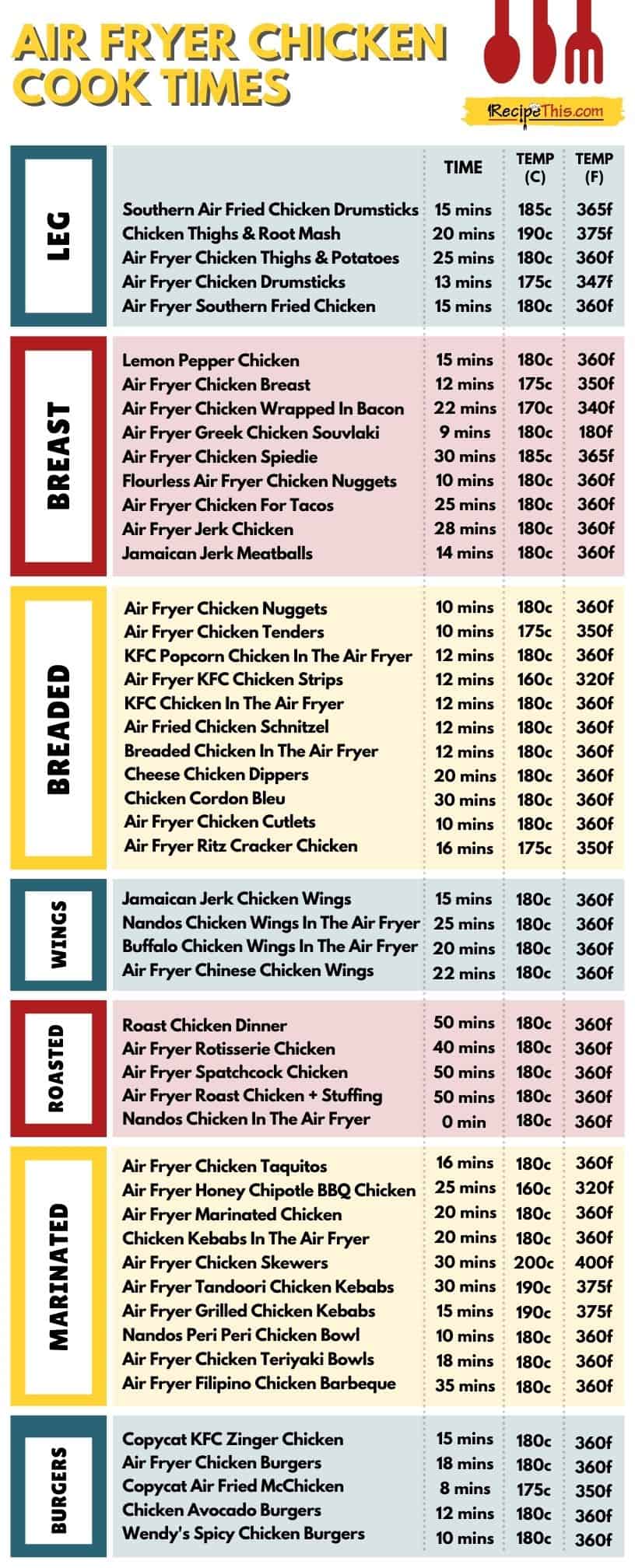 What is your favourite chicken recipe that you want to cook in the air fryer? Mine is always a rotisserie chicken. You can cook it like the rotisserie chickens you buy from the supermarket and its fantastic for an easy cheap weeknight dinner. We will then pair it with air fryer veggie fries and prep for dinner will be less than 10 minutes.
If you are wondering how long to cook chicken in the air fryer, then here are a few cook times to get you started:
You can of course click on any of the links above and it will take you to the recipe and then you can read about how we cook our air fryer chicken, the temperature, how to season them and our recommended air fryer chicken tips.
Air Fryer Chicken Cook Time Chart
Below you can subscribe for FREE to Recipe This and receive our air fryer chicken cook time chart in PDF. My favourite feature though, is that the chicken is organised by type, making it perfect for easy reading.
Though when you enter your email address its not just about the cooking times chart for chicken, it is about accessing all our free ebooks and printables.
It is through the members area that you can access our air fryer bucket list that includes a free air fryer recipe ebook with the top 25 air fryer recipes of all time.
It is also though the members area that you get all our other free cooking times printables that can help you plan your air fryer meals more efficiently and know the cook times as you air fry.
Air Fryer Chicken Tips
The first thing we ever cooked in our air fryer back in 2011 was air fryer frozen chicken strips, but we soon became obsessed with lots of different ways to cook chicken in the air fryer.
Looking back, I think what advice I would give myself now about chicken in the air fryer, after all those years would be:
Get a spray bottle – When you are breading chicken to cook in the air fryer or cooking breaded chicken from frozen you want that crispy coating. By adding a little extra virgin olive oil spray, a couple of minutes from the end of the cook time can make a HUGE difference.
Two different cook times – I do this a lot with very thick chicken breasts. You start off low to help the middle of the chicken cook and then go higher to make sure the outside is crispy and that you have an even cook.
Don't overcrowd the air fryer basket – Don't add chicken on top of each other. It will stick together, and you will not have an even cook on your chicken.
Add a baking mat – My best recommendation for a DIY air fryer accessory is a silicone baking mat. They are ridiculously cheap, and you can buy two for less than $8. But best of all they do a much better job than parchment paper and wipe clean after use. The only problem is they are not designed with air fryers is mind, so we always cut them to the size of the air fryer.
Air Fryer Chicken Cookbook
We also have all our air fryer chicken recipes that are in the free cooking chart in our air fryer chicken cookbook.
The cooking chart is on the last page after all our popular air fryer chicken recipes. What we love most about it is that the recipes are easy to print and you can place them on the fridge or in your favourite recipe binder.
You can download the air fryer chicken cookbook here.
More Air Fryer Cooking Times
Can't read it now? Pin it for later!