Air Fryer Potato Cook Times
This Post Contains Affiliate Links. Click Here To Read Our Full Disclosure.
Air Fryer Potato Cook Times. A free air fryer potatoes cheat sheet sharing with you how long to air fry potatoes. Print out the list of potato cook times and place on your fridge for quick access next time you want to cook potatoes in an air fryer.
Air Fryer Potato Cook Times
I don't know about you, but most of us know how we want to prep our food in the air fryer and how we want it to taste, but just want something simple that can be placed on the fridge with the cook times.
You might be having air fryer potato wedges for dinner and just want to know how long to air fry your wedges. Or you might be making baked potatoes and need an idea of how long the baked potato is going to take in the air fryer.
After all, you don't want to leave it too late and the rest of dinner be ready, minus that almost hard baked potato that has not been in the air fryer basket long enough.
That is why I wanted to create a free air fryer potato cooking chart that you can print out and place on your fridge for easy reference.
How Long To Air Fry Potatoes?
What is your favourite potato that you want to cook in the air fryer? Mine is always potato wedges, though we probably eat air fryer fries the most. I mean who doesn't???
If you are wondering how long to cook potatoes in the air fryer, then here are a few cook times to get you started:
You can of course click on any of the links above and it will take you to the recipe and then you can read about how we cook our air fryer potatoes, the temperature, how to season them and our recommended air fryer potato tips.
Air Fryer Potato Cook Time Chart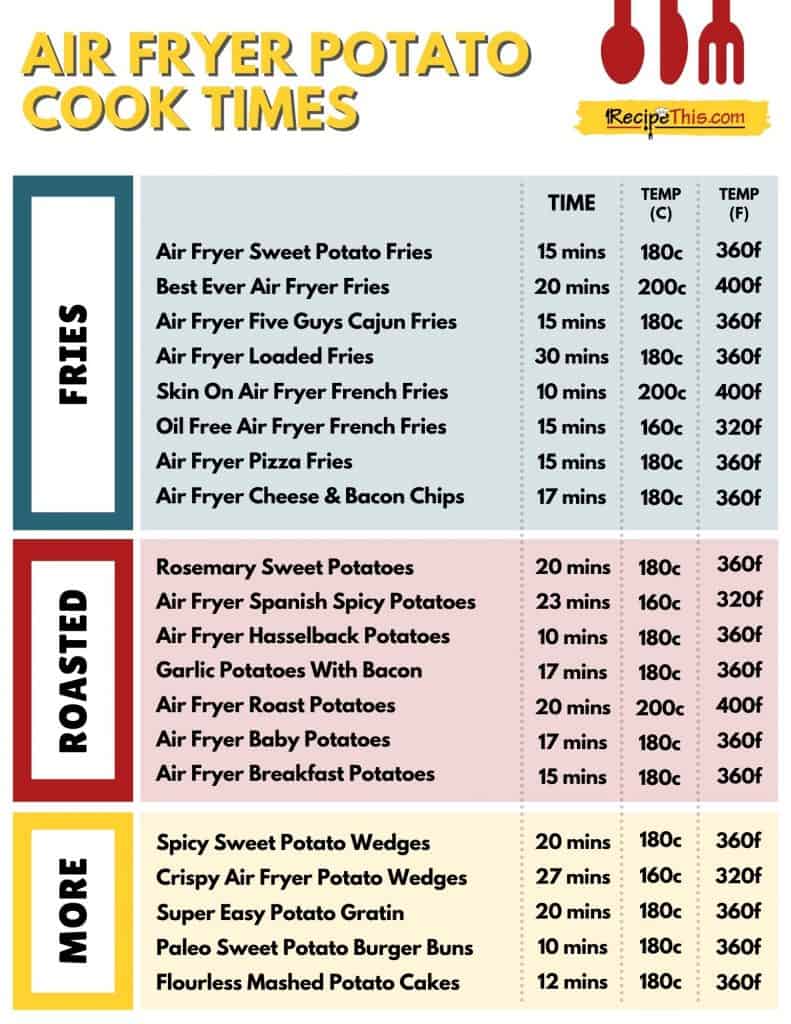 Below you can subscribe for FREE to Recipe This and receive our air fryer potato cook time chart in PDF. Though when you enter your email address its not just about the cooking times chart for potatoes, it is about accessing all our free ebooks and printables.
It is through the members area that you can access our air fryer bucket list that includes a free air fryer recipe ebook with the top 25 air fryer recipes of all time.
It is also though the members area that you get all our other free cooking times printables that can help you plan your air fryer meals more efficiently and know the cook times as you air fry.
Air Fryer Potato Tips
The first thing we ever cooked in our air fryer was air fryer frozen chicken strips, but the second was air fryer potatoes. It was 2011 and it started our obsession with cooking crispy potatoes in the air fryer. But back then there was no food blogs talking about air fryers or any advice about how to best use an air fryer. Instead we were the first and were trying out best to learn it as well as we could.
Looking back, I think what advice I would give myself now about potatoes in the air fryer, after all those years would be:
Get a spray bottle – We used to drizzle olive oil over our potatoes and soon realised how much oil we were wasting that went in the bottom of the air fryer. It doesn't have to be a fancy bottle just one that can hold some olive oil in it, that you can use for spraying your potatoes.
Two different cook times – This is the most essential lesson you will ever learn about air fryer potatoes. Most recipes will call for 20 minutes on a high temperature. This will result in some burnt fries and some that are not cooked in the middle. Start with a 160c/320f and then go to 200c/400f for the last few minutes.
Don't overcrowd the air fryer basket – If you overcrowd the air fryer basket when cooking potatoes, you will not get an even cook. Some will stick to the basket; others will not get crispy and most of the time they will be dry and tasteless.
Air Fryer Potato Cookbook
We also have all our air fryer potato recipes that are in the free cooking chart in our air fryer potato cookbook.
The cooking chart is on the last page after all our popular air fryer potato recipes. What we love most about it is that the recipes are easy to print and you can place them on the fridge or in your favourite recipe binder.
You can download the air fryer potato cookbook here.
More Air Fryer Cooking Times
Can't read it now? Pin it for later!