What Instant Pot Accessories Do I Need?
This Post Contains Affiliate Links. Click Here To Read Our Full Disclosure.
Instant Pot Accessories List. Today we wanted to talk about what instant pot accessories do you need from 5 years of instant pot cooking. As well as what is a waste of money and what accessories stand the test of time.
This instant pot accessories guide is also featured in the Magic With Gadgets Podcast. Simply search for Magic With Gadgets on your preferred podcast player, then scroll to episode 2 of season 4 to access this awesome episode.
Do You Need Instant Pot Accessories?
Note that I said do you NEED instant pot accessories and NOT do you want instant pot accessories.
This is because I am all about saving money, I am all about been frugal and I also save money on instant pot accessories and only buy the instant pot accessories that I truly need.
I often get asked about my go to list of pressure cooker tools and thought that instead of just listing the same ones everyone else is talking about, that instead on the podcast today I give you a walk through around our kitchen of:
Which instant pot accessories we use everyday
Where to buy instant pot accessories
How to use instant pot accessories
What to look for in instant pot accessories
If instant pot accessories are universal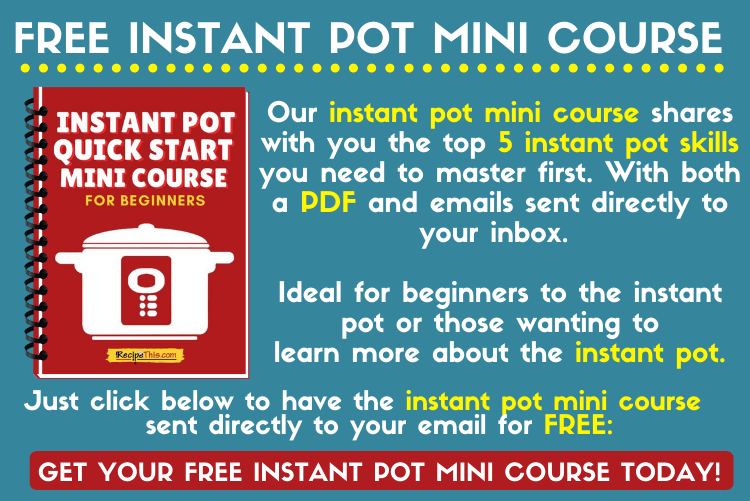 Plus, as well as our extremely popular instant pot mini course which teaches you the instant pot basics in 5 days, we also have our instant pot bucket list. That is loaded with 30 FREE bucket list worthy instant pot recipes.
What Are Instant Pot Accessories Used For?
Now that you know that instant pot accessories are necessary, lets talk about the most used instant pot accessories.
I have been pressure cooking with the instant pot for 5 years and have collected lots of accessories. I have also got rid of any that were just not worth it and kept my favourite.
My number #1 most used instant pot accessory is a trivet. As you get one already with your instant pot, you don't have to worry about this. Though if you plan on cooking multiple items at once such as instant pot bangers and mash or instant pot shepherd's pie, it is recommended to own a tall trivet.
Then after the trivet #2 is the instant pot steamer basket. I personally recommend this one and use it all the time for steaming veggies and for steaming potatoes in too. Its also fantastic for meal prep.
Then after the trivet and the steamer basket I always have to have a hand blender. They are perfect for mixing sauces from the contents of your instant pot, or for making an instant pot soup smooth. I bought mine years ago and if I travel with my instant pot, this hand blender always comes too.
You could probably cope without any others for your first few weeks of pressure cooking.
Then move onto things like a spring form pan for our instant pot strawberry cheesecake, or a cake pan for making our instant pot box cake.
Can Instant Pot Accessories Be Used In Other Pressure Cookers?
Yes, it is perfectly fine to use instant pot accessories in other brands of electric pressure cookers.
The only accessory you can't do this with is the air fryer lid, as it is not compatible with all electric pressure cookers. So do check this before buying one.
Can Instant Pot Accessories Be Used In Ninja Foodi?
Yes, you can use any of your instant pot accessories in your Ninja Foodi. You can also do the opposite and use your Ninja accessories in your instant pot.
In the Miner kitchen we have the instant pot duo 6qt, instant pot duo plus 8qt as well as the Ninja Foodi and often mix the accessories between the three.
Can Instant Pot Accessories Be Used In An Air Fryer?
Yes, you can use instant pot accessories in your air fryer. And just like with the Ninja Foodi, I often use instant pot accessories in the air fryer and vice versa.
I would say my most used between air fryers and other electric pressure cookers is the cake pans, silicone moulds and extra virgin olive oil spray.
Where To Buy Instant Pot Accessories?
The most popular place to buy instant pot accessories is on Amazon. You can also use Amazon to buy a bundle of instant pot accessories in one, like this pack here.
But I find a great starting point is what you already own, followed by heading to your favourite supermarket and seeing what small accessories they have, that will fit in your instant pot and are instant pot safe.
Note, that most instant pot accessories are cheap, and its not a big cost to you to get your pressure cooker kitted out with essential instant pot tools.
What Are The Best Instant Pot Accessories?
If you listen to the podcast episode below, then you will get to listen to me as I go through our kitchen cupboards and utility and talk you through our best instant pot accessories.
For quick ordering below are the links to each of the best instant pot accessories that we recommend:
Where To Store Instant Pot Accessories
If you listen to the podcast episode, you will hear me going through kitchen cupboards and drawers and our utility room.
We have plenty of drawers and kitchen cupboards and we use this for the bulk of our instant pot accessories.
Then in our utility, we keep things that don't get used as much such as Pyrex dishes for freezer meals, as well as spare inner pots and ingredients we have stored for recipes.
Just look at what space you have, which ones you use the most and go from there with it.
Did You Know We Have A Podcast?
We started the Magic With Gadgets podcast in the January of 2021 as a way to offer a different way to enjoy Recipe This. It focuses on cooking with kitchen gadgets. You can find out more about our podcast here.
With weekly episodes that will help you cook smart with kitchen gadgets. This is episode 2 of the fourth season and you have the choice between reading this post, listening to the podcast or both.
If you would like to stay in the loop with our podcast, I recommend you subscribe below:
How To Listen To This Podcast Episode?
You can use the player above to listen to this episode of Magic With Gadgets. Alternatively search for Magic With Gadgets on your favourite podcast platform or click the links below:
Subscribe & Review
Thank you for listening to the Magic With Gadgets Podcast. Have some feedback you would like to share? Want to be featured in a future episode? Want to help us spread the word?
Browse other episodes (access them all here)
Leave a comment below the blog post
Share with your friends on social media
Share your thoughts in our Facebook Group (you can sign up here)
Ask me a question or submit a guest request by filling out the form below
If our podcast has helped you, please leave a review on iTunes. Your reviews help spread the word and without reviews our podcast will not get seen. Plus, I love reading each and every one of them.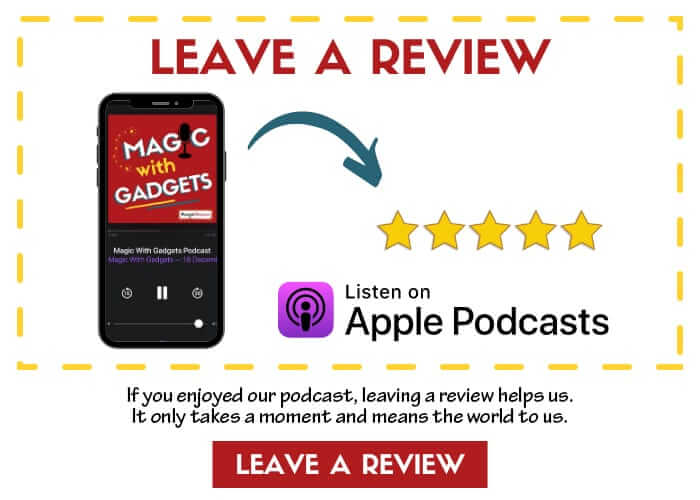 Can't listen now? Then pin it for later!