What Does An Instant Pot Do?
This Post Contains Affiliate Links. Click Here To Read Our Full Disclosure.
What Does An Instant Pot Do? Today we are talking all about the instant pot pressure cooker, exactly what it does and why an instant pot is perfect for you.
This instant pot guide is also featured in the Magic With Gadgets Podcast. Simply search for Magic With Gadgets on your preferred podcast player, then scroll to episode 10 of season 2 to access this awesome episode.
What Can I Do With My Instant Pot?
I have been using the instant pot pressure cooker for 5 years and I am still in the honeymoon period and totally in love with it. Even though I am five years in with my instant pot journey, there are still more and more new things that I could still do with my instant pot.
Which sounds crazy doesn't it?
Though, if you are at the beginning of your own instant pot journey you are probably looking for some beginner ideas of what you can do and also have several questions about the instant pot.
Today we will be discussing:
What's an instant pot
What does an instant pot do?
Instant Pot Functions
Instant pot vs pressure cooker
Instapot vs instant pot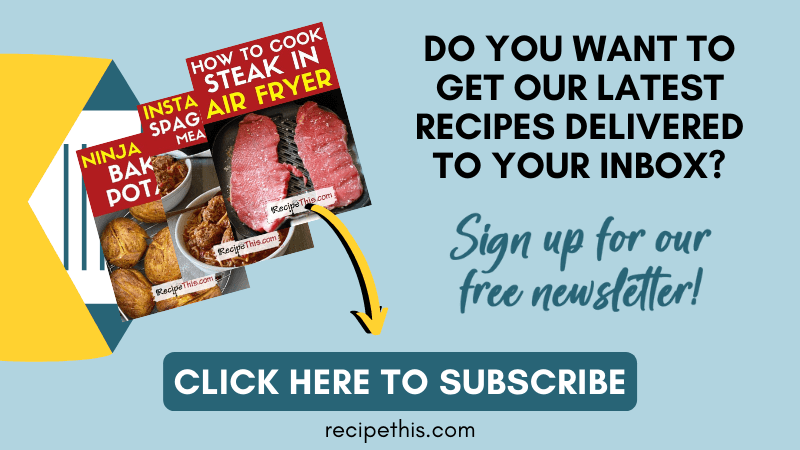 Plus, as well as our free newsletter, we also have a free instant pot mini course. It is ideal for instant pot beginners or those that want to get more confident with their instant pot. The free course runs for 5 days with a new lesson delivered each day to your inbox.
What's An Instant Pot?
An instant pot is an electric pressure cooker. It's a very popular brand of electric pressure cookers and became super popular back in 2016 and since then more and more people have jumped on the instant pot bandwagon and enjoyed the instant pot benefits.
If you live in Australia, you're more likely to think of the instant pot as a multicooker and the instant pot certainly has a lot of functions that it can do.
The Instant Pot Functions
When understanding what does an instant pot do, the best thing to do is to look at its functions.
Sautés – The instant pot is fantastic for sauteing your food prior to the main cook. You can brown your meat, sauté your onions, brown your garlic and the list goes on and on.
Slow Cooks – Probably known as its worst function the instant pot slow cooks. But it is mega slow on the slow cook so you are likely to want to keep your slow cooker and not rely on this one. But what you can do is use this for a hotter keep warm.
Rice Cooker – I LOVE instant pot brown rice, it's the BEST and so easy to make too. You can replace your rice cooker with the instant pot and use it for other grains such as instant pot quinoa.
Pulses Cooker – As well as rice it is perfect for any of your pulses such as instant pot green lentils or instant pot chickpeas and ANY dried beans you want to cook. Plus, there is no need to soak them first.
Steamer – Its most common instant pot function is its ability to steam anything and everything. You can steam things such as instant pot broccoli, instant pot frozen salmon, instant pot frozen vegetables and so much more. Plus, let's not forget about the instant pot steamed puddings.  
Porridge – As well as the rice you can also use the instant pot for instant pot porridge which is so yummy you will want to eat it all the time.
Soup – Let's not forget about the soup function. Perfect soup every time just grab your hand blender to blend it. You can use the same system for sauces too. Though my favourite for zero prep is instant pot vegetable soup with frozen vegetables.
Stew – Got to love stew in the instant pot. Its easy to do and you can even make instant pot stew and dumplings. Perfect for when you want some of the old school food.
Yoghurt – Or once you get into the swing of things with the instant pot, you can also use it for making yoghurt with. They are so many different versions you can do including Greek yoghurt, low fat and even quark.
There are even more functions it does like boiled eggs and cakes, but I am sure you get the idea above about how grand it is. This is the instant pot we recommend for newbies.
Instapot Vs Instant Pot?
Instapot and instant pot is one of the same. Instapot is like the nickname given to the Instant Pot, or many people call it the lazy way to say instant pot.
A bit like the way you have donut vs doughnut.
I notice that often when I am interviewed by Americans and we are talking about the instant pot, that they will always call it an Instapot, yet I don't know anyone in Britain that shortens it.
Instant Pot Vs Pressure Cooker?
You're probably wondering, is a pressure cooker the same as an instant pot? And you would be spot on.
An instant pot is simply an electric pressure cooker.
The difference between the instant pot and the pressure cooker is that the instant pot is just an advanced version. A better version. A more popular version.
Just like you think of the Crockpot as the best slow cooker, the same rule applies with the Instant Pot and the pressure cooker.
It's also worth noting that the instant pot is an electric pressure cooker and not like the stovetop ones that you probably had nightmares of, as a kid.
And of course, don't forget to check out this instant pot that we recommend the most.
Did You Know We Have A Podcast?
We started the Magic With Gadgets podcast in the January of 2021 as a way to offer a different way to enjoy Recipe This. It focuses on cooking with kitchen gadgets. You can find out more about our podcast here.
With twice weekly episodes through September to December. This is episode 9 of the second season and you have the choice between reading this post, listening to the podcast or both.
If you would like to stay in the loop with our podcast, I recommend you subscribe below:
How To Listen To This Podcast Episode?
You can use the player above to listen to this episode of Magic With Gadgets. Alternatively search for Magic With Gadgets on your favourite podcast platform or click the links below:
Subscribe & Review
Thank you for listening to the Magic With Gadgets Podcast. Have some feedback you would like to share? Want to be featured in a future episode? Want to help us spread the word?
Browse other episodes (access them all here)
Leave a comment below the blog post
Share with your friends on social media
Share your thoughts in our Facebook Group (you can sign up here)
Ask me a question or submit a guest request by filling out the form below
If our podcast has helped you, please leave a review on iTunes. Your reviews help spread the word and without reviews our podcast will not get seen. Plus, I love reading each and every one of them.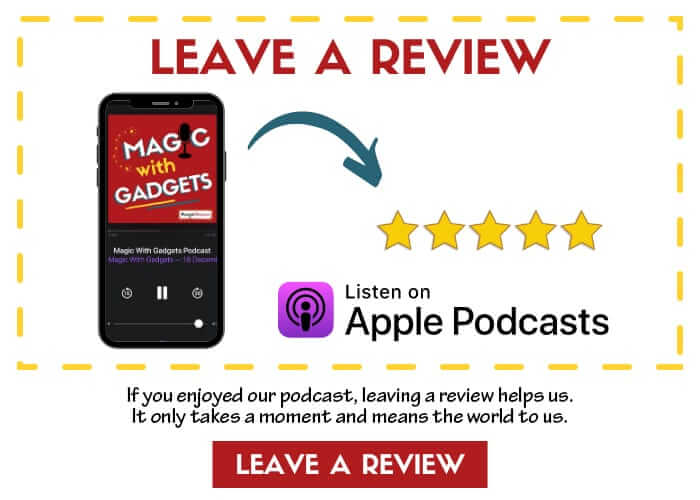 Can't listen now? Then pin it for later!