Shortcuts To Sunday Dinner In The Air Fryer
This Post Contains Affiliate Links. Click Here To Read Our Full Disclosure.
Shortcuts To Air Fryer Sunday Dinners. Today we wanted to share with you a few of our favourite shortcuts for making delicious roast dinners in the air fryer with less time in the kitchen.  
This air fryer Sunday dinner guide is also featured in the Magic With Gadgets Podcast. Simply search for Magic With Gadgets on your preferred podcast player, then scroll to episode 15 of season 3 to access this awesome episode.
Air Fryer Sunday Dinner
What's your favourite part of a Sunday dinner? For me I just cant decide but its either roast potatoes, stuffing, or crispy Yorkshire puddings.
Yours might be a delicious roast beef joint or it might be the fact that the air fryer roasts potatoes with hardly any fat and they taste amazing piled up with all your other Sunday dinner sides.
But of course, it can be such an effort to cook a Sunday dinner and that's without even thinking about the washing up.
You have the roast to cook, the potatoes, the veggies, the stuffing, the pigs in blankets and the list goes on and on.
Today on the podcast I wanted to share with you my top shortcuts for an easy Sunday dinner. That still tastes amazing but involves a lot less prep, no preheating the oven and everything comes together perfectly.
Plus, as well as our free newsletter, we also have a free air fryer mini course. It is ideal for air fryer beginners or those that want to get more confident with their air fryer. The free course runs for 5 days with a new lesson delivered each day to your inbox.
Can You Do A Roast Dinner In An Air Fryer?
Yes, you can cook a roast dinner in an air fryer and you are going to love it! You can use the air fryer to cook the same foods that you would cook in the oven, meaning the air fryer is perfect for roast dinners.
What Sunday Dinner Foods Can You Air Fry?
You can air fry ANY Sunday dinner item you would normally bake in the oven, or cook in the deep fat fryer, or on the grill.
For example, you can roast ANY meat that will fit in the air fryer such as roast chicken, roast pork, roast beef, roast lamb etc.
Here are our air fryer roast ideas:
You can also roast ANY veggie such as broccoli, cauliflower, sprouts, carrots etc.
Here are a few air fryer veggie ideas:
Then you can also air fry your favourite sides too. This is brilliant as some are small enough to fit down the edges of the air fryer basket as you roast the meat.
These are fantastic for air fryer roast dinner sides:
Roast Dinner Shortcuts
Though, in the podcast in this weeks episode its not about these recipes as standalones, but how these air fryer recipes can come together to make some roast dinner shortcuts.
To cook an air fryer roast chicken at the same time as stuffing and pigs in blankets or how you can cook quicker with some quick adaptions.
Did You Know We Have A Podcast?
We started the Magic With Gadgets podcast in the January of 2021 as a way to offer a different way to enjoy Recipe This. It focuses on cooking with kitchen gadgets. You can find out more about our podcast here.
With weekly episodes that will help you cook smart with kitchen gadgets. This is episode 15 of the third season and you have the choice between reading this post, listening to the podcast or both.
If you would like to stay in the loop with our podcast, I recommend you subscribe below:
How To Listen To This Podcast Episode?
You can use the player above to listen to this episode of Magic With Gadgets. Alternatively search for Magic With Gadgets on your favourite podcast platform or click the links below:
Subscribe & Review
Thank you for listening to the Magic With Gadgets Podcast. Have some feedback you would like to share? Want to be featured in a future episode? Want to help us spread the word?
If our podcast has helped you, please leave a review on iTunes. Your reviews help spread the word and without reviews our podcast will not get seen. Plus, I love reading each and every one of them.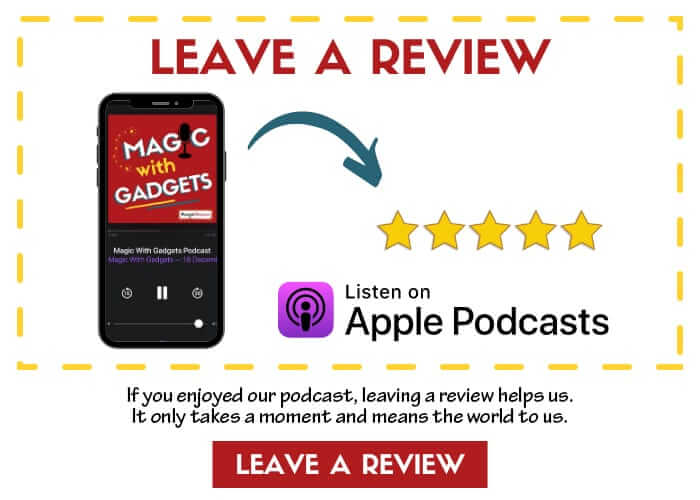 Links Mentioned In This Podcast
Can't listen now? Then pin it for later!