The Air Fryer Potato Cookbook
This Post Contains Affiliate Links. Click Here To Read Our Full Disclosure.
The Air Fryer Potato Recipe Cookbook. Featuring all our popular potato recipes that are cooked in the air fryer. Along with air fryer cooking times, tips, and tricks to get you started with your new kitchen gadget.
Want to cook your favourite potato recipes in the air fryer?
Hate it that your air fryer potatoes are always wrong?
Wondering why your air fryer fries end up burnt?
Looking for air fryer potato recipes?
Want air fryer potato cooking charts?
Looking for air fryer potato guidance from an expert?
If you answered YES to any of these questions, then the air fryer potatoes cookbook is PERFECT for you!
We're the Milner's.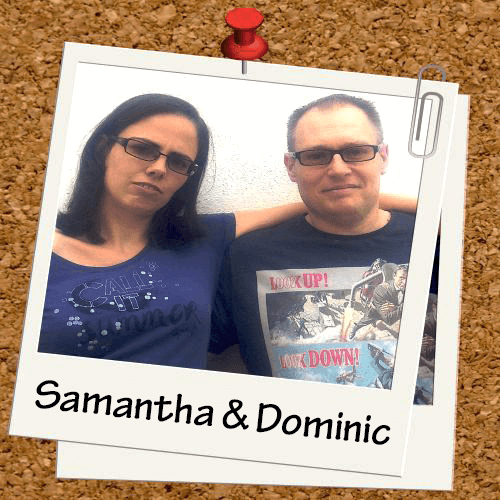 I am Samantha and along with my husband Dominic and son Kyle, we run RecipeThis.com. Our 2 youngest children Sofia & Jorge are our chief recipe testers.
We blog about the air fryer (as well as other kitchen gadgets) from our home in Portugal and wanted to share with you today our fantastic ebook that shows you how to cook all your favourite potato recipes in the air fryer.
Why The Air Fryer Potato Cookbook?
I keep reading messages online from people that have quit their air fryer just because they followed a bad air fryer fries recipe.
People that are average at cooking and don't see why everyone else is raving about air fryer fries when theirs are awful.
Each time I have checked out the air fryer fries recipe that they have followed and rolled my eyes. Many ask you to shake the fries several times during cooking and many others ask you to cook at a much higher temperature then needed thus burning the fries.
This is about 45% of the people I have talked to about air fryer fries. There are also other similar stories of many other air fryer potato recipes.
When one of my air fryer groups asked me to bring out an easy to follow air fryer potato cookbook I was there with bells on. But of course, time got in the way and things came up and it is wonderful for me to now be sharing with you our air fryer potato recipe cookbook.
It features the best of the best of potato recipes cooked in the air fryer. Each recipe personally tested by us Milner's and our readers at Recipe This. If you are a carb hungry potato addict like me and have an air fryer, then it is for YOU.
Best Air Fryer Potato Recipes
It was not until I started looking through Recipe This that I realised just how many different potato recipes I have made in the air fryer.
Some are low in calorie such as making French fries without oil or baked potatoes. While you have your favourite frozen food such as smiley fries.
Here are examples of 10 of the air fryer potato recipes that are included:
Air Fryer Frozen French Fries – Who doesn't love frozen French fries? This is how to cook them in the air fryer.
Air Fryer Potato Wedges – The first recipe we ever published on Recipe This and a true favourite with both us Milner's and our readers. Easy to adapt with favourite seasoning and quick prep.
Air Fryer Garlic Potatoes With Bacon – OMG calling all potato, garlic and bacon lovers? These are Mediterranean potatoes the air fryer way. I always make these if I have spare bacon.
Air Fryer Gnocchi – Put your leftover potato to good use with our air fryer gnocchi. I make this with my little boy, and he loves rolling it out and shaping it.
Air Fryer Oil Free French Fries – For those of you on Slimming World, Weight Watchers or a calorie controlled diet, these are ideal.
Air Fryer Roast Potatoes – If you love roast potatoes then you will love the air fryer method. They never fail and I have not cooked roast potatoes in the oven for years.
Air Fryer Baby Potatoes – Baby potatoes that almost pop in the air fryer. They are the crispiest and most delicious air fryer potato recipe I have ever made. I would choose them over fries any day.
Air Fryer Breakfast Potatoes – Yes you can cook your favourite breakfast potatoes in the air fryer. Loaded with bacon they are perfect for pairing with breakfast sausage and fried eggs.
Air Fryer Pizza Fries – Just load up your favourite pizza toppings on top of fries for the ultimate fries experience.
Air Fryer Potatoes & Carrots – If you love the potatoes and carrots side dish, then try the air fryer version. Both the carrots and potatoes are perfectly cooked and make a fantastic side dish.
The Air Fryer Potato CookBook Highlights
Introduction
Imperial & Metric – We have worldwide customers at Recipe This and we like to help you all and that is why all recipes feature both imperial and metric. We also have temperatures included in both F and C.
Air Fryer Potato Recipes – This air fryer potato cookbook goes beyond just 10 recipes and there is a total of 20 recipes included.
Air Fryer Cooking Times – Quick reference for cooking your favourite potato recipes in the air fryer. Sometimes you just want to know how many minutes to cook your favourite roast potatoes in the air fryer.
Recipe Photos – Every recipe featured in this ebook includes the recipe photo, so you know exactly what you are going to get!
Air Fryer Potatoes Printable
When I am cooking with a new kitchen gadget all I want to know is how my regular recipes convert to the new gadget. Thanks to a fantastic potato printable, you have the perfect printable included in this package.
It includes details of how long to cook all your favourite potato recipes in the air fryer, so that there is no more guess work. Simply print it off and stick it to your fridge or inside a cupboard door and have it for easy access whenever you need it.
Perfect for when you learn our air fryer potato recipes and you know how to prep them but keep forgetting the exact cook time.
This Air Fryer Ebook focuses on a lot of popular air fryer potato recipes. Do not expect to find recipes with ingredients you cannot source or weird diets. Only regular ingredients for the lady or gent next door.
All our Air Fryer recipes are based around using the Philips Air Fryer or the Power Air Fryer Oven. We are experienced with other brands of air fryers too and this ebook is perfect for all.
Our air fryer potato cookbook is only available in ebook format. This is great for you because you can download the ebook to your computer, laptop, tablet, or phone. Then print off a recipe as and when you need them. I also love to have my phone in the kitchen when I am cooking, and I can quickly glance at cooking times as I air fry.
But even better it saves you waiting for a book to arrive and you can literally start reading our Air Fryer Potato Cookbook in a couple of minutes from now.
It is also priced at JUST $7.00 Simply click on the banner below for instant access to our air fryer ecookbook:
This air fryer ebook is downloaded in PDF format. It downloads instantly after payment. You will also receive an email with your download details.