Healthy Instant Pot Frozen Foods. Today on the podcast we are sharing with you 10 must buy healthy frozen foods for the instant pot to make everyday mealtimes easier and involve less meal prep.
These healthy frozen food favourites are featured in full on the Magic With Gadgets Podcast. Simply search for Magic With Gadgets on your preferred podcast player, then scroll to episode 9 of season 4 to access this awesome episode.
Is Pressure Cooking Frozen Food Healthy?
I often get asked is pressure cooking frozen food healthy and I often say this depends.
It depends on what you are pressure cooking and how you would have cooked the food before you got an instant pot.
Take pressure cooking frozen chicken wings as an example. Whilst BBQ chicken wings is never considered a healthy food, if you swapped them for your own healthy rub, that would make them healthy.
Also, veggies are often frozen at the best time and don't need chemicals on them to keep them fresh. Meaning that frozen veggies are often healthier than fresh ones sold in the supermarket.
Today on the podcast I will be sharing with you my top 10 favourite healthy frozen foods that are ideal for the instant pot.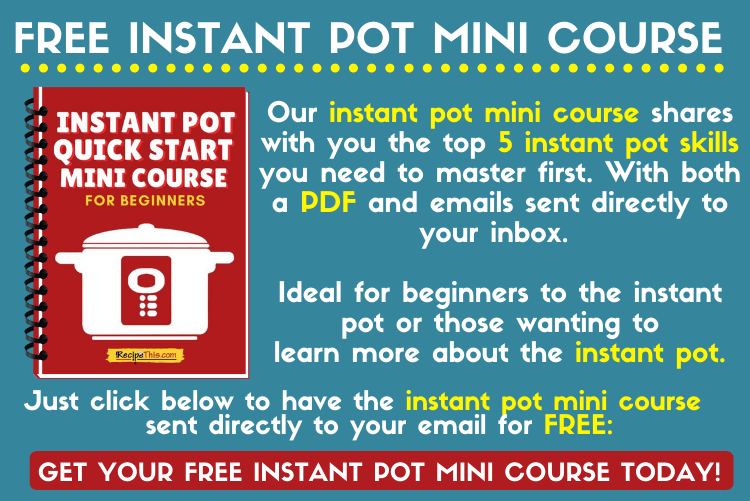 Plus, as well as our extremely popular instant pot mini course which teaches you the instant pot basics in 5 days, we also have our instant pot bucket list. That is loaded with 30 FREE bucket list worthy instant pot recipes.
Can You Put Frozen Food In The Instant Pot?
Yes, you can put frozen food in the instant pot and it tastes delicious. I have cooked many frozen foods in the instant pot, and not one of them has been a failure.
You can also use instant pot chicken stock from frozen and it will defrost as it goes to pressure.
What Can I Cook From Frozen In The Instant Pot?
You can cook so many different foods from frozen in the instant pot. Meat, veggies, fish, make ahead meals, soups, stocks, and stews all work well in the instant pot.
Some foods even work better in the instant pot from frozen as they don't go sloppy or fall to pieces as the instant pot cooks them.
Top 10 Instant Pot Frozen Foods
Broccoli – Instant Pot Frozen Broccoli is amazing and takes just zero minutes to cook from frozen. You can then air fry it for roasted broccoli or just have your frozen broccoli steamed. Or even transform it into broccoli cheese soup.
Corn On The Cob – Another favourite is instant pot frozen corn on the cob. You can buy the minis from Iceland and then load them into the instant pot frozen. Then steam them in the instant pot with a little salt, pepper, and butter.
Soup – You can buy bags of already prepped frozen veggies and then use them to make a delicious instant pot frozen veggie soup. We usually get a mixed bag of veggies but you can also do this with broccoli, cauliflower, leeks or another favourite frozen mix.
Salmon – I love to have salmon and broccoli for lunch and will often cook instant pot frozen salmon. Its perfect every time and a total time saver.
Chicken Breast – You can also cook instant pot frozen chicken breast fast too. Simply load it into the instant pot (or Ninja Foodi) and add to it some liquid. By pouring the liquid over the chicken breast it stops it from going dry and makes it much more flavoursome.
Whole Chicken – Or if you prefer a whole chicken then I recommend you go with an instant pot frozen whole chicken. Just make sure you remove the giblets before freezing as its impossible to get them out when frozen!
Meatballs – I adore the skinny meatballs from Aldi, and I am always going into Aldi and bulk buying them. And then heartbroken when they only have two packs left. I then keep them in the freezer and cook instant pot frozen meatballs whenever I have a craving. Even better, they cook better frozen than thawed and are perfect for instant pot spaghetti and frozen meatballs.
Garlic – I have fallen in love with frozen chopped garlic. You don't have to peel it; you don't have to chop it and its just ready to go in a cute little bag. Simply grab some garlic direct from the freezer and add it to the instant pot. You can also do the same with the frozen onion too.
Turkey – You can also take your favourite frozen chicken recipes to turkey. Such as cooking instant pot frozen turkey breast. Its so easy and perfect for frozen turkey you forgot about.
Did You Know We Have A Podcast?
We started the Magic With Gadgets podcast in the January of 2021 as a way to offer a different way to enjoy Recipe This. It focuses on cooking with kitchen gadgets. You can find out more about our podcast here.
With weekly episodes that will help you cook smart with kitchen gadgets. This is episode 9 of the fourth season and you have the choice between reading this post, listening to the podcast or both.
If you would like to stay in the loop with our podcast, I recommend you subscribe below:
How To Listen To This Podcast Episode?
You can use the player above to listen to this episode of Magic With Gadgets. Alternatively search for Magic With Gadgets on your favourite podcast platform or click the links below:
Subscribe & Review
Thank you for listening to the Magic With Gadgets Podcast. Have some feedback you would like to share? Want to be featured in a future episode? Want to help us spread the word?
Browse other episodes (access them all here)
Leave a comment below the blog post
Share with your friends on social media
Share your thoughts in our Facebook Group (you can sign up here)
Ask me a question or submit a guest request by filling out the form below
If our podcast has helped you, please leave a review on iTunes. Your reviews help spread the word and without reviews our podcast will not get seen. Plus, I love reading each and every one of them.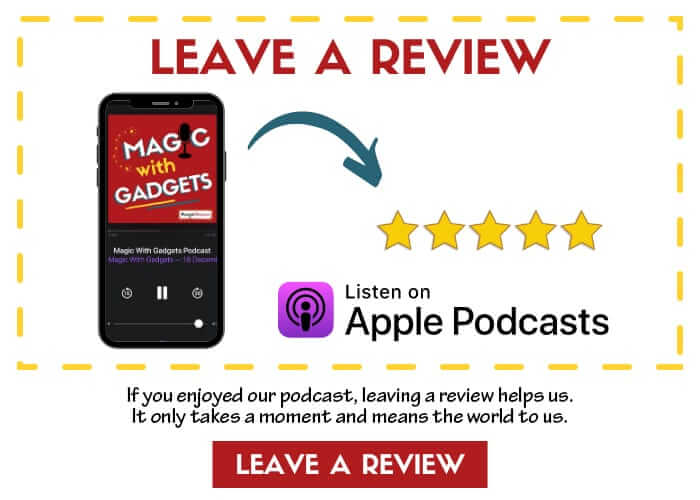 Can't listen now? Then pin it for later!