This Post Contains Affiliate Links. Click Here To Read Our Full Disclosure.
Are Air Fryers Healthy? Today, I wanted to help you out with one of the biggest cooking questions and talk about whether an air fryer is healthy or not and if you should use one for your healthy lifestyle.
This are air fryers healthy Q&A is also featured in the Magic With Gadgets Podcast. Simply search for Magic With Gadgets on your preferred podcast player, then scroll to episode 31 of season 2 to access this awesome episode.
Is An Air Fryer Healthier Than An Oven?
Air fryers are now associated as the cheaper, easier alternative to the oven, but to someone that has not used an air fryer before, they are often wondering if an air fryer is healthier than the oven.
Well, the best way to answer this question is to talk about how you use an oven and how an air fryer compares.
A good example is roast chicken. If you baked a whole chicken in the oven you would need loads of butter under the skin, and then the roast potatoes would need a lot of butter to get them crispy and delicious.
Now an air fryer whole chicken requires a tablespoon of extra virgin olive oil and no other fat. Then air fryer duck fat potatoes need only a very small quantity of fat.
Or another example is roasting veggies in the oven vs the air fryer which is a lot less in the air fryer.
But of course, not every air fryer recipe is healthy. Just like the oven you bake air fryer doughnuts, you can air fry a chocolate cake or even use the air fryer for a quiche.
The takeaway from this is that you make the air fryer as healthy or unhealthy as you like.
Your Body Will Change With An Air Fryer
Though what I have found the most after owning air fryers for 10 years, is that without realising it, my body has adjusted to having a lot less fat in my diet.
Now whenever I eat out (this especially applies to fish and chip shops) I feel awful afterwards like my body has eaten too much fat for what it is now used to, or whenever I order French Fries in a restaurant they always taste so greasy.
Top 10 Favourite Healthy Air Fryer Foods
Here are my top picks of my favourite air fryer foods that are much healthier and taste so good in the air fryer compared to regular cooking methods:
Did You Know We Have A Podcast?
We started the Magic With Gadgets podcast in the January of 2021 as a way to offer a different way to enjoy Recipe This. It focuses on cooking with kitchen gadgets. You can find out more about our podcast here.
With twice weekly episodes through September to December. This is episode 31 of the second season and you have the choice between reading this post, listening to the podcast or both.
If you would like to stay in the loop with our podcast, I recommend you subscribe below:
How To Listen To This Podcast Episode?
You can use the player above to listen to this episode of Magic With Gadgets. Alternatively search for Magic With Gadgets on your favourite podcast platform or click the links below:
Subscribe & Review
Thank you for listening to the Magic With Gadgets Podcast. Have some feedback you would like to share? Want to be featured in a future episode? Want to help us spread the word?
Browse other episodes (access them all here)
Leave a comment below the blog post
Share with your friends on social media
Share your thoughts in our Facebook Group (you can sign up here)
Ask me a question or submit a guest request by filling out the form below
If our podcast has helped you, please leave a review on iTunes. Your reviews help spread the word and without reviews our podcast will not get seen. Plus, I love reading each and every one of them.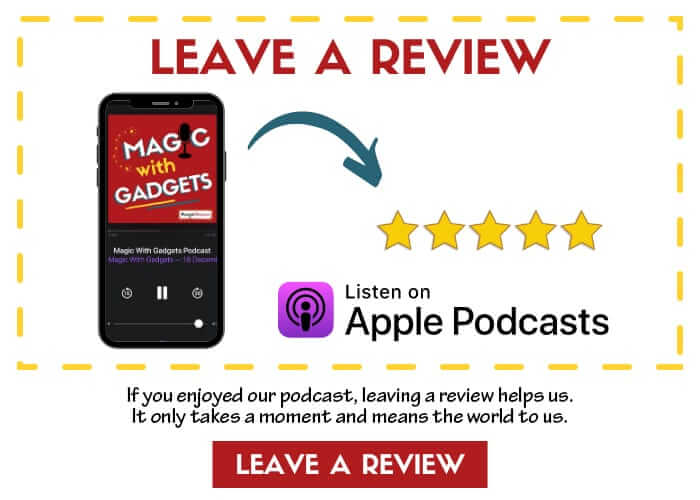 Can't listen now? Then pin it for later!