The Best Air Fryer Oven Accessories
This Post Contains Affiliate Links. Click Here To Read Our Full Disclosure.
Introducing you to the BEST EVER Air Fryer Oven Accessories for your new air fryer oven. Including air fryer oven accessories that you can use from your other kitchen gadgets to recommended air fryer accessories to buy.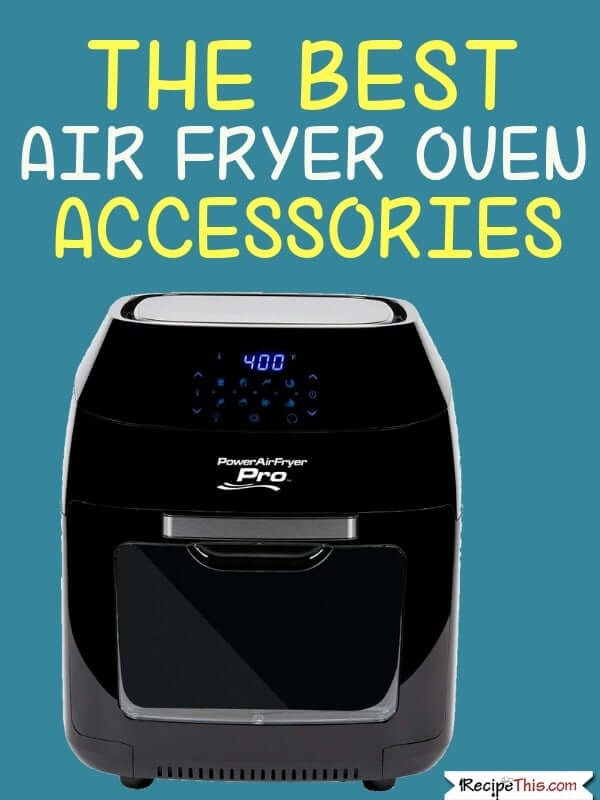 Air Fryer Oven Accessories
Following on from our Power Air Fryer Oven Unboxing that we recently shared with you, today we are back with our recommended air fryer oven accessories.
If you have followed Recipe This for a while, you will have probably read our Air Fryer Accessories and may be wondering why I am now sharing with you accessories for the air fryer oven, after all, surely they can't be that different?
Well they can be.
The classic Philips Air Fryer Vs the Air Fryer Oven are totally different sizes and the kind of foods you are cooking vary a LOT.
As well as this, it opens up to you being able to cook a lot more different things in the air fryer oven compared to what you used to cook in your classic air fryer.
Any Air Fryer Oven Brand
We all know there are different brands of air fryer ovens around the world. The most famous is the Power Air Fryer Oven (like the one we have) but you might have the new Vortex brand or maybe it is Cuisinart that you own.
What they all have in common is that they are a similar area to work from, meaning that you could use these Air Fryer Oven Accessories that I am recommending regardless of the brand you have.
My #1 Air Fryer Oven Accessories Tip
The first thing I do when I get a new kitchen gadget accessory is measure it. Get the dimensions of the main area and then I can go out shopping for accessories knowing that if I go by these sizes it will fit.
Here is Kyle measuring out the Air Fryer Oven shelf ready for going accessories shopping.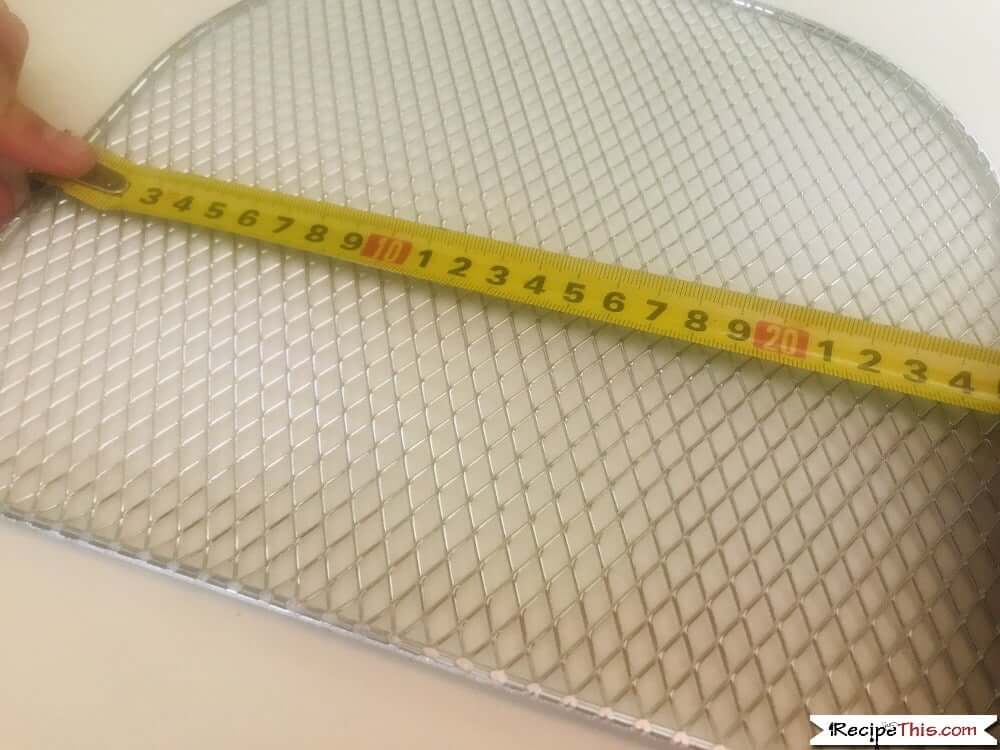 For example, from measuring above we can see that our shelf is 25.5 cm by 24cms. If you target containers that are up to 9 inches/22.9cm, then you will know they will fit well.
My Air Fryer Oven Start Up Accessories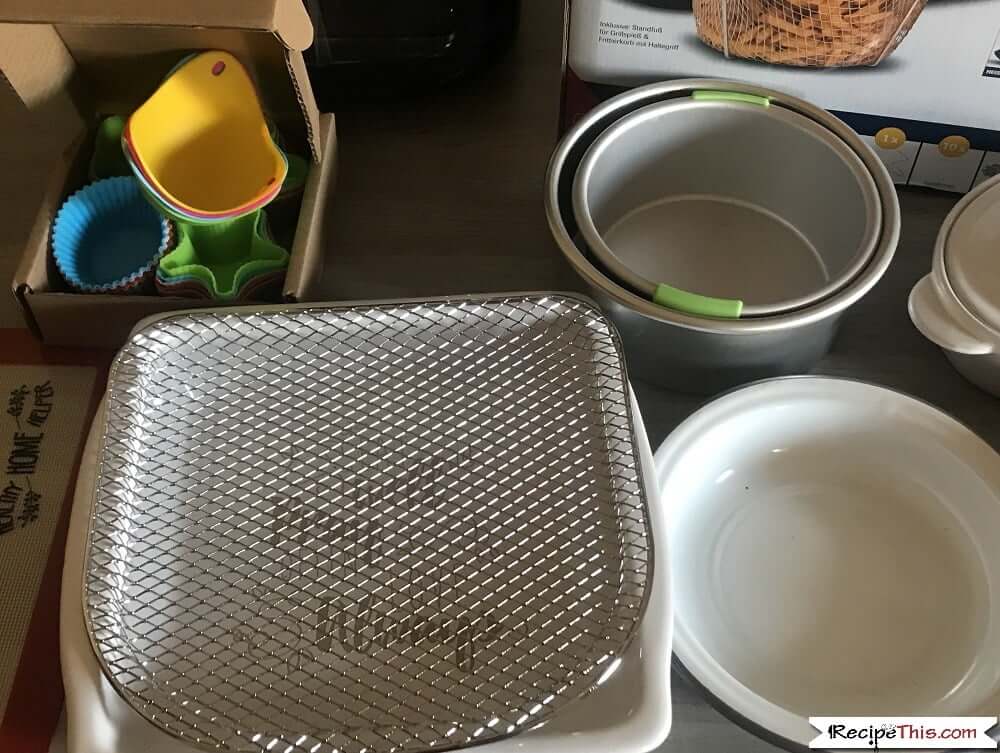 Most brands of air fryer ovens will give you a decent amount of air fryer accessories to get started with. Unlike for us when we got our first and our second Philips Air Fryer, when you ended up spending more on accessories than the air fryer itself.
When we opened our Air Fryer Oven and did our unboxing video, we were surprised with how many air fryer oven accessories came with it.
The Power Air Fryer Deluxe Accessories Included:
Chip Basket + Handle
3 Level Shelves
2 Basket Shelves
2 Grill Attachments
1 Drip Tray
10 Kebab Skewers
1 Revolving Basket
As well as the Air Fryer Oven accessories that come with the Air Fryer, below are some more to consider. You never know, like me, you might already have some of these awesome accessories!
Air Fryer Ramekins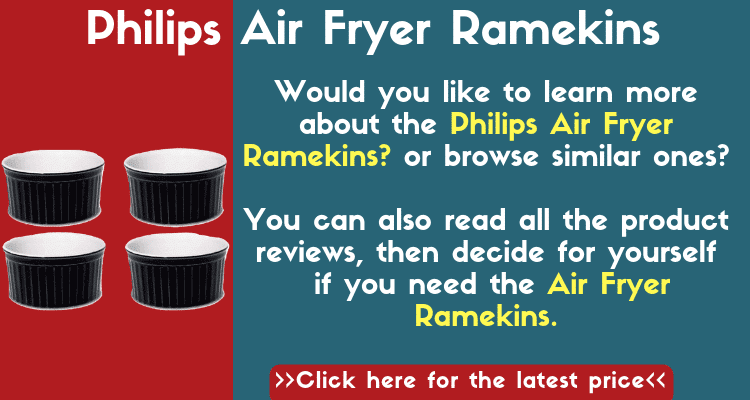 Ramekins are essential for the air fryer oven. You can place lots of them on each shelf at once (as Dominic demonstrates in our video) and they are perfect for a range of dishes.
Remember the air fryer oven is well known as a replacement for the microwave. Well imagine all those delicious air fryer mug cakes. Or even better, what about baked eggs for breakfast or some mini frittatas?
Silicone Moulds Set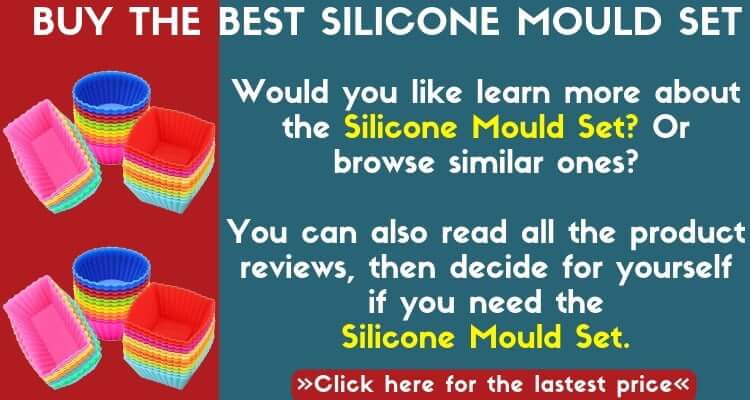 Silicone Moulds is another great option. It expands on the ramekins idea and is perfect if you want to do some baking. I recommend getting a good-sized pack and then you will have plenty to last a long, long time for you.
Reusable Baking Mats
Reusable Baking Mats are made from silicone and my true go to air fryer accessory. The first air fryer accessory I ever used, and I would be lost without them. You can buy them incredibly cheap in packs of 2 and then using a pair of scissors cut them to the size of your baking shelves.
Also, because they are made from silicone you can just clean them with a damp cloth and some soapy water, and they are perfect for using again.
Ours last us for months and are perfect for making our Air Fryer Chocolate Chip Cookies.
Cake Pans
I love cake pans and originally grabbed some for cooking in my Instant Pot and you can see them on my Instant Pot Accessories list. But just out of curiosity, I decided to see if they would fit in my Air Fryer. They did and now they have become one of my most used accessory for both the Instant Pot and the Philips Air Fryer.
Not only are they PERFECT for when you are baking a cake in your Air Fryer but for when you are cooking chicken with a wet and sticky marinade.
For example below is when we used our cake pan to make sticky Air Fryer Chinese Chicken Wings.
This is my favourite brand for if you're in the UK, or this one for the US.
Pie Pans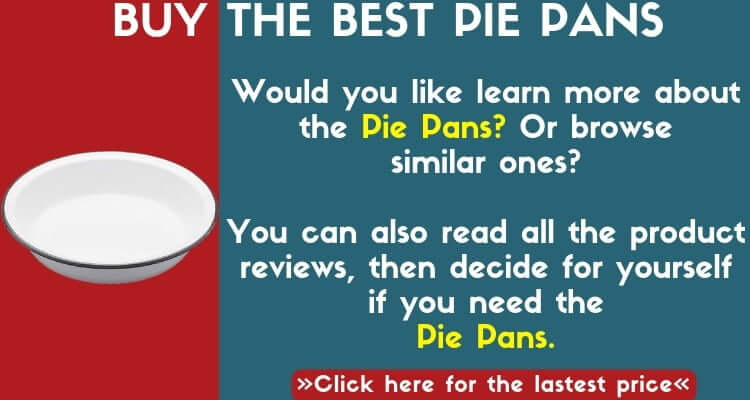 Pie pans are the best in the air fryer oven. You can also cook a pie in your air fryer. Wouldn't it be wonderful to use it make apple pie in the autumn and cherry pie in the summer? You could also use it to make a chicken pie too.
This is all our starter Air Fryer Oven Accessories, I will add more to this page as we buy more, so you can see EXACTLY what accessories we are using with our Power Air Fryer Oven.
Power Air Fryer Oven Accessories Video – Part 1
Below is the first of my Power Air Fryer Oven Accessories Videos. In this first video I wanted to share with you the air fryer oven accessories we have in our house from our Philips Air Fryer, as well as other bits and pieces we found.
It gives you a good starting point before you have time to go and order some new accessories.
Where To Buy Your Air Fryer Oven Accessories?
You can click on any of the links above to purchase air fryer oven accessories on Amazon as well as the quick links below.
But the place we have found for the best price for Air Fryer Oven Accessories is Ebay. There are some fantastic bargains to be had on Ebay and you shouldn't overlook it.
Can't watch the Accessories video now? Then pin it for later!