Air Fryer Oil Usage. The ultimate guide to air fryer oil usage. Including what oils you can use in your air fryer, when not use oil in your air fryer, plus much more.
Air Fryer Oil Usage
I don't know why but there seems to be so much different information about air fryer oil usage and when you should or shouldn't use oil, that it can become rather complicated for new air fryer users.
But first I am sure you are wondering why you should trust my opinion about air fryer and oil, rather than the last article you just read.
So, let me share a bit about our air fryer story with you:
We got our first air fryer when they were still fairly new and rather unheard of. It was a long time before America sold them and it was mainly Europe and East Asia that sold them.
That was NINE YEARS ago now. And we have spent the last 9 years using our air fryer at least once a day, sometimes up to 5 days in one day, maybe even 10 when we have been recipe testing for you.
Recipe This is the second food blog we have owned that has been dedicated to air fryers and using an air fryer to shed the pounds.
Of course, the air fryer is a fantastic diet tool and we are always cautious about how much oil we use in our air fryer cooking.
As well as this, Dominic my husband is a qualified chef and we are sharing with you today how we use oil in our air fryer and how much oil you should really use.
This is also based on our experience with our main 4 air fryers: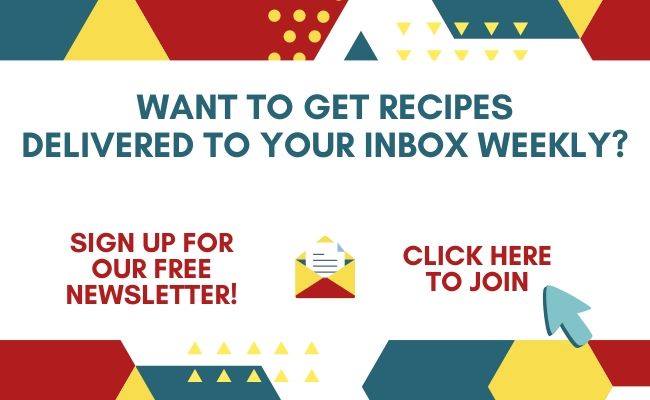 Air Fryer And Oil
Firstly, you might be thinking about getting an air fryer and wondering how much oil an air fryer uses and is an air fryer or an oil fryer is more suitable for you.
A classic oil fryer will have a basket that is filled with oil. But an air fryer, will instead have some food that is oil free and many other foods were a very small amount of oil has been used.
If I was going to tell my younger self what it was like to air fry, I would explain it as similar to oven baked.
When you bake in the oven you use little or no oil. You also have many foods that need no oil to some that require oil.
For example, you would oil the skin of a chicken before baking it, but if you were cooking a lasagne you would do so oil free.
But unlike the oven, the air fryer crisps your food like an oil fryer. And that is what makes an air fryer so special.
If you think of the times when you add oil to oven food, then the same rule applies to cooking food in the air fryer.
When Does An Air Fryer Require Oil?
This depends on what you are cooking. There are a lot of air fryer recipes we have that require just one tablespoon of extra virgin olive oil.
Such as our air fryer potato wedges. Many of these recipes that do require a tablespoon of oil really make the difference and taste so good.
Even better, if you the maths that is 1tbsp of oil between 2-4 people depending on the recipe. Making our air fryer recipes very low oil.
You can make air fryer oil free fries, but they just don't taste as good. They are dry fries and don't have the foodgasm that you want when you eat a portion of fries.
My favourite types of air fryer recipes that require oil include:
Air Fryer No Oil Needed?
When I look through my air fryer recipes, I find that I have more air fryer recipes where no oil is needed compared to air fryer recipes that use oil.
That is because frequently what we cook falls under the no oil rule such as meat, breaded and frozen foods.
Here is a few air fryer no oil needed recipes:
Air Fryer Oil Amount
The typical air fryer oil amount is one tablespoon of oil or 15ml. This is a small amount of oil when you compare it to deep frying and can help you keep your calories of your food low.
Many of our air fryer recipes that use oil, toss the food in oil. That way you can use a tablespoon of oil without needing an oil sprayer.
I will mix the ingredients in the oil in a mixing bowl, before placing them in the air fryer.
If you don't use an oil spray with your air fryer food, or toss in a bowl, you will find that your air fryer food is not as nice.
This is because you will pour the oil into the air fryer or on parts of the food. Not all food will get covered in oil and a lack of an even spread will ruin your air fryer food.
Air Fryer Oil Type
There are lots of different oils that can use in the air fryer. Our recommended healthy air fryer oil types include:
Air Fryer Extra Virgin Olive Oil
Talking about air fryer extra virgin olive oil, it needs its own SHOUT OUT as it is the best oil you can use in air fryer.
I live on the Mediterranean which is often considered as the healthiest place in the world to live due to its balanced diet and extra virgin olive oil.
I live in a village filled with people over the age of 80. They are the fittest people I know and don't have any health issues.
They put this down to walking every day, eating veggie loaded soup for lunch and lots of extra virgin olive oil. They even grow their own olives.
Across the border in Spain, they have extra virgin olive oil on their toast instead of butter for breakfast and always use this quality oil in their cooking.
It is easy to source extra virgin olive oil and cooks so well in the air fryer. Click Here To GET the extra virgin olive oil that we love from Greece that has been used in many of our air fryer recipes.
Can I Use Pam Spray In An Air Fryer?
Please don't. It will ruin your air fryer. There is a lot of bad chemicals in pam spray and it will ruin your air fryer over time. One use won't bother it.
But over time, using it each day will remove the non-stick from your air fryer and these chemicals are not good for you.
In the UK we have Fry Light which is the equivalent of pam spray and when I used Fry Light on Slimming World I found that it ruined my pots and pans within a month of using it in my cooking.
The calories are much lower anyway, so stick with a quality oil like olive oil instead.
Best Air Fryer Oil Spray Bottle
There are lots of air fryer oil spray bottles to choose from and below I have outlined my favourite suggestions:
Though of course it comes down to personal choice.
If you follow my measuring technique, I recommend instead that you invest in some plastic measuring cups and use a bottle of quality extra virgin olive oil.
That way it is easy to follow air fryer recipes that call for just one tablespoon of olive oil.
More Air Fryer Oil Questions:
Where do you put oil in an air fryer? You place the oil on the food and not in the basket. Otherwise you will not have adequate oil on the food and the food will come out dry. Not to mention how much oil you are wasting that is dripping into the bottom of the air fryer. Plus, you will be spending way too much on oil waste.
What is the healthiest oil to use in the air fryer? There are many opinions over what the healthiest oil is to cook in the air fryer. Because there are several different healthy oils, I would recommend choosing the one that you prefer. In our house that is extra virgin olive oil.
Do I need to season my air fryer before use? There is no need to do this. You only would do this if your non-stick is wearing away. With a brand like Philips it doesn't have a non-stick type basket so never needs coating first.
The Air Fryer Recipe Ebook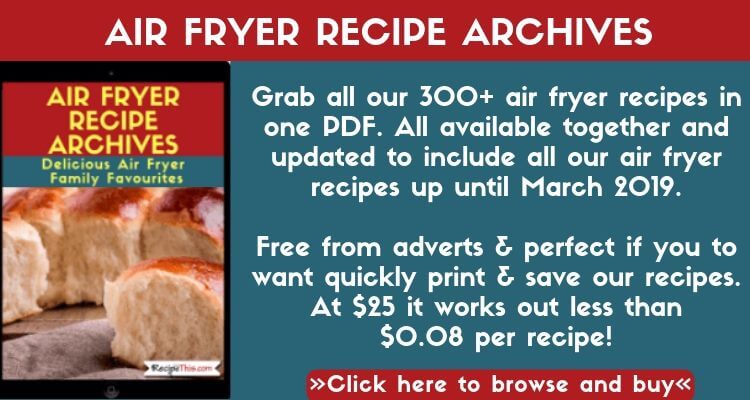 To celebrate our love for our air fryer and our readers addiction to our air fryer recipes, we converted all our 300+ air fryer recipes into an ebook.
You can download all our recipes in an easy to digest PDF.
Click Here To Download It Instantly.
We also update it quarterly so that premium air fryer customers can get a new Ebook each time there are updates.
Air Fryer & Oil – My Advice In Summary
An air fryer uses on average of 85% less oil compared to deep frying your food. Remember this when you try to cut corners and cook all your air fryer food with no oil or by using a pam oil spray or fry light.
Many recipes use JUST ¼ of a tablespoon per person, the same as 30 calories. This is incredibly low and needs celebrating. You have just got a magic kitchen gadget that allows you to have fast food for the same calories as a salad!
Try not to pay attention too much when air fryer recipes suggest you spray your food in the middle of cooking.
We have done this about twice in 9 years of cooking. And many home air fryer cooks will never need to.
But a spray as an alternative to tossing your food is excellent. Get a spray bottle like this one and load your favourite extra virgin olive oil into it.
It will be chemical free and will make air fryer cooking easier.
I wish you all the best with your air fryer cooking and when I say it is lifechanging is not exaggeration as it truly is!
Can't Read it now? Then pin it for later!