How To Make Air Fryer Fries Taste Better
This Post Contains Affiliate Links. Click Here To Read Our Full Disclosure.
Air Fryer French Fries. Here is your ultimate guide to French Fries in the air fryer and all your air fryer fries questions answered. Discover how much oil you should use, how to get them tasting like deep fried French fries and much more.
I was asked recently by one of my readers which is my favourite gadgets especially as she said, that I had so many.
Now that's a hard question I thought…. after all they all have a purpose and I cut it down to the following that I use daily.
They are of course my top 5 and if I had to choose just one it would have it be my Air Fryer.
Its just changed my life in the way that I can eat takeaway food whenever I like and save a HUGE amount of calories in the process.
I can make Nandos, Chinese, Indian, Italian, Chip Shop, Roast Dinners and so much more.
But let's remember for a moment that the air fryer was invented originally as a place to make AMAZING Air Fryer French Fries for hardly any calories on oil, if any, depending on how you like them.
I have been making Air Fryer French Fries since long before most of the world had even heard the words "air fryer".
I used to find it rather strange that the air fryer had not taken off in the US considering they liked the French Fries just as much as the Brits do.
Back then it was just parts of Asia, the UK and Germany that had them.
But eventually it made its way to the US and now there are loads of air fryer brands to choose from.
We have this one, which is the Philips XL and it's the perfect size for families and OMG the Air Fryer French Fries are the BEST.
But before this we had a cheaper Philips Airfryer. It was still AMAZING but it was its first model and needed tweaking.
This meant that it took too long to cook things compared to the new Philips XL.
Think of it a bit like an old school oven vs a fan assisted oven and the different results you will get.
Meaning that all advice given on here is based on my Philips XL so do experiment a bit in case you have a different make or model.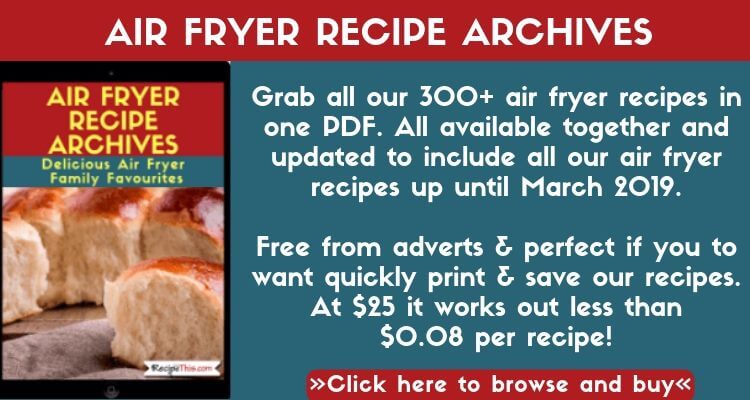 How To Make Air Fryer Fries Q&A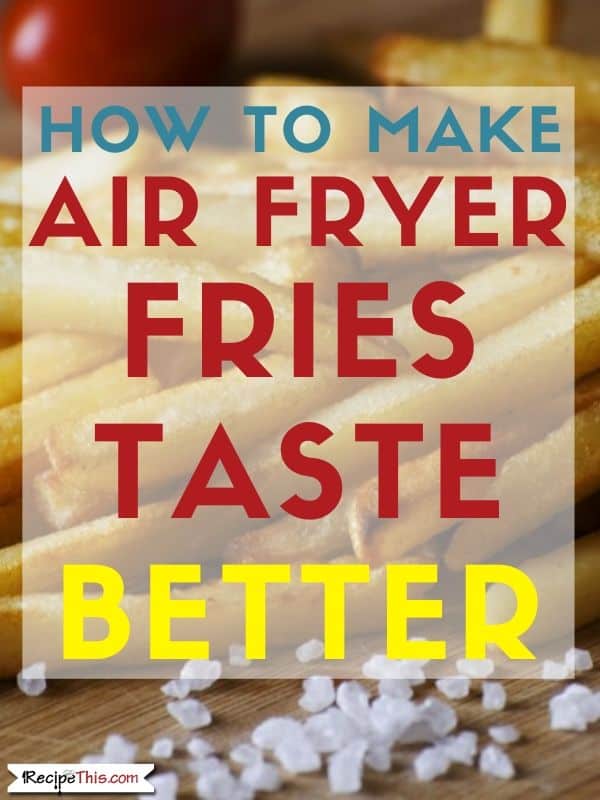 #1 What Potatoes Do You Buy For Air Fryer French Fries?
You can use any. I normally buy the cheapest ones that are available at the supermarket and use those.
When you are making French Fries in the Air Fryer, it's a cheap side dish and shouldn't be like buying salmon.
#2 How Many Calories In Air Fryer French Fries?
I find the easiest way to work out the calories for your air fryer French fries is to weigh your potatoes as you peel them.
Then measure out the amount of olive oil you have used, then add these calorie amounts together.
As I weigh my air fryer fries I put the weights into my app on my Fitbit and then it does everything else for me.
I had a portion of 175 grams of white potato which worked out at 153 calories. Plus, I also added one teaspoon of olive oil to them for 40 calories.
This brought my typical portion of air fryer French fries to 193 calories. But it can vary depending on portion size and how much oil you have used.
#3 Air Fryer French Fries Cook Time
The air fryer French fries cook time depends on how many of them you are cooking at once and whether your air fryer is preheated.
If you don't preheat your air fryer and are cooking for just one of you then you can expect them to take about 15 minutes.
As we often cook for a family of 5 in the air fryer it will often take 20-25 minutes to air fry our fries. But do look at our air fryer fries recipes for a thorough time.
#4 Do you have to preheat your air fryer to cook French fries?
Not at all. It can reduce the cooking time by a little. But like any other busy working mum, I do have a habit of forgetting to preheat and they turn out just as nice.
The lower cooking time that air fryer fries start on, also doubles up as a preheat.
But, ask my husband Dominic and he will insist on a 5 minute preheat!

#5 Do you have to soak your potatoes BEFORE air frying them?
No. In fact I went several years making air fryer fries without ever soaking them for the air fryer.
After all I am often in a rush for my dinner and don't want to wait an hour while they soak.
But if you want to achieve oil free air fryer French Fries then you do need to soak them as the soaking becomes their coating instead of oil.
#6 Do You Need To Buy FryLight?
No, you don't need an oil spray like Frylight. In fact, we don't even have one here at RecipeThis.com, even though we have in the past.
If you soak them instead for an hour, you will receive the same result.
For further information do read our air fryer oil usage guide.
#7 Why Are My Air Fryer French Fries Dry?
This is because your air fryer fries have either been cooked on a temperature that is too high or that you have not soaked them or added enough oil.
It's like when you fry onions on a heat that is not hot enough. The onions just won't be as good as if you adjusted the heat.
Another thing to remember, is that sometimes when potatoes are not in season the potatoes you buy can be dry.
If this happens then I suggest you double either the soaking time or the oil time to make up for this.
#8 How Do You Add The Oil?
The easiest way to do it is to place your chipped potatoes into a bowl, pour the oil over them and then mix it up with your hands.
Avoid adding the oil over the air fryer, as more will end up in the bottom of the air fryer and you can often waste olive oil this way.
The best air fryer fries recipe to follow that shows this method in action is our air fryer five guys cajun fries.
#9 How Do You Make Your French Fries So Crispy In The Air Fryer?
I will cook for the last 3-5 minutes on a 200c/400f heat. This will crisp the outsides up and make them like French Fries that you get from a restaurant that have been deep fried.
You could serve up French Fries to your friends using the Air Fryer method and your friends would never know.
#10 My Air Fryer Fries Are Burnt
Many air fryer French fries make a cooking time suggestion of 20 minutes at 200c/400f. This is way too hot and results in burnt, dry and overly crispy air fryer French fries.
Instead you need to kickstart your air fryer French fries at 160c/320f and then finish your fries at 200c/400f to help crisp them.
#11 Air Fryer French Fries Vs Deep Fried
Many are curious of how air fryer French fries taste compared to deep fried.
My answer is always "air fryer fries taste better". They don't have that overly greasy taste and instead taste deep fried but like the fat has been drained prior to being served.
#12 Are Air Fryer French Fries Healthy?
Yes they are. Imagine cooking a handful of potatoes with ½ teaspoon of extra virgin olive oil and it feeds 4 people. That is what you achieve when you follow our air fryer fries recipe.
There is very little oil required and there is less fat than loading some butter over a baked potato.
You can also make your air fryer fries even healthier by choosing one of our many air fryer vegetable fries recipes. You can access our popular French fries recipes here.
#13 Air Fryer Fries Seasoning
When you add your extra virgin olive oil you can also add your air fryer fries seasoning.
I choose my air fryer seasoning based on what I am serving French fries with.
For a cajun night I will make Five Guys Cajun Fries, but if I am eating Mediterranean, I will add dried oregano and dried basil.
Or if we are eating Mexican, it will be our favourite Mexicana seasoning.
Because the air fryer seasoning is added before cooking the air fryer fries have a wonderful seasoned crispy coating to them, and it makes your fries taste even better.
This concludes our troubleshooting list of the top Air Fryer French Fries questions. If you are having issues yourself, ask the questions below and we will add them to this post for you and for others. Plus if you don't have an air fryer yet, or fancy an upgrade this is the one we have.
Can't read it now? Then pin it for later!
Join The RecipeThis.com Community:
Facebook Group | Pinterest | Twitter | YouTube
Plus, don't forget to subscribe below to join our email newsletter with updates of our latest recipes, latest freebies, our cooking stories, plus much more: