The Air Fryer Chicken Cookbook
This Post Contains Affiliate Links. Click Here To Read Our Full Disclosure.
The Air Fryer Chicken Recipe Cookbook. Featuring all our popular chicken recipes that are cooked in the air fryer. Along with air fryer cooking times, tips, and tricks to get you started with your new kitchen gadget.
Want to cook your favourite chicken recipes in the air fryer?
Hate it that your air fryer breaded chicken is not crispy?
Wondering why your air fryer chicken nuggets are burnt?
Looking for air fryer chicken recipes?
Want air fryer chicken cooking charts?
Looking for air fryer chicken guidance from an expert?
If you answered YES to any of these questions, then the air fryer chicken cookbook is PERFECT for you!
We're the Milner's.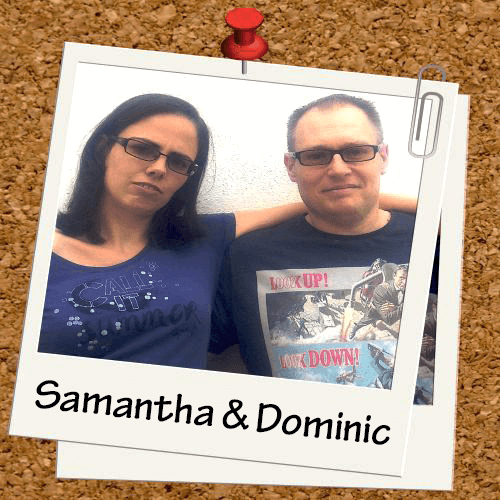 I am Samantha and along with my husband Dominic and son Kyle, we run RecipeThis.com. Our 2 youngest children Sofia & Jorge are our chief recipe testers.
We blog about the air fryer (as well as other kitchen gadgets) from our home in Portugal and wanted to share with you today our fantastic ebook that shows you how to cook all your favourite chicken recipes in the air fryer.
Why The Air Fryer Chicken Cookbook?
The first food we ever cooked in the air fryer was chicken. In fact, it was these air fryer frozen chicken strips. It tasted amazing and we have cooked a never ending amount of chicken since then.
But we have been cooking chicken in the air fryer for so long, that we have forgotten what it is like to be the beginner and wanted to share with you the best chicken recipes to cook in the air fryer.
From rotisserie chicken to fajitas to breaded chicken wings and drumsticks we have it covered.
What we have learnt after almost a decade cooking chicken in the air fryer, is that there are so many ways to enjoy it.
Each recipe is personally tested by us Milner's and our readers at Recipe This. If you are a chicken addict like me and have an air fryer, then it is for YOU.
Best Air Fryer Chicken Recipes
It was not until I started looking through Recipe This that I realised just how many different chicken recipes I have made in the air fryer.
Some are low in calorie such as lean chicken breast, while others are from the freezer such as frozen chicken wings.
Here are examples of 10 of the air fryer chicken recipes that are included:
Air Fryer Rotisserie Chicken – My favourite every single time. Often something we eat for lunch served with air fryer vegetables. Plus, it is so much easier compared to cooking a chicken in the oven.
Air Fryer KFC Chicken – Love KFC chicken then you will love air fryer KFC chicken. You can bread it yourself with our formula or reheat your favourite KFC in the air fryer. We will show you in this ebook how to do both.
Air Fryer Frozen Chicken Wings – It does not get any easier in the air fryer than cooking your favourite frozen chicken wings. This will show you how it is done, then you can mix and match with your favourite brand.
Air Fryer Roast Chicken Dinner – One of my favourite air fryer recipes and perfect for owners of smaller air fryers. Teaches you how to cook roast chicken, stuff it with homemade stuffing and cook it along with roast potatoes and roasted vegetables. Perfect for a quick air fryer Sunday roast dinner.
Air Fryer Chicken Taquitos – Taquitos are heaven in the air fryer. You cook the chicken first in the air fryer, add sauce, wrap it up and then crisp in the air fryer. A lot less work compared to non-air fryer methods.
Air Fryer Breaded Chicken Drumsticks – Dominic's favourite chicken in the air fryer. Fresh chicken drumsticks are breaded and loaded into the air fryer. The crunch and crisp on the breading is amazing.
Air Fryer Chicken Breast – Love chicken breast? Then try air fryer chicken breast. Flavoursome, never dry and slices perfectly for salads, soups, and meal prep.
Air Fryer Frozen Sweet & Sour Chicken Balls – If you love battered chicken balls from the Chinese then this is how to air fry them. I will also show you how to air fry the sweet and sauce too, so that it defrosts fast.
Air Fryer Chicken Burgers – Chicken burgers are often overlooked when you are thinking about yummy things to cook in the air fryer. Breaded or not breaded we have several for you to choose from.
Air Fryer Chicken Fajitas – It's the simple things that are good in the air fryer. Prep chicken and vegetables for fajitas and be amazed by how delicious they are.
The Air Fryer Chicken CookBook Highlights
Introduction
Imperial & Metric – We have worldwide customers at Recipe This and we like to help you all and that is why all recipes feature both imperial and metric. We also have temperatures included in both F and C.
Air Fryer Chicken Recipes – This air fryer chicken cookbook goes beyond just 10 recipes and there is a total of 49 recipes included.
Air Fryer Cooking Times – Quick reference for cooking your favourite chicken recipes in the air fryer. Sometimes you just want to know how many minutes to cook your favourite roast chicken in the air fryer.
Recipe Photos – Every recipe featured in this ebook includes the recipe photo, so you know exactly what you are going to get!
Air Fryer Chicken Printable
When I am cooking with a new kitchen gadget all I want to know is how my regular recipes convert to the new gadget. Thanks to a fantastic chicken printable, you have the perfect printable included in this package.
It includes details of how long to cook all your favourite chicken recipes in the air fryer, so that there is no more guess work. Simply print it off and stick it to your fridge or inside a cupboard door and have it for easy access whenever you need it.
Perfect for when you learn our air fryer chicken recipes and you know how to prep them but keep forgetting the exact cook time.
This Air Fryer Ebook focuses on a lot of popular air fryer chicken recipes. Do not expect to find recipes with ingredients you cannot source or weird diets. Only regular ingredients for the lady or gent next door.
All our Air Fryer recipes are based around using the Philips Air Fryer or the Power Air Fryer Oven. We are experienced with other brands of air fryers too and this ebook is perfect for all.
Our air fryer chicken cookbook is only available in ebook format. This is great for you because you can download the ebook to your computer, laptop, tablet, or phone. Then print off a recipe as and when you need them. I also love to have my phone in the kitchen when I am cooking, and I can quickly glance at cooking times as I air fry.
But even better it saves you waiting for a book to arrive and you can literally start reading our Air Fryer Chicken Cookbook in a couple of minutes from now.
It is also priced at JUST $12.00 Simply click on the banner below for instant access to our air fryer ecookbook:
This air fryer ebook is downloaded in PDF format. It downloads instantly after payment. You will also receive an email with your download details.