I have just had these for lunch. With it being November it is the perfect time of year to enjoy some chicken wings for lunch and for them to warm you up.
I love chicken wings and by doing them in the Air Fryer they are lovely and crispy and are full of flavour. Today we had ours with some lovely cauliflower rice and it left us full for hours.
I also love this because chicken can be expensive, yet chicken wings are incredibly cheap. We get them from a large cash and carry and pay about 18 cent per wing. When you add to this that all the ingredients we have with ours you already have in, it then makes a super cheap snack or main meal.
We tend to have chicken wings more in winter, just because they fit in nicely in casseroles and cook well in the Air Fryer. However in summer we can't resist a barbeque and they are just as nice then too.
Though I do have to move the bones straight to the bin, as otherwise my puppy will have them straight away!
Never mind talking about my Air Fryer chicken wings, read on for the recipe!!!!
#AirFryer #Chinese Chicken Wings from @recipe_this
Click To Tweet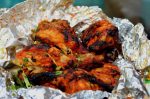 Air Fryer Chinese Chicken Wings
Instructions
In a large mixing bowl add the seasoning. Stir well so that it is mixed in and evenly blended.

Add the chicken wings and mix the seasoning over the chicken. Massage the seasoning into the chicken until well coated.

Place some silver foil into the bottom of your Air Fryer, just like you put a baking sheet in the bottom of a baking tray. Place the chicken in it and then pour over any remaining seasoning.

Cook for 15 minutes on 180c. Turn the chicken over and cook for another 15 minutes on 200c.

Serve!
Recipe Notes
I find that it is better to cook them on two different temperatures, in order for them to be lovely and crispy. I also use silver foil to line the bottom of the Air Fryer to save on the clean up job later!