Is An Instant Pot Really Worth It?
This Post Contains Affiliate Links. Click Here To Read Our Full Disclosure.
Is An Instant Pot Really Worth It? I purchased my first instant pot on Black Friday 2016 and have been cooking with the instant pot ever since. Lets strip back all the instant pot hype and talk today about if an instant pot is really worth it.
This instant pot guide is also featured in the Magic With Gadgets Podcast. Simply search for Magic With Gadgets on your preferred podcast player, then scroll to episode 14 of season 2 to access this awesome episode.
Is An Instant Pot Worth It?
I remember it, like it was yesterday the day that the hubby and I received the delivery of our first ever instant pot pressure cooker.
I remember the date well, because it was also Sofia's 2nd birthday and it was the 25th November 2016.
It was also black Friday and whilst everyone else was over on Amazon purchasing the Instant Pot, we had just received ours on an early bird deal from Amazon Germany.
We were excited but our daughter took priority and we waited until the next day when we did the instant pot water test, then cooked instant pot broccoli, made instant pot caramel with condensed milk and then our journey started for loads and loads of different instant pot recipes.
Looking back the instant pot changed the way we cooked, got us making lots of new instant pot recipes that we wouldn't have done otherwise and taught us that electrical pressure cookers were not like the pressure cookers of the 1960's.
But the burning question for many is the instant pot worth it and should you get one.
Today, on the podcast I will be sharing with you my opinion on the instant pot and then you can make up your mind.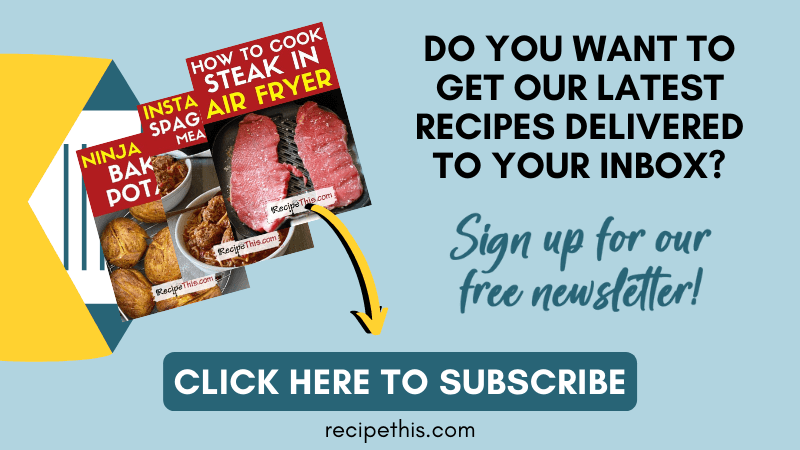 Plus, as well as our free newsletter, we also have a free instant pot mini course. It is ideal for instant pot beginners or those that want to get more confident with their instant pot. The free course runs for 5 days with a new lesson delivered each day to your inbox.
My Instant Pot Confession
I will admit it now, the reason I originally bought my first ever instant pot is because of the instant pot hype.
There I am establishing myself as a kitchen gadgets food blogger and this new electric pressure cooker, is all that people are talking about.
I said to the hubby, that we MUST get an instant pot and then the next week it was in a box in our kitchen.
I just saw it as a work machine, then I realised what the instant pot could do and fell in love. It was this love that has grown more with age and now I couldn't imagine been parted from my instant pot.
I don't just have the instant pot 6qt now, I also have the 8qt and I also own the Ninja Foodi that does pressure cooking and air frying.
Are Instant Pots Worth It?
Yes, the instant pot is a million times worth it, and I would recommend it to anyone that would listen to me and get one!
I have been using the instant pot for almost five years now and have taken it travelling with me three times and I have also had it with me for making baby food, for heating up baby bottles, for making coffee when we have not had a kettle and so much more.
To me, the instant pot is an all in one machine that can do so much and is worth the hype that it has generated over the years.
What's Good In An Instant Pot?
Its more a case of what is not good in the instant pot, just because the instant pot rocks a lot of different foods.
My favourite food types for the instant pot include:
Best of all, you will find yourself do lots of new things, that you never occurred to do, until you get into the instant pot.
And a big THANK YOU to the instant pot brand for creating the best electric pressure cooker I have ever tried.
If you would like to see the current price and check out the instant pot we have then click here.
Is The Instant Pot Hard To Use?
No, not at all. The instant pot is incredibly hard to use. The big problem with the instant pot is that many people are afraid of them because of the stovetop pressure cookers of the 1960's.
The instant pot is nothing like that, but it has led to a lot of fear and many people never getting their instant pot out of the box.
Did You Know We Have A Podcast?
We started the Magic With Gadgets podcast in the January of 2021 as a way to offer a different way to enjoy Recipe This. It focuses on cooking with kitchen gadgets. You can find out more about our podcast here.
With twice weekly episodes through September to December. This is episode 14 of the second season and you have the choice between reading this post, listening to the podcast or both.
If you would like to stay in the loop with our podcast, I recommend you subscribe below:
How To Listen To This Podcast Episode?
You can use the player above to listen to this episode of Magic With Gadgets. Alternatively search for Magic With Gadgets on your favourite podcast platform or click the links below:
Subscribe & Review
Thank you for listening to the Magic With Gadgets Podcast. Have some feedback you would like to share? Want to be featured in a future episode? Want to help us spread the word?
Browse other episodes (access them all here)
Leave a comment below the blog post
Share with your friends on social media
Share your thoughts in our Facebook Group (you can sign up here)
Ask me a question or submit a guest request by filling out the form below
If our podcast has helped you, please leave a review on iTunes. Your reviews help spread the word and without reviews our podcast will not get seen. Plus, I love reading each and every one of them.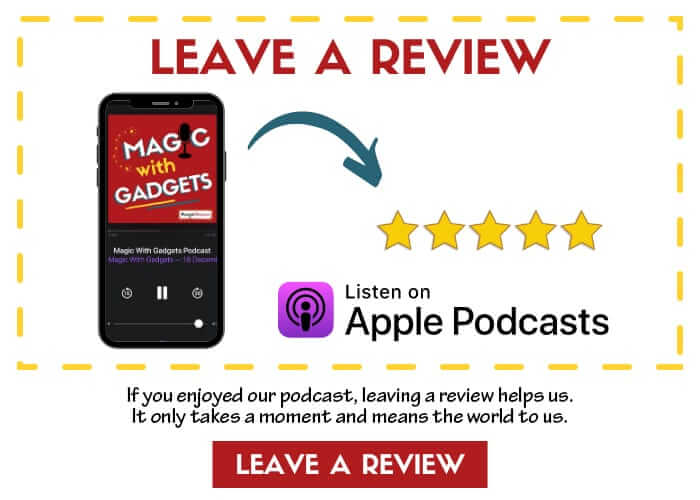 Can't listen now? Then pin it for later!