21 Essential Instant Pot Tips
This Post Contains Affiliate Links. Click Here To Read Our Full Disclosure.
Instant Pot Tips. Today on the podcast we are sharing with you 21 instant pot tips you need to know, so that you can get the best out of your instant pot.
These essential instant pot tips are also featured in the Magic With Gadgets Podcast. Simply search for Magic With Gadgets on your preferred podcast player, then scroll to episode 6 of season 4 to access this awesome episode.
Instant Pot Tips
After sharing with you in episode 5 the most important instant pot mistakes, I wanted to follow up with part 2 on this episode of Magic With Gadgets and talk all about instant pot tips and tricks.
The kind of instant pot tips that I wish had been available to me when I bought my first instant pot pressure cooker in late 2016.
Back then, there were just the odd site that had just got an instant pot and was not experienced enough to give quality advice.
But we learnt from trial and error to make instant pot mistakes and learnt how to be better with the electric pressure cooker.
Today on the podcast, I will be sharing with you 21 of the most important instant pot tips, that you can implement with your own instant pot cooking.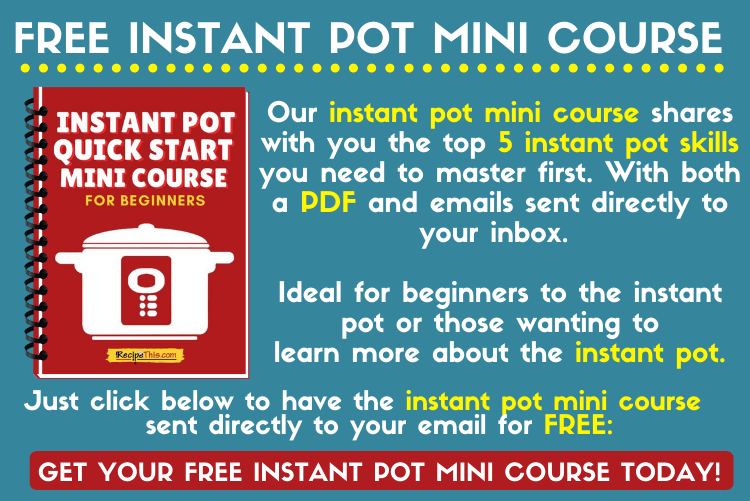 Plus, as well as our extremely popular instant pot mini course which teaches you the instant pot basics in 5 days, we also have our instant pot bucket list. That is loaded with 30 FREE bucket list worthy instant pot recipes.
Top 10 Essential Instant Pot Tips
You can of course, listen to the podcast for the full list of 21 most important pressure cooker tips and these are the top 10 that we recommend you take note of first.
Take it travelling with you – We took our instant pot with us on an 8 week camping trip across Europe. We visited 8 countries with amazing food and cooked it all in the instant pot. You can also use the instant pot for hotel room stays or in your RV. If taking in an RV make sure you opt for the smaller 6qt as it's a better wattage for travelling with.
Double seasoning – When the instant pot pressure cooks it does strip a lot of the seasoning from the food. I recommend adding half the seasoning before and then half after pressure cooking.
Cooking at the right temperature – Did you know you can adjust the temperature on the slow cooker and sauté function. Simply follow our instant pot less normal more guide.
Cook once eat twice – OMG the instant pot is simply amazing for making a bigger portion and then reheating the leftovers later. If you don't do this, you are missing out. For example, as I write this, we have instant pot leftover turkey chilli in the fridge. It's been our dinner for 3 days this week and just needs a quick reheat in the microwave.
Bulk buy your favourite instant pot foods – I find that you can save money and time, by bulk buying your favourite foods that you plan to cook in the instant pot. For example, if there is a special price on whole chickens I will buy six of them and then freeze them for later. Then its perfect for instant pot whole chicken. I also do it for a lot of staples too such as tinned tomatoes, dried black beans, a well stocked herb and spices cupboard as well as plenty of WW wraps to use with one pot dishes.
Make frozen stock cubes – If there is just ONE instant pot best tip it is this. Make instant pot veggie stock from veggie scraps or even instant pot chicken stock, instant pot beef stock etc. Then when it has cooled, place into these silicone ice cube trays. Then you can cook the veggie stock from frozen and it will make your instant pot meals a lot more flavoursome.
Get an extra inner pot – This is all about speeding you up in the kitchen when cooking with the instant pot. Lets say you are bulk cooking and you want to get the instant pot straight back on. It saves washing up one pot and you can get the next food on straight away. Or if you are following the cook once eat twice motto then it is perfect for storing your leftovers in the fridge.
It's also faster with warm water – If using water in the instant pot to take something to pressure, use the hot tap and let it run for a little while. This preheats the liquid in the instant pot and speeds up the time it takes to go to pressure.
Cook something new each week – Set yourself a goal of cooking something new in the instant pot every week. Then over a year you have learnt 52 new instant pot recipes. It will help build up your instant pot confidence over time.
Don't waste money on accessories – Focus on accessories you truly need, like the ones we mentioned in the instant pot accessories podcast episode earlier this season.
Don't forget to scroll below and listen or download the instant pot tips podcast episode and get access to 11 more instant pot tips.
Bonus Instant Pot Tip
If there is one thing, that has helped me with the instant pot (and other kitchen gadgets) it has been to have a printable, that I can attach to my fridge with quick times and temps for the instant pot.
You then have a quick reference without needing Google each time you want to pressure cook.
Over at Recipe This in our members area we have several FREE instant pot time and temp printables. You can subscribe, download whatever you want, print them out at home and have time and temps for so many different foods.
It is also ideal for converting everything to the instant pot.
Simply, sign up below for instant access:
Did You Know We Have A Podcast?
We started the Magic With Gadgets podcast in the January of 2021 as a way to offer a different way to enjoy Recipe This. It focuses on cooking with kitchen gadgets. You can find out more about our podcast here.
With weekly episodes that will help you cook smart with kitchen gadgets. This is episode 6 of the fourth season and you have the choice between reading this post, listening to the podcast or both.
If you would like to stay in the loop with our podcast, I recommend you subscribe below:
How To Listen To This Podcast Episode?
You can use the player above to listen to this episode of Magic With Gadgets. Alternatively search for Magic With Gadgets on your favourite podcast platform or click the links below:
Subscribe & Review
Thank you for listening to the Magic With Gadgets Podcast. Have some feedback you would like to share? Want to be featured in a future episode? Want to help us spread the word?
Browse other episodes (access them all here)
Leave a comment below the blog post
Share with your friends on social media
Share your thoughts in our Facebook Group (you can sign up here)
Ask me a question or submit a guest request by filling out the form below
If our podcast has helped you, please leave a review on iTunes. Your reviews help spread the word and without reviews our podcast will not get seen. Plus, I love reading each and every one of them.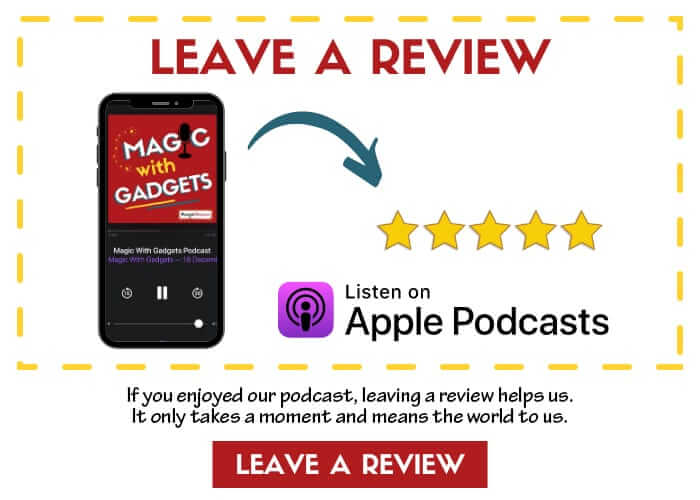 Can't listen now? Then pin it for later!