40 BIGGEST Instant Pot Mistakes You MUST Avoid
This Post Contains Affiliate Links. Click Here To Read Our Full Disclosure.
Instant Pot Mistakes. Today on the podcast we are sharing with you 40 instant pot mistakes you need to avoid making with your instant pot pressure cooker.
These common pressure cooker mistakes are also featured in the Magic With Gadgets Podcast. Simply search for Magic With Gadgets on your preferred podcast player, then scroll to episode 5 of season 4 to access this awesome episode.
Instant Pot Mistakes
In the last season of the podcast we talked about the top air fryer mistakes, and to celebrate turning 40 I turned into 40 of the biggest air fryer mistakes.
Well, with season four of the podcast dedicated to everything instant pot, I decided to do the same again for the instant pot.
I then had a list of about 6 instant pot mistakes, as well as another 5 that everyone complains that they do.
Then realised I am a confident instant pot user so don't make that many.
With that in mind I posted in several instant pot facebook groups and asked instant pot members from around the world.
It was posted to well over 5 million people and these 40 instant pot biggest mistakes was the result.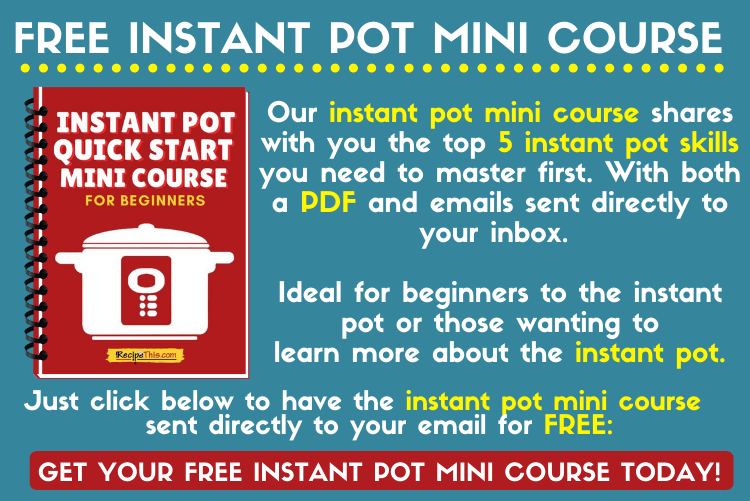 Plus, as well as our extremely popular instant pot mini course which teaches you the instant pot basics in 5 days, we also have our instant pot bucket list. That is loaded with 30 FREE bucket list worthy instant pot recipes.
Top 10 Common Instant Pot Mistakes
You can of course, listen to the podcast for the full list of 40 most important instant pot mistakes and these are the top 10 that happen the most.
Pouring liquid into the electricals – OMG I have done this too. Well, Jorge did it when was about 18 months all the time. He knew everything needed a cup of liquid and hadn't noticed the inner pot wasn't in. We would dry out the instant pot in the sunshine and it was fine again.
Forgetting to close the vent – OMG I have OCD with this. I will put some food on, then I find myself sitting down and going back it. Just so that I can double check I have set it to sealing. Note you will often hear it bubbling if not going to pressure for checking if you have made this mistake.
Not deglazing – After you do a sauté, its important that you deglaze the instant pot. If you have not deglazed the instant pot yet, then follow this guide. In a nutshell it stops the food from creating a burn notice as you take the rest of the food to pressure.
Wrong liquid quantity – Many said that they used too much liquid and many more said not enough. If you don't add enough then remove the lid add extra and then send back to pressure. Or if too much is added, you can always drain a bit before serving.
Impatient with the natural pressure release – You end up being impatient and thinking you don't really need to do a NPR, then you release pressure and have an explosion. This is exactly what happened to me with jam syrup going everywhere in the first tests for the instant pot raspberry jam recipe.
Not buying a bigger one – It amazes me how many times I hear this from pressure cooker users. That they went out and bought the 3qt as its just two of them. Then they realised they wanted to cook roasting meats in it that wouldn't fit. In The Milner house we have the instant pot duo 6qt and the instant pot duo plus 8qt.
Not buying two – And that leads to a similar mistake and that is not having two instant pots. And I am all there with them because I couldn't live without two. Plus, I also have a Ninja Foodi too. The benefit of having two, is that you can have meat in one and veggies in the other or running two at once during meal prep times.
Taking advice from the wrong people – You could search now online for instant pot recipes and the top results will often be corporate brands and most have not ever used an instant pot. They have paid someone else and not properly tested the recipes. This results in many instant pot beginners trusting recipes that are not properly tested and then they get upset when it doesn't work and put their instant pot back in its box.
Don't forget to scroll below and listen or download the instant pot mistakes podcast episode and get access to 30 more instant pot mistakes people make.
Did You Know We Have A Podcast?
We started the Magic With Gadgets podcast in the January of 2021 as a way to offer a different way to enjoy Recipe This. It focuses on cooking with kitchen gadgets. You can find out more about our podcast here.
With weekly episodes that will help you cook smart with kitchen gadgets. This is episode 5 of the fourth season and you have the choice between reading this post, listening to the podcast or both.
If you would like to stay in the loop with our podcast, I recommend you subscribe below:
How To Listen To This Podcast Episode?
You can use the player above to listen to this episode of Magic With Gadgets. Alternatively search for Magic With Gadgets on your favourite podcast platform or click the links below:
Subscribe & Review
Thank you for listening to the Magic With Gadgets Podcast. Have some feedback you would like to share? Want to be featured in a future episode? Want to help us spread the word?
Browse other episodes (access them all here)
Leave a comment below the blog post
Share with your friends on social media
Share your thoughts in our Facebook Group (you can sign up here)
Ask me a question or submit a guest request by filling out the form below
If our podcast has helped you, please leave a review on iTunes. Your reviews help spread the word and without reviews our podcast will not get seen. Plus, I love reading each and every one of them.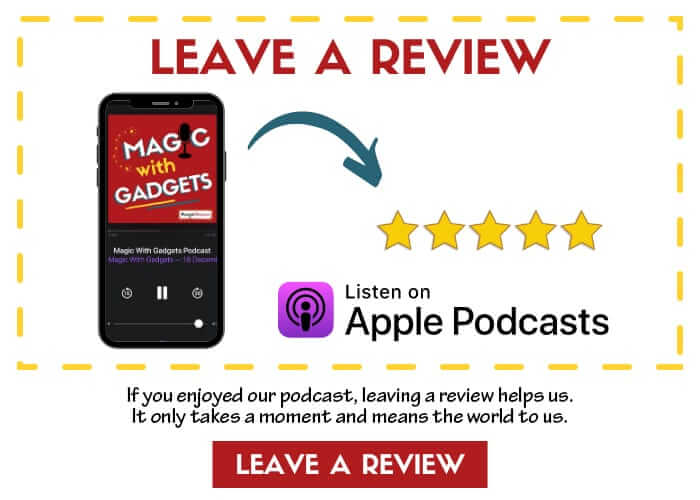 Can't listen now? Then pin it for later!