Disadvantages Of An Air Fryer. Today we are talking all about the disadvantages of the air fryer, to help you decide, if an air fryer is for you or not.
This air fryer disadvantages guide is also featured in the Magic With Gadgets Podcast. Simply search for Magic With Gadgets on your preferred podcast player, then scroll to episode 9 of season 2 to access this awesome episode.
Disadvantages Of Air Fryer
Did you know that I have been air frying for 10 years now? Back when I first bought an air fryer, it was only available in select countries in the world. Mainly parts of Europe and parts of Asia.
There was this one (the one we bought) and its rival. We saw it in a diet magazine as a great option for weight loss and we wanted to make diet chips.
Of course, we have done a lot more than that with our air fryer since and have more than 500 air fryer recipes for you on Recipe This. But we have never really talked about the disadvantages of the air fryer, well until now.
Today we will be discussing:
What are the disadvantages of the air fryer?
7 ways I feel the air fryer sucks
What I wish the air fryer did better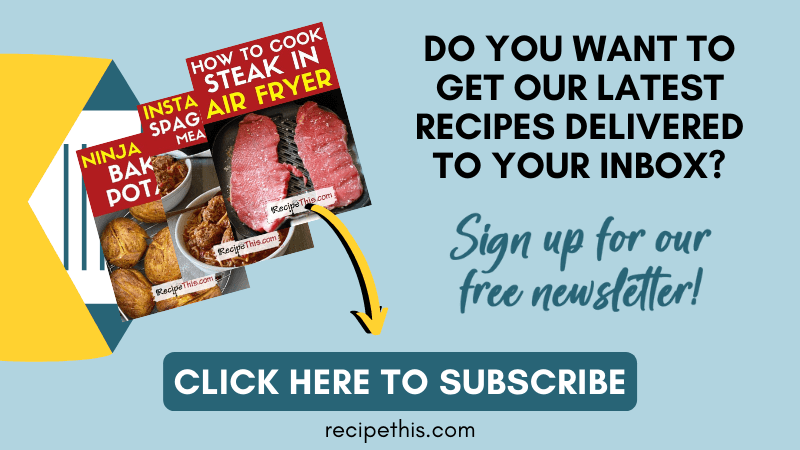 Plus, as well as our free newsletter, we also have a free air fryer mini course. It is ideal for air fryer beginners or those that want to get more confident with their air fryer. The free course runs for 5 days with a new lesson delivered each day to your inbox.
Disadvantages Of Air Fryer Cooking
I thought the best way to run through what I don't like about the air fryer and the air fryer cons, was to make a list.
I put pen to paper and planned to write a list of 10 things that are bad about air fryers.
After #7 I honestly couldn't think of anything else that I felt was a negative of the air fryer and stopped there!! So this is your top 7 cons of the air fryer.
#1 Cleaning The Air Fryer
The air fryer totally sucks when it comes to cleaning and depending on what you are cooking, the longer it takes to clean.
The simple method is of course is to remove the dirt with baby wipes into an old bag and then soak the air fryer base with soapy water but it can get rather repetitive.
Especially, when you are doing this as many times as you do after cooking compared to how many times you can use a deep fat fryer before you clean it.
Though I do have an air fryer cleaning guide that goes into more detail.
#2 Learning To Cook The Air Fryer Way
When you first start using the air fryer, its like learning to cook from scratch all over again.
It is like you have just left home and you don't know how to cook, get your cook times wrong and often burn your food.
The air fryer is a learning curve, and you will soon learn how the cook times vary and get used to air frying.
Though we do have a convert an air fryer guide which teaches you the cook times.
#3 The Air Fryer Is High Wattage
When I was in the middle of creating the Learn Your Air Fryer Course, I wanted to gift a copy to my mum and get her an air fryer.
I soon learnt that because she lived in a RV on campsite electricity that there is no way, that a quality air fryer (like this one) would work.
I have since seen tiny air fryers that are campsite friendly, but they will barely make a portion of fries for one person because they are that small.
But I am sure the high wattage, is what helps the air fryer cook the food much faster and as long as you don't want it for travelling you should be good.
#4 Air Fryers Can Be Expensive
When you first get into air fryers, you may well be shocked by the price of them and think that air fryers are stupid and a TOTAL con.
Especially when you look at the popular brands which cost about $200 and are often 4 times the cost of a deep fat fryer.
Go too cheap with an air fryer (I am talking below $75) and the quality of the air fryer really does go down and you are lucky if the air fryer will last a year.
My recommendation is to get this air fryer, it may be more expensive, but it will last at least 6 years on everyday use.
But its all about the quality air technology that goes into them and the difference an air fryer can make to your health.
#5 Air Fryers Are Small
I often hear this quote when it comes to air fryers (and instant pots):
"I use them for everything apart from roast turkey".
That is because the air fryers are often small and don't have the same capacity that your oven has.
You're often juggling mealtimes trying to fit what you want for dinner into the air fryer basket.
As a single person you're buying the larger air fryer because it will hold a chicken, when it takes up too much counterspace.
But once you get the balancing right at mealtimes, then you will fall head over heels in love with your air fryer.
Or do what we do as we have this large air fryer, and this cheaper large air fryer. We can then cook the main meat in one and the sides in the other.
#6 Air Fryers Have A Short Wire
This drives me crazy and is probably what I dislike most about air fryers. The cable wire for the air fryer is SMALL and you often have to be very near to your socket, otherwise you have a problem!
What we do when doing recipe videos for you, is add an extension cable to the air fryer and then it will stretch to where we want it.
#7 Air Fryer Accessories Are Hard Work
The first thing you are taught after buying an air fryer is to get air fryer accessories. As in all the things you use when cooking food in the air fryer.
Before you think you don't need them, think of it like cooking in the oven without ever having an oven dish or any bakeware. It just can't be done, can it?
You also have the big task of finding air fryer accessories that fit your specific air fryer and that is the hardest job of them all.
I wish my air fryer came with the accessories and then it would stop the frustration of buying an air fryer accessory and realising it doesn't fit.
And those are the worst of the worst when it comes to air frying. There are no disadvantages to your health with the air fryer, well unless you just cook junk food and cakes in it!
If you can handle those air fryer negative effects, then you are ready for the air fryer.
I recommend this air fryer the most, or this one for a cheaper alternative.
Did You Know We Have A Podcast?
We started the Magic With Gadgets podcast in the January of 2021 as a way to offer a different way to enjoy Recipe This. It focuses on cooking with kitchen gadgets. You can find out more about our podcast here.
With twice weekly episodes through September to December. This is episode 9 of the second season and you have the choice between reading this post, listening to the podcast or both.
If you would like to stay in the loop with our podcast, I recommend you subscribe below:
How To Listen To This Podcast Episode?
You can use the player above to listen to this episode of Magic With Gadgets. Alternatively search for Magic With Gadgets on your favourite podcast platform or click the links below:
Subscribe & Review
Thank you for listening to the Magic With Gadgets Podcast. Have some feedback you would like to share? Want to be featured in a future episode? Want to help us spread the word?
Browse other episodes (access them all here)
Leave a comment below the blog post
Share with your friends on social media
Share your thoughts in our Facebook Group (you can sign up here)
Ask me a question or submit a guest request by filling out the form below
Form that we need setting up – we need to get persons first name, plus their question and email as well so that we can say we have got them
If our podcast has helped you, please leave a review on iTunes. Your reviews help spread the word and without reviews our podcast will not get seen. Plus, I love reading each and every one of them.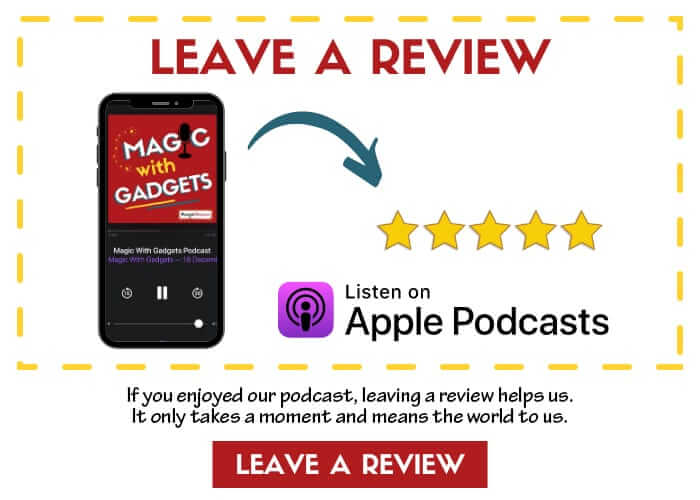 Can't listen now? Then pin it for later!