101 Easy Instant Pot Recipes For Beginners (2022 Version)
This Post Contains Affiliate Links. Click Here To Read Our Full Disclosure.
101 Instant Pot Recipes For Beginners. Today we wanted to talk about the 2022 update to the best selling 101 instant pot recipes for beginners ecookbook and how it can transform your pressure cooking.
This instant pot beginner recipes guide is also featured in the Magic With Gadgets Podcast. Simply search for Magic With Gadgets on your preferred podcast player, then scroll to episode 4 of season 4 to access this awesome episode.
101 Instant Pot Recipes For Beginners
Back in 2017 I first published an amazing list of 101 instant pot recipes for beginners.
The idea was because I too, was new to the instant pot and thought there was a lack of lists of recipes that you could scroll through and then make a plan of action of what you would make next.
I never thought it would become as famous as it has and shared by millions of people, read by millions and the ebook being our best seller of all time.
We later did an air fryer version which is our 101 air fryer recipes for beginners.
But of course, that was the year 2017 and new favourite instant pot recipes happen, and old ones get pushed out.
I have since updated it yearly and super pleased that the 2022 version is here for you to download.
Plus, it is keeping it with its original theme, of ridiculously easy instant pot recipes, so don't worry not a complicated instant pot recipe in sight!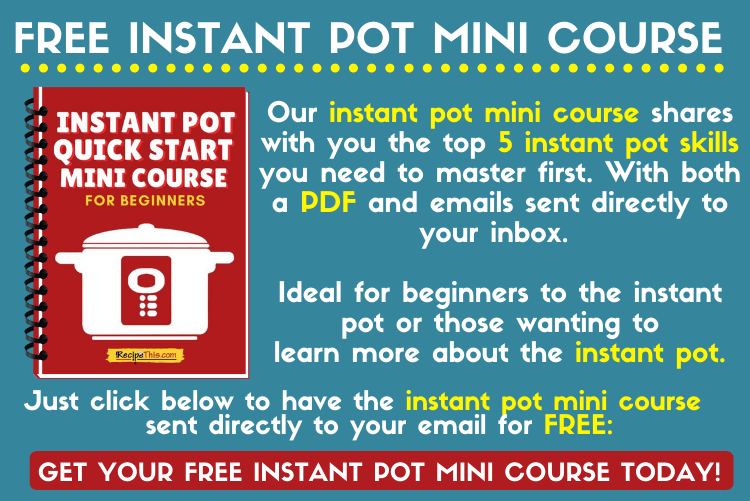 Plus, as well as our extremely popular instant pot mini course which teaches you the instant pot basics in 5 days, we also have our instant pot bucket list. That is loaded with 30 FREE bucket list worthy instant pot recipes.
Do These Beginner Instant Pot Recipes Work With ANY Pressure Cooker?
These instant pot recipes are made using the instant pot duo 6qt and the instant pot duo plus 8qt.
They will work with any electric pressure cooker. Whether that is the Ninja Foodi, Mealthy, PKP or another similar brand.
They will also work with the 3qt instant pot too.
Instant Pot Beginner Recipe Highlights
I often get asked out of 101 instant pot recipes if I have some favourites and which ones are kept in the ebook, when we take and replace on average 30% with each update.
Here are the Milner family favourites & fan favourites:
Instant Pot Frozen Broccoli – Just dump a bag of frozen broccoli into the instant pot and then do a zero minute cook time.
Instant Pot Frozen Veggie Soup – A no prep soup thanks to using frozen veggies and then just loading up into the instant pot.
Instant Pot Cauliflower Cheese – You will love this British classic and even better, it is gluten free and unlike a regular cheese sauce, no butter is needed either.
Instant Pot Caramel – The easiest ever instant pot recipe and what I recommend you do first after the water test.
Instant Pot Baked Potatoes – This is perfect for the night you go grocery shopping. Simply grab some little dips and coleslaw when out and then turn your baked potatoes into a baked potato bar.
Instant Pot Hard Boiled Eggs – This is the best easy recipe ever and lets you avoid the 555 method. The best way to cook boiled eggs and you will love how good they are.
Instant Pot No Drain Mashed Potatoes – This is the easiest mash recipe you will ever follow. Even better, you don't need to drain the mash and can mash it in the inner pot.
Did You Know We Have A Podcast?
We started the Magic With Gadgets podcast in the January of 2021 as a way to offer a different way to enjoy Recipe This. It focuses on cooking with kitchen gadgets. You can find out more about our podcast here.
With weekly episodes that will help you cook smart with kitchen gadgets. This is episode 4 of the fourth season and you have the choice between reading this post, listening to the podcast or both.
If you would like to stay in the loop with our podcast, I recommend you subscribe below:
How To Listen To This Podcast Episode?
You can use the player above to listen to this episode of Magic With Gadgets. Alternatively search for Magic With Gadgets on your favourite podcast platform or click the links below:
Subscribe & Review
Thank you for listening to the Magic With Gadgets Podcast. Have some feedback you would like to share? Want to be featured in a future episode? Want to help us spread the word?
Browse other episodes (access them all here)
Leave a comment below the blog post
Share with your friends on social media
Share your thoughts in our Facebook Group (you can sign up here)
Ask me a question or submit a guest request by filling out the form below
If our podcast has helped you, please leave a review on iTunes. Your reviews help spread the word and without reviews our podcast will not get seen. Plus, I love reading each and every one of them.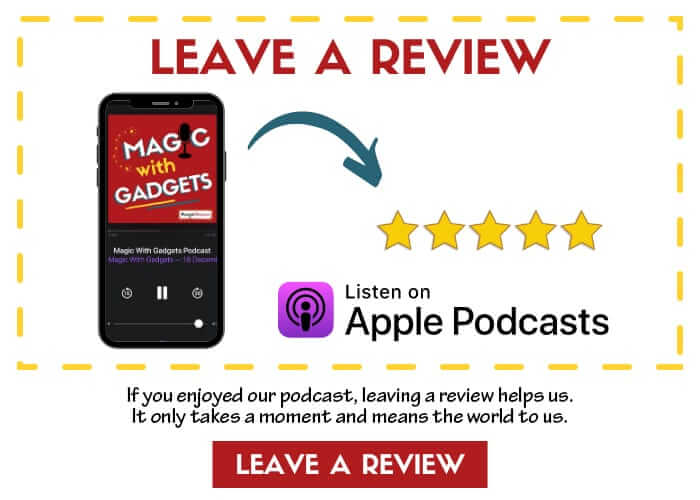 Can't listen now? Then pin it for later!