101 Easy Air Fryer Recipes For Beginners (2022 Version)
This Post Contains Affiliate Links. Click Here To Read Our Full Disclosure.
101 Air Fryer Recipes For Beginners. Today we wanted to talk about the 2022 update to the best selling 101 air fryer recipes for beginners ecookbook and how it can transform your air frying.
This air fryer beginner recipes guide is also featured in the Magic With Gadgets Podcast. Simply search for Magic With Gadgets on your preferred podcast player, then scroll to episode 4 of season 3 to access this awesome episode.
101 Air Fryer Recipes For Beginners
Back in 2017 I first published an amazing list of 101 air fryer recipes for beginners.
More than 300,000 people read it in the first 30 days, and it has grown and grown over the years.
But of course, we have made more and more air fryer recipes since then and love to update it each year.
Keeping it with its original theme, of ridiculously easy air fryer recipes, we have just done our 2022 update for you and that is what we are talking about on the podcast today.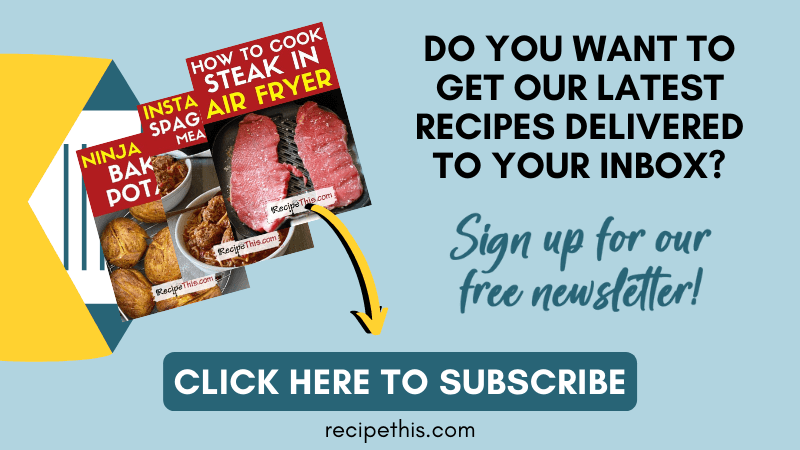 Plus, as well as our free newsletter, we also have a free air fryer mini course. It is ideal for air fryer beginners or those that want to get more confident with their air fryer. The free course runs for 5 days with a new lesson delivered each day to your inbox.
Do These Beginner Air Fryer Recipes Work With ANY Air Fryer?
These air fryer recipes are made using the Philips Airfryer brand. However, they will work with any basket type air fryer.
Many of the air fryer recipes are also really easy to convert to the air fryer oven too.
Air Fryer Beginner Recipe Highlights
I often get asked out of 101 air fryer recipes if I have some favourites and which ones are kept in the ebook, when we take and replace on average 30% with each update.
Here are the Milner family favourites and fab favourites:
Air Fryer Frozen French Fries – what I recommend every air fryer beginner starts with, to build up confidence.
Air Fryer Breakfast Bundt Cake – What I personally cook for breakfast most days. Even better it can be made ahead and then reheated later.
Air Fryer Garlic Bread – Making homemade garlic bread in the air fryer is ridiculously easy and you will love the scent coming from the air fryer as it cooks.
Air Fryer Pot Roast – The easiest way to cook roast beef, potatoes and carrots, at the same time in the air fryer.
Air Fryer Stuffing – This is perfect for roast dinners and the holidays. You make your stuffing into balls, it can be made ahead and then you can freeze them or reheat in the air fryer.
Air Fryer Frozen Meatballs – This is a must do and so easy in the air fryer. It even shows you my secret trick for spaghetti.
Did You Know We Have A Podcast?
We started the Magic With Gadgets podcast in the January of 2021 as a way to offer a different way to enjoy Recipe This. It focuses on cooking with kitchen gadgets. You can find out more about our podcast here.
With weekly episodes that will help you cook smart with kitchen gadgets. This is episode 4 of the third season and you have the choice between reading this post, listening to the podcast or both.
If you would like to stay in the loop with our podcast, I recommend you subscribe below:
How To Listen To This Podcast Episode?
You can use the player above to listen to this episode of Magic With Gadgets. Alternatively search for Magic With Gadgets on your favourite podcast platform or click the links below:
Subscribe & Review
Thank you for listening to the Magic With Gadgets Podcast. Have some feedback you would like to share? Want to be featured in a future episode? Want to help us spread the word?
Browse other episodes (access them all here)
Leave a comment below the blog post
Share with your friends on social media
Share your thoughts in our Facebook Group (you can sign up here)
Ask me a question or submit a guest request by filling out the form below
If our podcast has helped you, please leave a review on iTunes. Your reviews help spread the word and without reviews our podcast will not get seen. Plus, I love reading each and every one of them.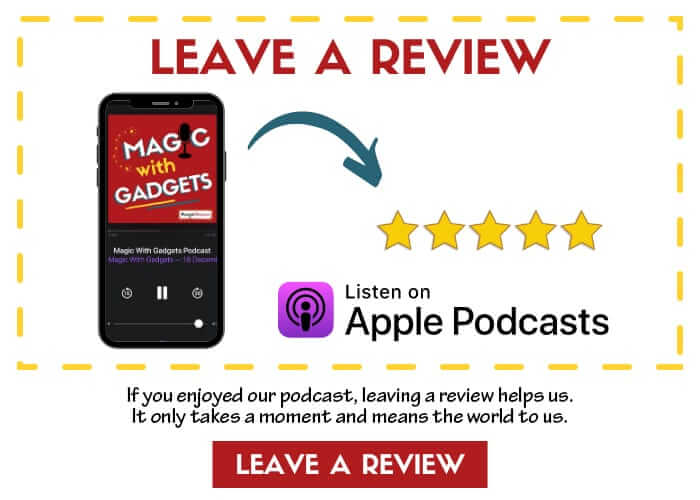 Can't listen now? Then pin it for later!