The Air Fryer Temperature Guide
This Post Contains Affiliate Links. Click Here To Read Our Full Disclosure.
The Air Fryer Temperature Guide. Today we wanted to answer your essential questions about the air fryer temperature. What are the temperatures you need to be aware of and which 5 you will use the most for everyday air frying.
This air fryer temperature guide is also featured in the Magic With Gadgets Podcast. Simply search for Magic With Gadgets on your preferred podcast player, then scroll to episode 1 of season 3 to access this awesome episode.
Air Fryer Temperature
If you are brand new to the air fryer, then mastering the air fryer temperature needs to be top of your list.
You're going from using ovens, skillets and deep fat fryers for air fryers and the temperatures are different.
But the good news is, that there are 5 air fryer temperatures you will use the most and once you master these 5 simple air fryer temperatures, then using an air fryer will be as easy as learning your ABC.
You can write them down, save this podcast episode and then refer back to it whenever you need a quick reminder.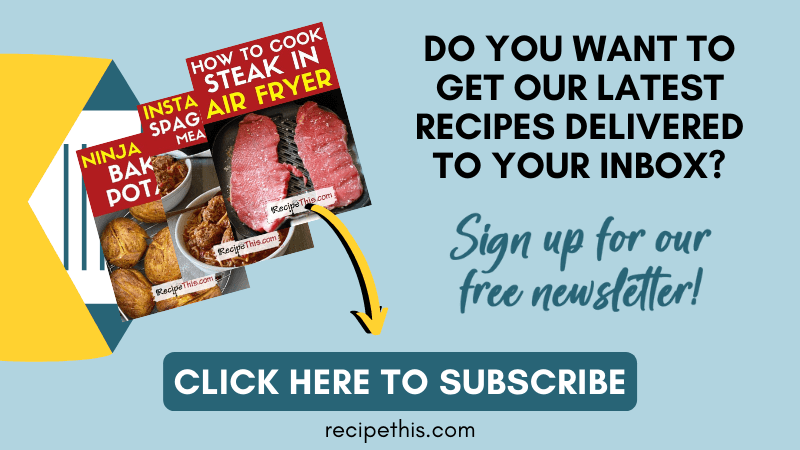 Plus, as well as our free newsletter, we also have a free air fryer mini course. It is ideal for air fryer beginners or those that want to get more confident with their air fryer. The free course runs for 5 days with a new lesson delivered each day to your inbox.
Air Fryer Temperature Range
The worst thing for air fryer beginners, is that they don't realise when buying an air fryer, that the air fryer temperature range can differ from brand to brand.
For example, did you know that the Tefal brand have an air fryer that only cooks at 180c/360f?
This means that you miss out on a lot of air frying and can't do boiled eggs, dehydrate, or crisp up your food.
Generally, though the air fryer temperature range on the average air fryer runs from:
60c/140f to 200c/400f
Our Philips air fryer temperature settings are exactly that and run from 60c/140f to 200c/400f.
Or if your air fryer has a dehydrator then that lower temperature could be as low as 40c/105f
Though if you have an air fryer that covers 40c/105f to 200c/400f then its perfect for all air fryer cooking.
5 Essential Air Fryer Temperatures
Okay, there are a lot of temperatures you could run between the low and the high numbers above.
And as an air fryer beginner, I am sure you want to know which ones really matter and which ones you will use the most.
Well, these are our 5 essential air fryer temperatures that we have used the most in 10 years air frying:
120c/250f – Ideal temperature for air fryer hard boiled eggs and the recipe never fails me. You can also use this for defrosting food that is almost defrosted.
160c/320f – This is fantastic for cooking food in the middle and I often refer to it in air frying as the low temperature. Best of all, you can use it for our air fryer cajun fries or our air fryer potato wedges, do the majority of the cook time and then increase the temp just at the end of cooking to crisp up your food.
180c/360f – I call this temperature medium and use this for the bulk of the air fryer food that I cook. My favourite air fryer egg cups that I have for breakfast most days is done at this temperature as is air fryer baked oatmeal. Its also worth mentioning, that most air fryers use this temperature as their preset.
200c/400f – If you want to crisp your food up, then you will need this temperature. Just before the end of cooking, spray with extra virgin olive oil and then cook for a little longer at this temp. We love to do this with our air fryer frozen mozzarella sticks or air fryer cob loaf. Your food will then be super crispy like a fat fryer would.
Those are it! And if you are not dehydrating or not cooking eggs, then that gives you just 3 temps to learn. And you could call those your low, medium, and high.
What Air Fryer Has The BEST Temperature Range?
The air fryer with the best temperature range is this Ninja Foodi. It goes as low as 40c/105f and then as high as 210c/410f for the best crispy food.
It is this model of Ninja Foodi and the one we personally have in our kitchen. Plus, even better, it triples up as a slow cooker and an electric pressure cooker.
Air Fryer Temps For Frozen Food
The air fryer temp for frozen food is usually 180c/360f. It just depends on the thickness of the frozen food you are cooking.
For example, something small like air fryer frozen waffle fries will cook perfectly at this temp. But something thicker that is longer cooking such as air fryer frozen chicken thighs would be better starting at 160c/320f.
Then once cooked, your frozen food will likely need to go up to 200c/400f to crisp up.
Though for more in depth info check our free air fryer frozen foods cooking chart.
Air Fryer Temp For Fries
The air fryer temp for fries, actually runs on two different temperatures. I call this my dual air fryer temperature. ~
You start off by cooking your fries at 160c/320f to get them cooked in the middle.
Then increase the temperature to 200c/400f to make them nice and crispy.
Air Fryer Times & Temps
Now that you have got your head around our air fryer temperature guide then I am sure you want times too.
That is why over at Recipe This in our members area we have several FREE air fryer time and temp printables. You can subscribe, download whatever you want, print them out at home and have time and temps for so many different foods.
It is also ideal for converting everything to the air fryer.
Simply, sign up below for instant access:
[convertkit form=2260616]
Did You Know We Have A Podcast?
We started the Magic With Gadgets podcast in the January of 2021 as a way to offer a different way to enjoy Recipe This. It focuses on cooking with kitchen gadgets. You can find out more about our podcast here.
With weekly episodes that will help you cook smart with kitchen gadgets. This is episode 1 of the third season and you have the choice between reading this post, listening to the podcast or both.
If you would like to stay in the loop with our podcast, I recommend you subscribe below:
How To Listen To This Podcast Episode?
You can use the player above to listen to this episode of Magic With Gadgets. Alternatively search for Magic With Gadgets on your favourite podcast platform or click the links below:
Subscribe & Review
Thank you for listening to the Magic With Gadgets Podcast. Have some feedback you would like to share? Want to be featured in a future episode? Want to help us spread the word?
Browse other episodes (access them all here)
Leave a comment below the blog post
Share with your friends on social media
Share your thoughts in our Facebook Group (you can sign up here)
Ask me a question or submit a guest request by filling out the form below
If our podcast has helped you, please leave a review on iTunes. Your reviews help spread the word and without reviews our podcast will not get seen. Plus, I love reading each and every one of them.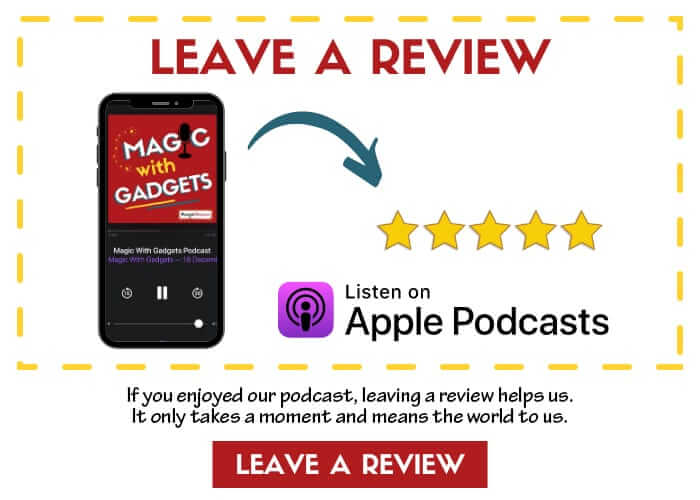 Can't listen now? Then pin it for later!