Is it cheaper to make your own bread? Today I have done thorough price comparisons in the UK and the US to show you the bread cost and discuss if making your own bread with a bread maker is cheaper.
This bread price comparison guide is also featured in the Magic With Gadgets Podcast. Simply search for Magic With Gadgets on your preferred podcast player, then scroll to episode 7 of season 6 to access this awesome episode.
Bread Cost
Back in 2005 to 2006 my lovely husband Dominc worked at a bakers in the north of England. They made the best baked goods, which was distributed among their chain of bakeries.
They made doughnuts, bread, cakes, biscuits and so much more. He did the evening shift and would be home from work at 2 in the morning.
Even all these years later, what he always talks about (well apart from free doughnuts) is the bread cost.
The big profit that the bakeries were making on their delicious baked goods and how it's a great business to be in. The ingredients are simple everyday ones, and you don't need to be a professional baker to achieve it.
That was what I consider to be my reasoning for getting a bread maker. To save the cost of buying your own bread and make your own instead.
You can mix and match with your favourite flavourings, you can use any brand or non-branded flour and thanks to the bread machine very little effort is required.
But we all love to see our money savings in numbers, that's why I wanted to do a bread cost comparison for you to show you exactly what you are saving by making your own bread in the bread machine.
Today we will be sharing with you:
How much does a loaf of bread cost?
Is baking bread cheaper than buying it?
Why is yeast so expensive?
Cheap bread machine ideas.
And so much more.
Is Baking Bread Cheaper Than Buying?
Yes, baking bread is cheaper than buying. Though of course, it depends on the ingredients you are using and not spending money on the wrong ingredients. As some baking ingredients can be a lot more money than others and you want to be shopper savvy when baking your own bread.
How Much Does Bread Cost?
A typical loaf of bread cost can differ, depending on the type of ingredients you use. For example, flour and yeast both sell for different price points.
You can buy cheap all purpose flour or plain flour to keep the costs down (like we have done in our bread price comparison) or you can use branded bread flour, or you can buy a premium bread flour.
Whilst I can make a batch of cheap homemade bread, yours might not be as cheap, so do consider your ingredients wisely.
Plus, I also considered the average cost of all purpose flour as it can go up and go down in price depending on supplies.
Loaf Of Bread Cost
Now I have explained that, lets get to the meat and potatoes of how much is a loaf of bread and if its enough of a saving to make your own bread vs store bought.
I tested Morrison's prices in the UK and Walmart in the US. Though if you shop somewhere else your bread prices may differ slightly.
How much does a loaf of bread cost at Morrison's?
250g Plain Flour = 0.08p
1.5Tbsp Sugar = 0.009p
0.5Tsp Salt = 0.001p
1/3 Tsp Yeast = 0.01p
50ml Extra Virgin Olive Oil = 0.16p
50ml Skimmed Milk = 0.03p
Total bread cost in the UK = 29p/$0.40
How much does a loaf of bread cost at Walmart?
250g Plain Flour = $0.11
1.5Tbsp Sugar = $0.05
0.5Tsp Salt = $0.001
1/3 Tsp Yeast = $0.09
50ml Extra Virgin Olive Oil = $0.20
50ml Skimmed Milk = $0.07
Total bread cost in the US = $0.52
Though note, you will not miss using your own supply of sugar and salt or the milk you have stored in the fridge or the oil in your pantry. All you are really buying in for is the yeast and the flour.
I also saw 6 dinner rolls in Walmart for $1.48 and also saw 6 dinner rolls in Morrison's for $1.66.
Compare this to $1.48 vs $0.52 or $1.66 vs $0.40 and you can see the big savings you are making.
Also consider that when you are making your own bread you can add in extra ingredients such as making a cheese beer bread or doing garlic bread.
Also note, that the price comparison above is based on the ingredients we use in our bread machine dinner rolls, our bread machine bread, and our bread machine pizza dough.
Why Is Yeast So Expensive?
A Crockpot looks like an oval shaped cooking pot. Depending on Crockpot model it can be stainless steel or stoneware and you can often get them in different colours too.
Get A Cheap Bread Machine
Now I have shown you homemade bread vs store bought, you are probably thinking about a cheap bread machine.
After all, if you just want dinner rolls for dinner or for your kids school lunch, you don't want to be constantly baking do you?
By using a bread machine, you dump in the ingredients and it beeps 23 minutes later when your dough is done. You can then follow our instructions to make air fryer dinner rolls.
The bread machine we recommend is this one, and if you are wondering how much does a bread machine cost? It can differ from place to place but overall they are a cheap kitchen gadget that will make back your money in a couple of months.
Just think if you would normally have dinner rolls 3 times a week and live in the US, then each batch is saving you 96 cents. Make bread machine dinner rolls 3 times a week and you have saved $2.88. Then over a year that is a $149.76. Then lets say your bread machine lasts you 5 years and you buy one for $50, then that is a $698.80. Isn't that an amazing saving?
Did You Know We Have A Podcast?
We started the Magic With Gadgets podcast in the January of 2021 as a way to offer a different way to enjoy Recipe This. It focuses on cooking with kitchen gadgets. You can find out more about our podcast here.
With twice weekly episodes through September to December. This is episode 6 of the second season and you have the choice between reading this post, listening to the podcast or both.
If you would like to stay in the loop with our podcast, I recommend you subscribe below:
How To Listen To This Podcast Episode?
You can use the player above to listen to this episode of Magic With Gadgets. Alternatively search for Magic With Gadgets on your favourite podcast platform or click the links below:
Subscribe & Review
Thank you for listening to the Magic With Gadgets Podcast. Have some feedback you would like to share? Want to be featured in a future episode? Want to help us spread the word?
Browse other episodes (access them all here)
Leave a comment below the blog post
Share with your friends on social media
Share your thoughts in our Facebook Group (you can sign up here)
Ask me a question or submit a guest request by filling out the form below
If our podcast has helped you, please leave a review on iTunes. Your reviews help spread the word and without reviews our podcast will not get seen. Plus, I love reading each and every one of them.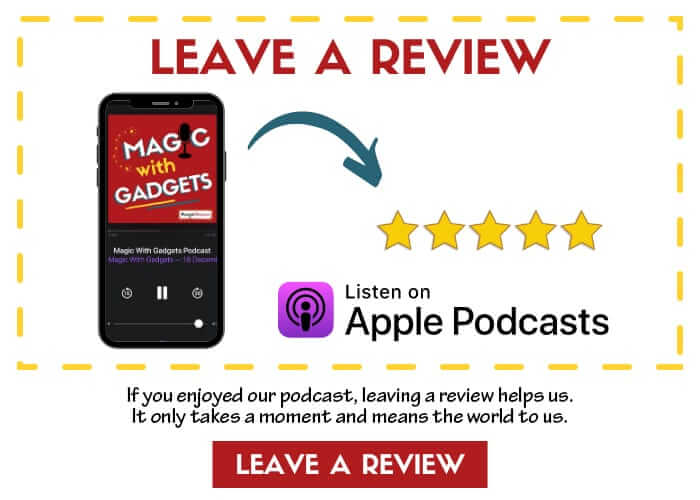 Can't listen now? Then pin it for later!