How To Make Jam In The Instant Pot (3 Ways)
This Post Contains Affiliate Links. Click Here To Read Our Full Disclosure.
Learn how to make homemade jam in the Instant Pot Pressure Cooker with our ultimate guide to pressure cooker jam making. Includes Instant Pot Jam recipes, tips and more.
Instant Pot Jam
On a beautiful spring morning, we headed to the Portuguese market to grab some fresh fruit, for a big Instant Pot Jam Making experiment.
We wanted to try making jam that wasn't just strawberries and have a good afternoon session of jam making. We could load the jam up into the freezer and have enough for the rest of the year and beyond.
The main reason for doing it, is that we have seen a lot of Instant Pot Jam recipes lately, that call for corn flour and I wanted to prove that you can make delicious homemade Jam without needing to add corn flour.
How To Make Jam In The Instant Pot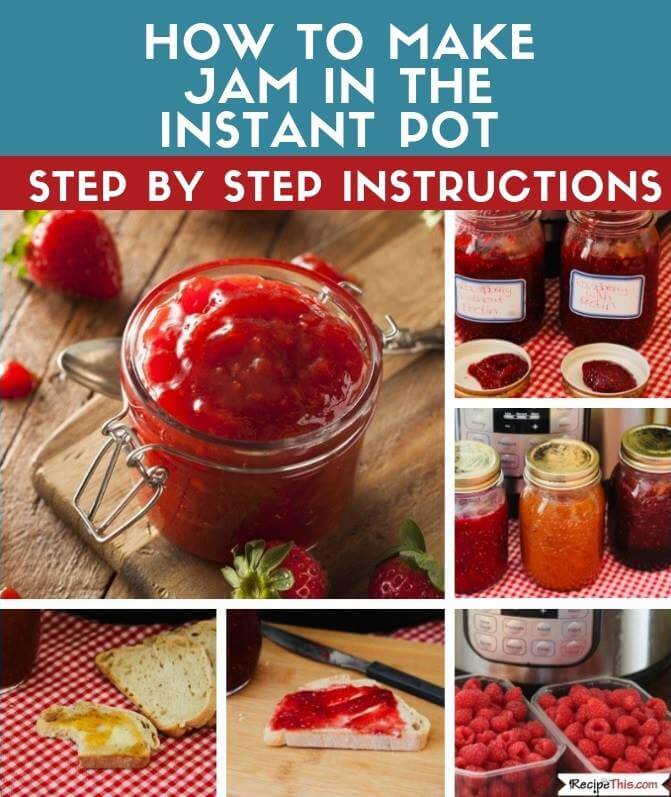 Making Jam in the Instant Pot is easy.
You throw your ingredients into the Instant Pot, give it a quick stir and set the time to 2 minutes. This is followed up with a 10-minute natural pressure release (NPR).
You can mix and match depending on what fruit and what sugar you plan to use. As long as you have a good ratio of fresh fruit to sugar, then you have it in the bag!
Favourite Jam Fruits = Strawberries, Raspberries, Blueberries, Plums, Grapes, Peaches, Figs
Favourite Sugars = Honey, Caster Sugar, Stevia,
You can also mix and match if you're using fruits from the same family. For example, our readers favourite is our Instant Pot Strawberry Jam, in it we mention that you can swap it around and have all strawberries or a mix of strawberries and raspberries if you wanted to.
The sugar can also be mixed and matched. Our favourite sugar balance is a tablespoon of honey alongside caster sugar.
Imagine if you have a huge amount of fresh raspberries to use up, or they are lower priced because they are in season, then collect up your mason jars and grab some sugar from your pantry and get jam making.
Jam Making Mason Jars
This brings me to the main accessory you will need for making Instant Pot Jam. A set of mason jars are essential for storing your just made homemade jam in. You sterilise them prior to adding the jam and then pour your jam mixture into the jars.
Even better, once the Instant Pot Jam has cooled down, you can screw the lid on and place them in the freezer.
Imagine making your delicious jam in the summer when strawberries are in season, to then enjoy your homemade jam at Christmas time. Or even give it a Christmas gift!
Instant Pot Jam Ratio
To save you having to scroll through lots and lots of recipes, let me tell you about the Instant Pot Jam ratio instead.
86%
That is 86% sugar quantity to the quantity of fresh fruit.
If you have 1 kilo/1000g of fresh fruit, then you would know that you need 860g of sugar.
Its easy to remember if your head and can save on trying to work out if the amount of fruit you have is enough for making Instant Pot Jam with.
Instant Pot Jam Explosions
I had a jam explosion the first time I made Instant Pot Jam, it was totally my OWN FAULT as I was inpatient and didn't see the point in waiting for natural pressure release.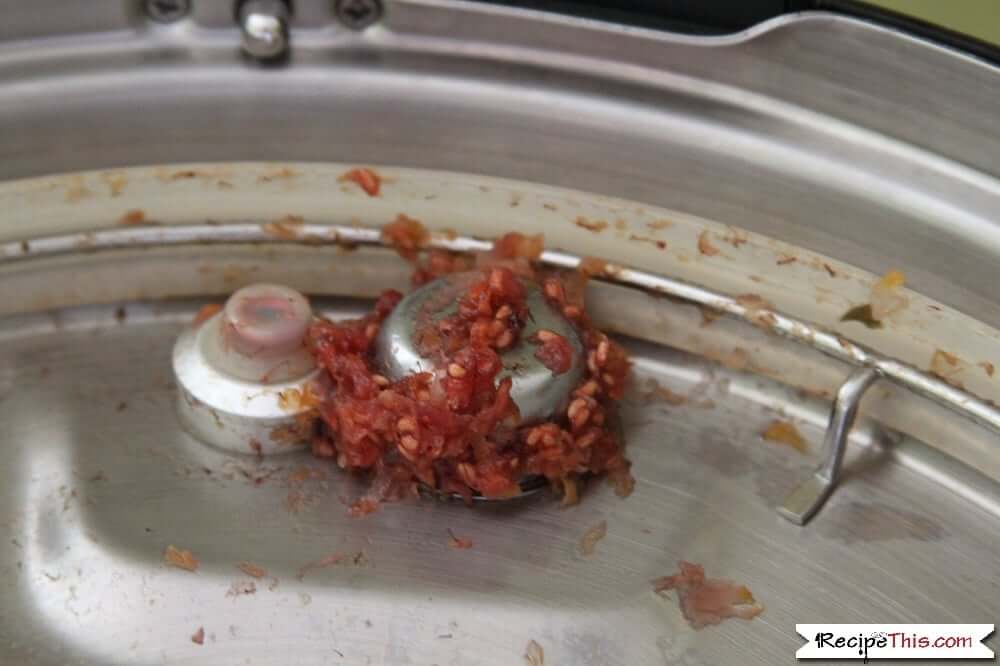 I did the unthinkable and moved it from sealing to venting after the 2 minutes.
What happened is that the red-hot strawberry syrup came out instead of steam.
Our walls where bright red and it took ages to clean it all up.
Lesson learned!
Next time around I made sure I gave it 10 minutes NPR and there was no explosion just a little steam.
Then the lid came off and I couldn't get over how thick and lovely the strawberry jam syrup was, without the need for any corn flour.
Instant Pot Jam Pectin vs No Pectin
There is always the question about whether you need pectin or not to make jam. Well I decided to experiment with it and found that it really wasn't necessary.
If you look at my Instant Pot Raspberry Jam No Pectin post, you will see that I did one round with pectin and one without. Both looked nearly the same and they both tasted just as good.
I would only recommend using pectin if you are making a jam that is very thin.
A useful alternative to using pectin is jelly powder. Jelly powder sets very well when boiling water is added. Add a sachet in after the jam is cooked and stir it in before you cool down the jam.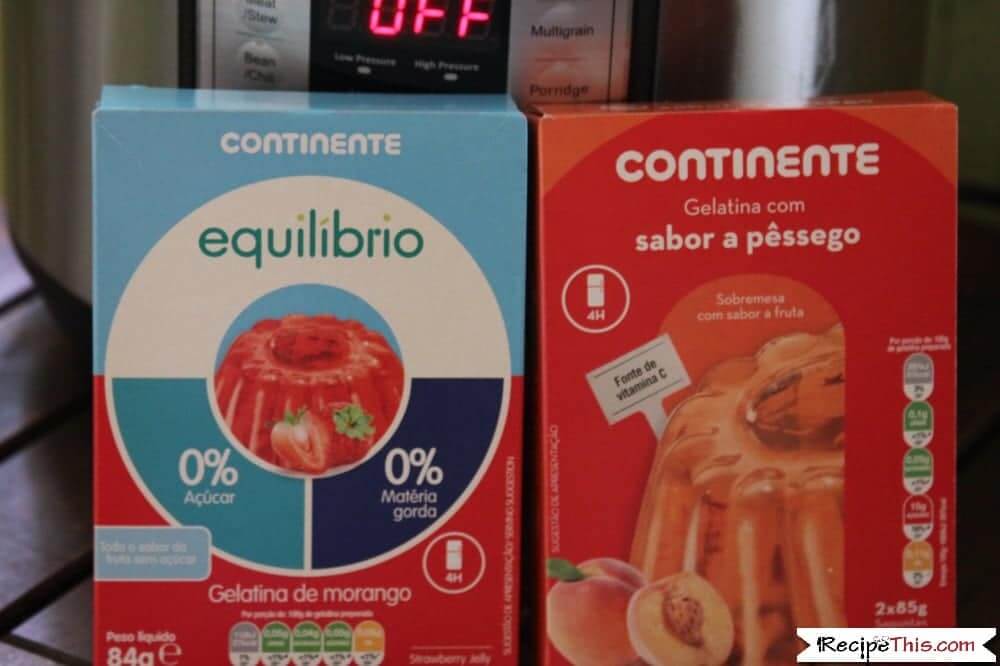 Pick the flavour that matches your jam and it will taste just as good.
Why Make Jam In The Instant Pot?
You're probably wondering, why not just get your stock pot out and make homemade jam on the stove and forget about your Instant Pot Pressure Cooker.
Which of course you can.
But it is like a lot of Instant Pot genius recipes, once you do it the Instant Pot way, you simply don't want to go back. You want to make it in the Instant Pot over and over again!
What I love MOST about Instant Pot Jam compared to stove top jam is the ability to dump and go.
You're not stood there waiting for the sugar and the fruit to do their magic, instead you can dump the ingredients into the Instant Pot, then come back when it beeps.
Instant Pot Jam – 3 Ways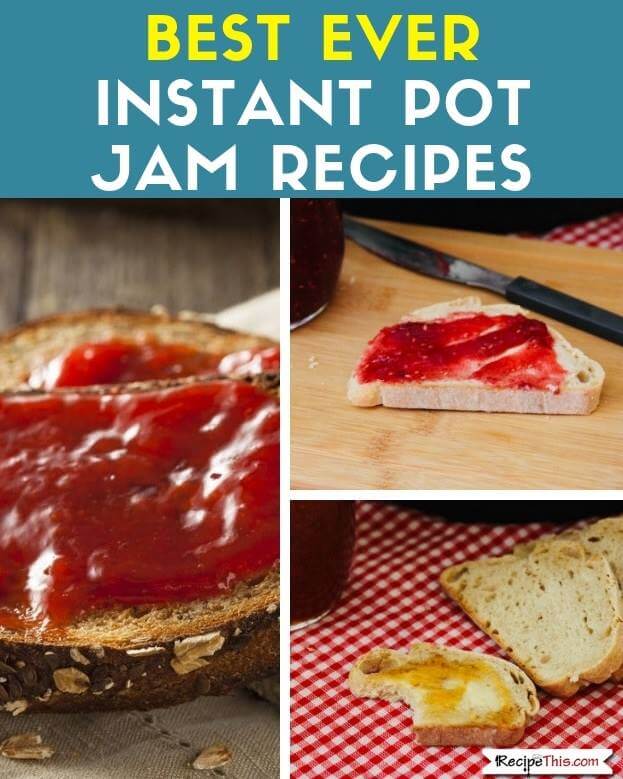 We have 3 delicious Instant Pot Jam recipes for you to try out at home.
Instant Pot Strawberry Jam – Our original strawberry jam in the Instant Pot, many of our readers have loved this recipe. The strawberries taste amazing and we can't just have one slice of bread with strawberry jam in our household.
Instant Pot Raspberry Jam No Pectin – Using nothing to bind it together this raspberry jam is so thick it doesn't need anything extra. It uses just fresh raspberries, caster sugar and honey.
Instant Pot Peach Jam With Pectin – Another new addition but just as delicious, making peach jam from leftover peaches, though you can use peaches, apricots or nectarines in this recipe.
Instant Pot Lemon Curd – Not technically a jam, though many do know it as the lemon jam. A perfect use of leftover lemons and tastes just like a lemon dessert. I love lemon curd and its so frugal to make too.

Instant Pot Jam – FAQ
Over to the readers, with the most frequently asked questions for making jam in the Instant Pot Pressure Cooker.
Can You Freeze Your Instant Pot Jam?
Absolutely! When we made our Instant Pot Raspberry Jam No Pectin, we had some on toast for supper, then the rest went into smaller mason jars and are stored in the freezer.
Can you use frozen fruit in your Instant Pot Jam?
Yes you can! But remember frozen fruit tends to carry more water, therefore making raspberry jam without pectin, will be harder and you might need to strain some of the extra liquid it generates.
If you have any Instant Pot Jam questions that I have not covered above, please ask in the comments below and then I will add it to the post for future Instant Pot Jam makers!
Can't make it now? Then pin it for later!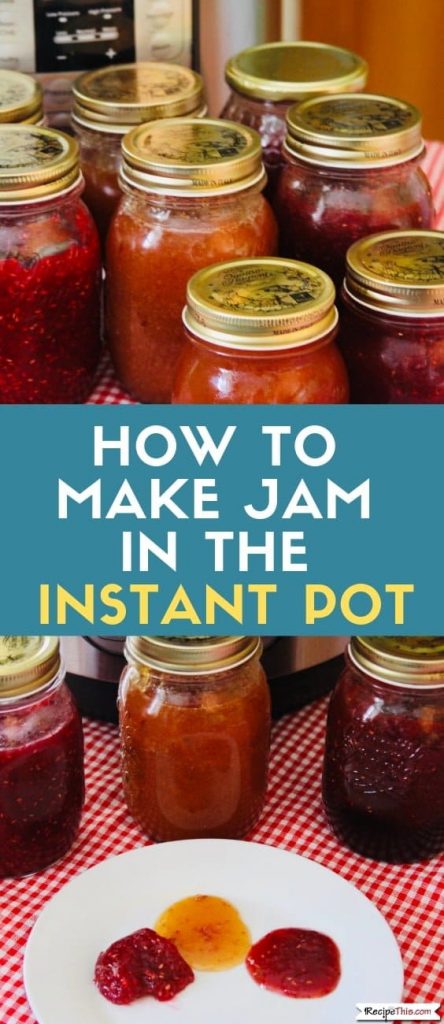 Join The RecipeThis.com Community:
Facebook Group | Pinterest | Twitter
Plus, don't forget to subscribe below to join our email newsletter with updates of our latest recipes, latest freebies, our cooking stories, plus much more: