This Post Contains Affiliate Links. Click Here To Read Our Full Disclosure.
Are Air Fryers Toxic? Today we are talking all about the air fryer side effects, is an air fryer bad for you and many other concerns people have when they think about buying their first air fryer.
This air fryer safety concerns guide is also featured in the Magic With Gadgets Podcast. Simply search for Magic With Gadgets on your preferred podcast player, then scroll to episode 13 of season 2 to access this awesome episode.
Are Air Fryers Safe?
The first time someone asked me, are air fryers safe, I kind of assumed they were kidding.
Air fryers have always been safe, and I never realised anyone was doubting the capabilities of the air fryer.
But to set the record straight I wanted to talk to you today about:
Are air fryers bad for you?
Are air fryers dangerous?
Does air fryer cause cancer?
What is bad about air fryers?
Then you can decide if an air fryer is right for you.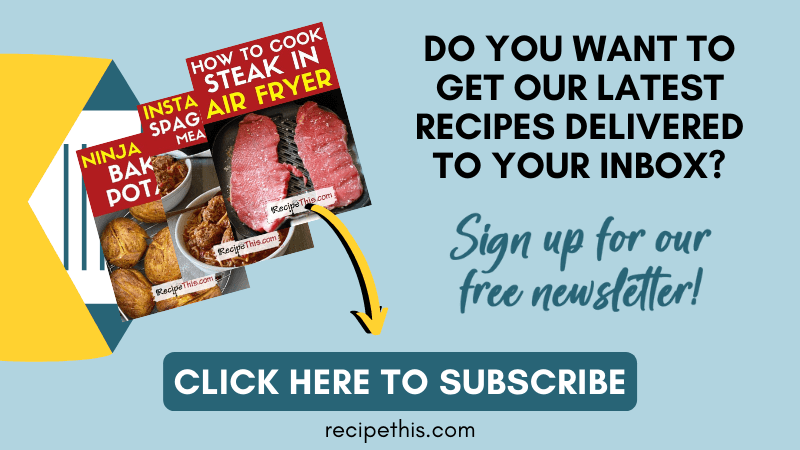 Plus, as well as our free newsletter, we also have a free air fryer mini course. It is ideal for air fryer beginners or those that want to get more confident with their air fryer. The free course runs for 5 days with a new lesson delivered each day to your inbox.
Does Air Fryer Cause Cancer?
No, it doesn't. I had ovarian cancer back in 2012, caused by a contraceptive pill that has since been banned. I had treatment and made a full recovery.
If I thought that the air fryer caused cancer, there would be no way I would have got one or that I would continue to use them when cooking for my family.
If you are worried that that the air fryer is toxic, please don't.
Are Air Fryers Dangerous?
No, air fryers are good for you and air fryers are not dangerous. Of course, this depends on how you use your air fryer.
If you follow the instructions in our air fryer recipes and in your air fryer manual, then there is no reason for your air fryer to be dangerous.
Are Air Fryers Bad For You?
No, air fryers are not bad for you. In fact, there are no side effects to using the air fryer, and there are no safety concerns when it comes to the air fryer.
What the air fryer does have are disadvantages to the air fryer, which I recommend you read or listen to. None are about the safety of the air fryer and are more about things people don't like about air fryer cooking.
One thing that the air fryer excels at is create your food with less oil and will tell you if you are cooking something that is too fatty in the way of smoking. This will just teach you to eat healthier with the air fryer and help you follow a healthier lifestyle.
My advice is to get an air fryer (we recommend this one) and then see what you think of it, and see how it can help you embrace a healthier lifestyle.
Did You Know We Have A Podcast?
We started the Magic With Gadgets podcast in the January of 2021 as a way to offer a different way to enjoy Recipe This. It focuses on cooking with kitchen gadgets. You can find out more about our podcast here.
With twice weekly episodes through September to December. This is episode 13 of the second season and you have the choice between reading this post, listening to the podcast or both.
If you would like to stay in the loop with our podcast, I recommend you subscribe below:
How To Listen To This Podcast Episode?
You can use the player above to listen to this episode of Magic With Gadgets. Alternatively search for Magic With Gadgets on your favourite podcast platform or click the links below:
Subscribe & Review
Thank you for listening to the Magic With Gadgets Podcast. Have some feedback you would like to share? Want to be featured in a future episode? Want to help us spread the word?
Browse other episodes (access them all here)
Leave a comment below the blog post
Share with your friends on social media
Share your thoughts in our Facebook Group (you can sign up here)
Ask me a question or submit a guest request by filling out the form below
If our podcast has helped you, please leave a review on iTunes. Your reviews help spread the word and without reviews our podcast will not get seen. Plus, I love reading each and every one of them.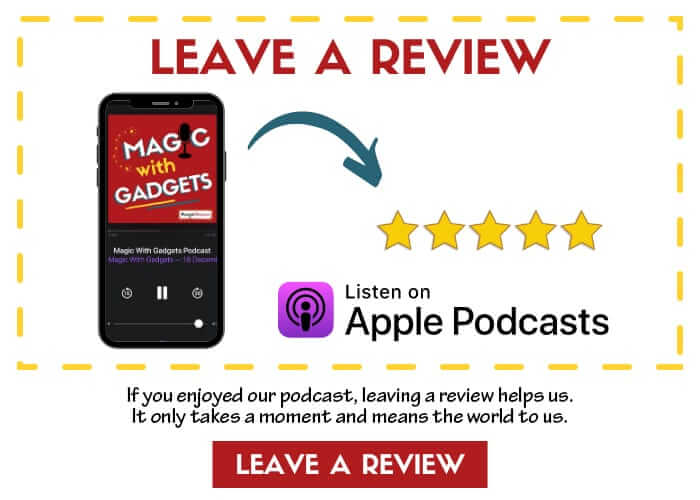 Can't listen now? Then pin it for later!