Your complete air fryer cookbook is getting closer and closer to becoming a reality and we are pleased to be sharing with you the air fryer cover reveal today. See what the front and back page of your cookbook looks like and get a sneak peek of the recipe photos that appear on the front and back page.
You Can Pre-Order Now!
But first let's talk about pre-ordering because you can pre-order our cookbook.
Because we are making a quality international cookbook for people around the world i.e. it will be available in the UK, USA, Canada, Australia, South Africa and many other English speaking countries, it is easiest for me to share one Amazon link with you, then no matter where you live, it will be easy to order and will direct you to your local Amazon.
Click here to reserve your copy
You can also read more about how the preorders work of this cookbook here and what it means to YOU.
140 Everyday Air Fryer Recipes!
Through creating our cookbook, we added recipes, we took recipes away, we added new tip boxes and variations and squeezed as much as we possibly could into 240 pages.
Then during the design of the front cover, our publisher did a count of recipes included and it was a whopping 140 recipes.
I was expecting about 125 recipes but 140 really did exceed my expectations.
I am also a fan when trying a new kitchen gadget to try a new one every 3 days, like baby weaning and this would mean you have enough recipes for the next 420 days.
How Do You Choose Out Of 140 Air Fryer Recipes?
There was a lot of toing and throwing with me and the publisher as we chose what to have on the front cover of the cookbook. I mean how do you decide out of 140 air fryer recipe greats which of the photos will be on the front cover.
In the end we agreed on 3 dinners and 1 dessert, showing that we have a lot of meals to choose from in the cookbook and its not just about snacks or sides. Though we have plenty of those too as its all about being an all-rounder for new air fryer users.
The recipes on the front include our air fryer prawn fajitas, air fryer chicken thighs and potatoes, vegan burrito bowls and blueberry crumble pots.
The Keywords That Define Our Air Fryer Cookbook
I must admit to reading more than 1000 Amazon reviews that have been left for air fryer cookbooks around the world. I was most interested in the negative reviews and what people really wanted and what that air fryer cookbook they bought didn't do and worked on covering the everything.
What I found was that people wanted:
Relatable
Everyday
Delicious
Easy
Meals
And those were the words I saw time and time again. I made sure that these words was the ones that I was going to follow and make things differently in this complete air fryer cookbook.
That is why the tagline for our air fryer cookbook reads:
"140 super-easy, everyday recipes and techniques"
Or the longer version on the back of the cookbook reads:
"140 deliciously easy recipes, with something for every meal, from breakfasts and baking to everyday dinners and budget-friendly alternatives to the takeaway."
The Back Cover
Then when you glance to the back cover, this is what the complete air fryer cookbook is really all about.
Step by step photos.
We have plenty of them in the cookbook to help you learn a skill in the air fryer, then you have extra recipes in that chapter to progress further with it.
Our favourite step by step photos is for the whole roasted chicken, but there are also others such as a roast chicken dinner, like you see on the back cover.
Also, on the back cover you can see some of the accessories we recommend, as well as a glimpse at some of the other recipes in the cookbook.
Such as our all time favourite veggie burgers (work great with leftovers), sticky chicken wings and of course delicious homemade quiche.
Me & The Cookbook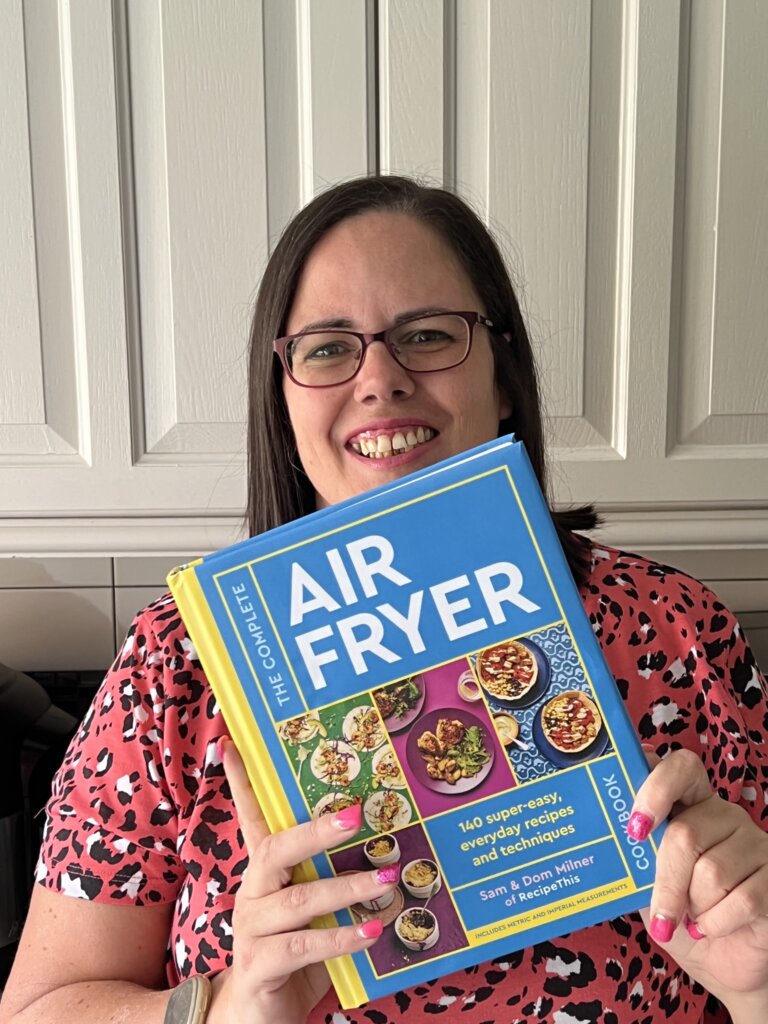 I will now leave you with a cheesy photo of me with the cookbook cover and a quick reminder, that if you have not already done so, to pre-order yourself a copy of the cookbook below. Its going to be the best air fryer cookbook from air fryer experts and perfect for learning the air fryer, or improving your air fryer recipe knowledge.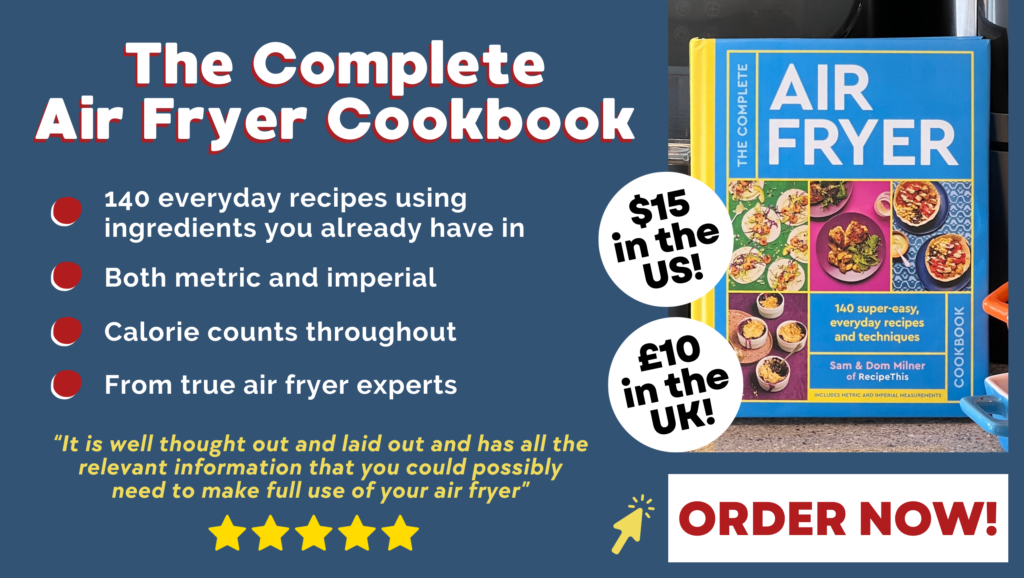 Order The Complete Air Fryer Cookbook Now!
What's Next In Our Cookbook?
The cookbook has gone to the printers and the hard work of creating the recipes and putting them altogether is gone.
The next stage is getting the cookbook back from the printers and it gets distributed around the world ready for sale.
Are You New To The Air Fryer?
If you are new to the air fryer and want a resource you can use right now and then be in the loop with any cookbook updates, scroll below to join our FREE air fryer mini course.
Plus, as well as our extremely popular air fryer mini course which teaches you the air fryer basics in 5 days, we also have our air fryer bucket list. That is loaded with 30 FREE bucket list worthy air fryer recipes.
Click here or on the banner above and you will have access to both in an instant.
Listen To Magic With Gadgets
We have also dedicated an episode of Magic With Gadgets to info about our new air fryer cookbook and can't wait to share it with you. Simply press play or access it via your favourite podcast player.
You can use the player above to listen to this episode of Magic With Gadgets. Alternatively search for Magic With Gadgets on your favourite podcast platform or click the links below:
Can't listen now? Then save it for later!