Air Fryer Tips. Today on the podcast we are sharing with you 21 air fryer tips you need to know, so that you can get the best out of your air fryer.
These essential air fryer tips are also featured in the Magic With Gadgets Podcast. Simply search for Magic With Gadgets on your preferred podcast player, then scroll to episode 6 of season 3 to access this awesome episode.
Air Fryer Tips
After sharing with you in episode 5 the most important air fryer mistakes, I wanted to follow up with part 2 on this episode of Magic With Gadgets and talk all about air fryer tips and tricks.
The kind of air fryer tips that I wish had been available to me when I bought my first air fryer in 2011.
Back then, there were just the odd site in German from some air fryer brands and nothing else.
But we learnt from trial and error to made air fryer mistakes and learnt how to be better with the air fryer.
Today on the podcast, I will be sharing with you 21 of the most important air fryer tips, that you can implement with your own air fryer cooking.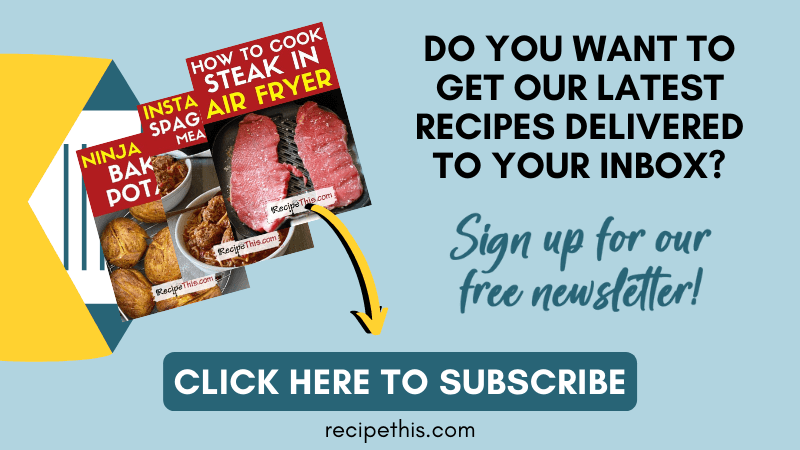 Plus, as well as our free newsletter, we also have a free air fryer mini course. It is ideal for air fryer beginners or those that want to get more confident with their air fryer. The free course runs for 5 days with a new lesson delivered each day to your inbox.
Top 10 Essential Air Fryer Tips
You can of course, listen to the podcast for the full list of 21 most important air fryer tips and these are the top 10 that we recommend you take note of first.
You can add time but you can't take it away – You have to appreciate that the air fryer cooks the food much, much faster compared to the oven. Start off with a ridiculously low cook time and then add to it. As you can always add more time but you can't take it away.
Not buying silicone for my air fryer sooner – I am so cross with myself for not buying various silicone sooner as it makes the clean up of the air fryer so much easier. Plus, it works well for cooling food and storing your food in.
Cooking at the right temperature – Its important that you air fry at the right temperature and follow our dual air fryer temperatures. If you cook just at 200c/400f your food is likely to be overcooked and often burnt on top. I recommend you check out our air fryer temperature podcast episode.
Not using your hands – When you are prepping food for the air fryer, it is essential that you put oil on the food, not on the air fryer. The easiest way to achieve this is to place food in a bowl and mix with your hands. I notice when you use a utensil instead, it just doesn't do a good enough job.
200c Is Your Crisper – Remember for the last 2-4 minutes of cook time, increase the temperature to 200c/400f and add some extra virgin olive oil and spray. This will create amazing crispy air fryer food.
Get an oil spray – This is the biggest difference I have seen, since I started air frying and it really makes a difference. I would call it the best of them all for air fryer tips and tricks. We used an old oil spray we didn't use anymore, but you could buy one too. Add oil to a spray bottle and its perfect for spraying on the top of your food whilst it is in the air fryer.
It's also your food warmer – You will be amazed the heat left in the air fryer after you have cooked something. If someone is going to be late for dinner, you can leave it in the air fryer basket and it will stay warm for an hour.
Cook something new each week – Set yourself a goal of cooking something new in the air fryer every week. Then over a year you have learnt 52 new air fryer recipes. It will help build up your air fryer confidence over time.
Don't forget to scroll below and listen or download the air fryer tips podcast episode and get access to 11 more air fryer tips.
Bonus Air Fryer Tip
If there is one thing, that has helped me with the air fryer (and other kitchen gadgets) it has been to have a printable, that I can attach to my fridge with quick times and temps for the air fryer.
You then have a quick reference without needing Google each time you want to air fry.
Over at Recipe This in our members area we have several FREE air fryer time and temp printables. You can subscribe, download whatever you want, print them out at home and have time and temps for so many different foods.
It is also ideal for converting everything to the air fryer.
Simply, sign up below for instant access:
Did You Know We Have A Podcast?
We started the Magic With Gadgets podcast in the January of 2021 as a way to offer a different way to enjoy Recipe This. It focuses on cooking with kitchen gadgets. You can find out more about our podcast here.
With weekly episodes that will help you cook smart with kitchen gadgets. This is episode 6 of the third season and you have the choice between reading this post, listening to the podcast or both.
How To Listen To This Podcast Episode?
You can use the player above to listen to this episode of Magic With Gadgets. Alternatively search for Magic With Gadgets on your favourite podcast platform or click the links below:
Subscribe & Review
Thank you for listening to the Magic With Gadgets Podcast. Have some feedback you would like to share? Want to be featured in a future episode? Want to help us spread the word?
Browse other episodes (access them all here)
Leave a comment below the blog post
Share with your friends on social media
Share your thoughts in our Facebook Group (you can sign up here)
Ask me a question or submit a guest request by filling out the form below
If our podcast has helped you, please leave a review on iTunes. Your reviews help spread the word and without reviews our podcast will not get seen. Plus, I love reading each and every one of them.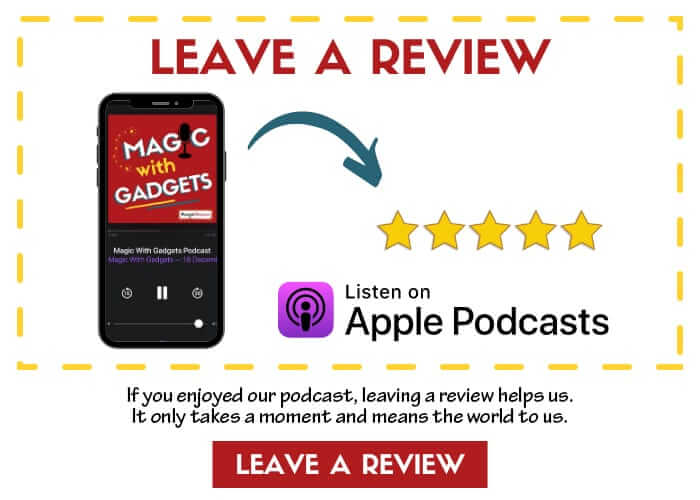 Can't listen now? Then pin it for later!