What Size Air Fryer Do I Need?
This Post Contains Affiliate Links. Click Here To Read Our Full Disclosure.
What Size Air Fryer Do I Need? Today on the podcast, I wanted to talk about the different sizes of air fryers, the best size air fryer for you and the air fryer size we have.
This air fryer Q&A is also featured in the Magic With Gadgets Podcast. Simply search for Magic With Gadgets on your preferred podcast player, then scroll to episode 24 of season 2 to access this awesome episode.
Best Size Air Fryer
There are so many different sizes of air fryers.
There are small air fryers that have a low enough wattage for a motorhome, or for a single person. Such as the Dash brand that has grown in popularity over the years.
Then there are medium size air fryers that are perfect for a single person or a couple. Like the original Philips air fryer we had when we first started our air fryer journey in 2011.
Then you can go up an air fryer size and get a large air fryer. This is the size we would say our air fryer falls into and we use it along side other air fryers as a family of five.
Then the next size up is the XL and these are fantastic for a family of four. Though this one I find is the perfect size but rather powerful compared to other brands.
Or you can go up to the air fryer oven which is ideal as its like a mini oven and you can cook lots of things at once.
I am sure with that introduction to the best size air fryer you probably have information overload, so let me talk you through it in more detail and then you know what size air fryer you need.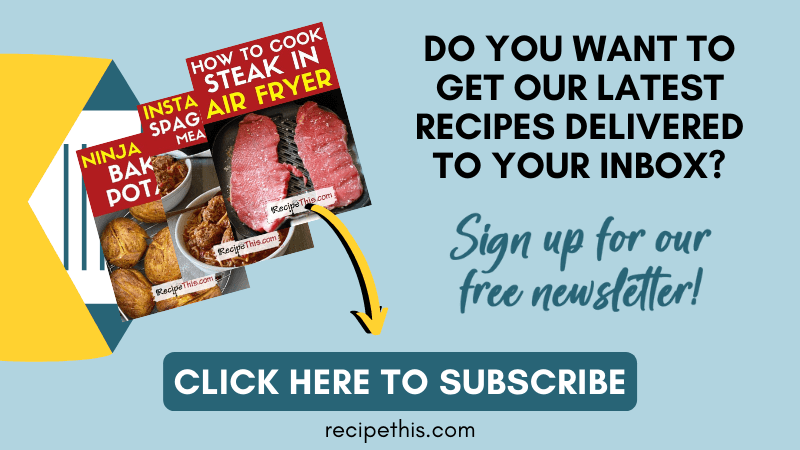 What Size Air Fryer For A Family Of 2?
If you are a family of two, or a couple or even a single person, the best air fryer for you is the original Philips air fryer. It would be considered as a medium air fryer and is fantastic for simple everyday homecooked dinners.
You can use it for a batch of air fryer KFC chicken, air fryer soft boiled eggs for breakfast, air fryer frozen salmon and even make our air fryer shrimp fajitas.
What Size Air Fryer For A Family Of 4?
The best air fryer for a family of four is the Cosori air fryer. It is roomy and has plenty of room to be able to cook an air fryer whole chicken with stuffing, do a big batch of air fryer cajun fries, and even do an air fryer beef pot roast at the same as the carrots and potatoes.
What Size Air Fryer For A Family Of 6?
A girl I went to school with so my air fryer roast chicken dinner recipe and said that she was going to get an air fryer so that she could make similar with hers.
I was like that air fryer is not big enough for you as you are a family of 6 and her set up changed. In the end she went with something similar to this medium size air fryer alongside the Ninja Foodi.
Why am I telling you this? Because the best air fryer for a family of 5 or 6 doesn't exist. Instead, you need to be looking at getting two. A medium one for sides and a larger one for mains.
I would recommend you get the Philips XL and the Cosori air fryer and have them side by side like we do (we are a family of five).
What Size Air Fryer Should I Get?
This of course depends on what you plan on cooking in it and how many people you are feeding.
Generally, I have found that the small air fryer is very small and would only really suit a motorhome or another place when your electricity is poor, and I would recommend the dash air fryer.
The best medium size air fryer is the Philips air fryer original version. This is much smaller than its XL and is perfect for feeding a family of two or those that want a reasonable size but don't plan to cook a whole chicken.
The best large air fryer and perfect for air fryer whole chicken would be the Philips Air Fryer XL or the Cosori air fryer. Both are a fantastic size for family dinners, and these are the two we use every day.
For an XL air fryer, we recommend Philips again but upgrading to their XXL. Though note, it's a bit more powerful than some other air fryers, so when following online recipes, reduce the time by about 10%.
Did You Know We Have A Podcast?
We started the Magic With Gadgets podcast in the January of 2021 as a way to offer a different way to enjoy Recipe This. It focuses on cooking with kitchen gadgets. You can find out more about our podcast here.
With twice weekly episodes through September to December. This is episode 24 of the second season and you have the choice between reading this post, listening to the podcast or both.
If you would like to stay in the loop with our podcast, I recommend you subscribe below:
How To Listen To This Podcast Episode?
You can use the player above to listen to this episode of Magic With Gadgets. Alternatively search for Magic With Gadgets on your favourite podcast platform or click the links below:
Subscribe & Review
Thank you for listening to the Magic With Gadgets Podcast. Have some feedback you would like to share? Want to be featured in a future episode? Want to help us spread the word?
Browse other episodes (access them all here)
Leave a comment below the blog post
Share with your friends on social media
Share your thoughts in our Facebook Group (you can sign up here)
Ask me a question or submit a guest request by filling out the form below
If our podcast has helped you, please leave a review on iTunes. Your reviews help spread the word and without reviews our podcast will not get seen. Plus, I love reading each and every one of them.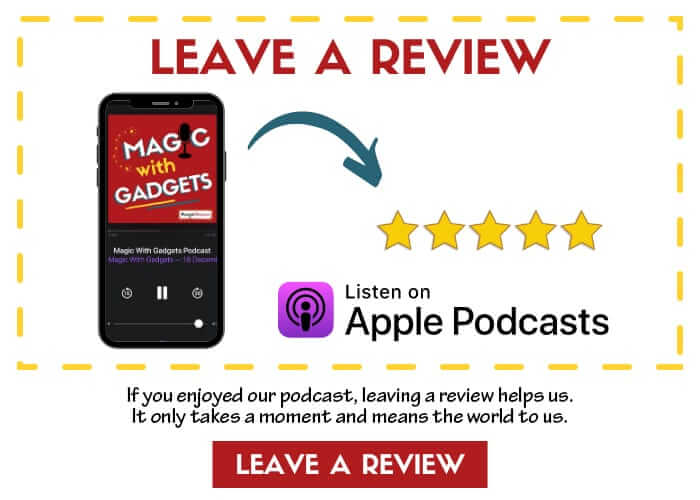 Can't listen now? Then pin it for later!