0030: Kitchen Gadgets I Regret Getting
This Post Contains Affiliate Links. Click Here To Read Our Full Disclosure.
Kitchen Gadget Regrets. In episode 030 of the Magic With Gadgets Podcast we are talking about the kitchen gadgets we regret getting and what we should have bought instead.
Kitchen Gadget Regrets
I love the song "My Way" By Frank Sinatra. Its been one of my favourites since I was little, and my grandad would sing it to me. He loved The Rat Pack and even now I can listen to Sinatra 24/7 if the hubby and kids let me!
One of my favourite lyrics from My Way is "regrets, I have had a few, but too few to mention".
Those words can apply to so many different situations, but I like to think of it when I think about kitchen gadgets that I have owned and regret.
There are only a few kitchen gadgets I regret buying and I want to share with you today on the podcast which ones!
My Top 5 BIGGEST Kitchen Gadget Regrets
Morphy Richards Soup Maker – I love my soup makers apart from this one. Its way too small compared to the others, and doesn't hold as much soup and the blender for making a smooth soup is not as good. Then it eventually just broke one day and went to kitchen gadget heaven. This is the one I have now that has a brilliant blender, holds a lot more soup and does a lot more.
Cheap Slow Cookers – I have learnt my lesson on this. I was gifted (at different times) the Morphy Richards Slow Cooker and the Lakeland Slow Cooker. Both died on me and didn't even last 6 months. And worst of all, the electric wiring broke which made them a health and safety issue. I do love this one instead though.
Cheap Air Fryers – I am talking about those that supermarkets sell and that are at least half the price of regular air fryers. They never get as hot and their time and temps never seem to match other recipes. In the end they break, and you spend just as much once you have replaced them. I recommend this one instead.
Crisp Lid – I was gifted one of the Mealthy Crisplids when they were first released, and the idea was that you added the lid to your electric pressure cooker and then you can air fry. Well, I found that it didn't have an all round cook and you spent most of your time turning the food. Though it did cook great air fryer toast. My replacement was this kitchen gadget that does air frying and pressure cooking brilliantly.
Food Processors – I remember having a Kenwood food processor on my wedding list and also having a few other food processors over the years. They just drove me crazy and never worked right and then there is all the attachments that break, or you can't figure out what to use. I'm done with them now and just use this for whenever I have breadcrumbs to make or cheese to grate.
The takeaway on this is that when you buy cheap, you get what you pay for and I vow to stay away from cheap slow cookers, cheap air fryers and cheap slow cookers.
Did You Know We Have A Podcast?
We started the Magic With Gadgets podcast in the January of 2021 as a way to offer a different way to enjoy Recipe This. It focuses on cooking with kitchen gadgets. You can find out more about our podcast here.
With weekly episodes that will help you cook smart with kitchen gadgets. This is episode 30 of the first season and you have the choice between reading this post, listening to the podcast or both.
If you would like to stay in the loop with our podcast, I recommend you subscribe below:
How To Listen To This Episode?
You can use the player above to listen to this episode of Magic With Gadgets. Alternatively search for Magic With Gadgets on your favourite podcast platform or click the links below:
What You'll Learn In This Episode?
Which kitchen gadgets I regret getting
What I use instead
Why I regret them
And much more
Subscribe & Review
Thank you for listening to the Magic With Gadgets Podcast. Have some feedback you would like to share? Want to be featured in a future episode? Want to help us spread the word?
Browse other episodes (access them all here)
Leave a comment below the blog post
Share with your friends on social media
Share your thoughts in our Facebook Group (you can sign up here)
Ask me a question or submit a guest request by filling out the form below
If our podcast has helped you, please leave a review on iTunes. Your reviews help spread the word and without reviews our podcast will not get seen. Plus, I love reading each and every one of them.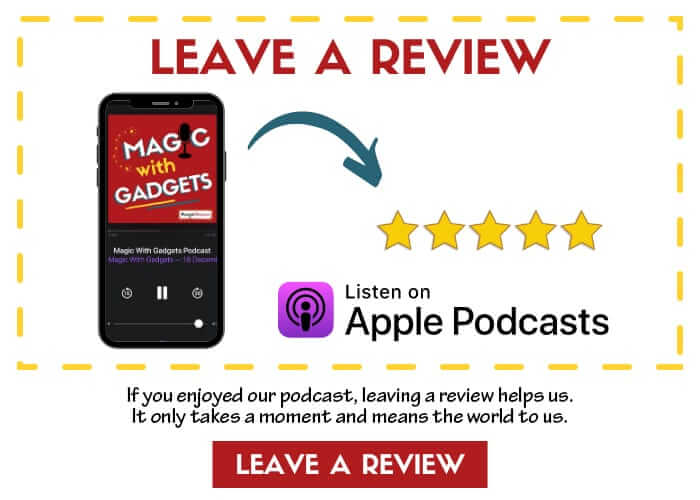 Links Mentioned In This Podcast
Can't listen now? Then pin it for later!