What Is The Difference Between Slow Cooker & Crockpot? Today I wanted to help you out with one of the biggest cooking questions and show you the main differences between the two and share with you what us Milner's personally use.
This slow cooker vs crockpot guide is also featured in the Magic With Gadgets Podcast. Simply search for Magic With Gadgets on your preferred podcast player, then scroll to episode 7 of season 5 to access this awesome episode.
Slow Cooker Vs Crockpot
I remember my first slow cooker and the first time I cooked with it. It was 2003 and I mentioned to my mum that I would love to try cooking with a slow cooker as I had never used one before.
She gave me her old one that she had barely used that had been a Christmas present years before and I tried it.
7 hours later the slow cooker beef stew I was cooking was not even halfway through cooking and thought to myself, I am not meant for these kitchen gadgets.
It turns out, that the slow cooker was broken and my aunt who was a slow cooker genius said that it didn't even get hot enough for a slow cooker on low.
A year later, I was given another slow cooker. This one was even older and OMG it made the best ever beef stew and dumplings.
I was now obsessed with the slow cooker and wanted to make more and more recipes with it.
But it wasn't until years later when I saw an online recipe from the US, that I realised that there was also a Crockpot alternative and I soon wanted to know all about the slow cooker vs crockpot.
If that is you and you are wanting to know the differences between the slow cooker and the Crockpot and what's the big deal about the crockpot then we are here to help.
Today we will be sharing with you:
Is a slow cooker the same as a crockpot?
Crockpot vs slow cooker which is better?
The slow cooker heating element.
What is a crockpot?
What does a crockpot look like?
And so much more.
Is A Slow Cooker The Same As A Crockpot?
Yes, slow cookers and Crockpots are almost the same. The Crockpot is the most popular brand of slow cookers. Just like the Instant Pot is the most popular brand of electric pressure cookers and Philips the best brand for air fryers.
I notice that you can get cheap slow cookers for about 40% less than what you pay for a Crockpot. But as they are cheap, they don't match the quality and the sustainability of a Crockpot.
However, there is also a grey area because Crockpots have now expanded and are not just slow cookers anymore.
What Is A Crock Pot?
Though to explain this further, lets talk about what is a crockpot as this is a great starting base for understanding the differences better.
If you asked this question in Google, you would be told that a slow cooker also known as a crockpot is a kitchen gadget that cooks food much slower.
But what I take from that is that slow cooker, also known as Crockpot.
And that is another example of showing you that slow cookers and Crockpots are one of the same.
Crockpot Vs Slow Cooker Which Is Better?
The Crockpot is much better compared to the slow cooker and let me tell you why.
Many slow cookers are much cheaper compared to the Crockpot and lack a lot of the features that you get with a Crockpot.
For example, how many times do you see a slow cooker recipe and it tells you that you must brown the meat first on the stove or place the meal under the grill before serving.
Well, with this Crockpot we have, our cooking pot is allowed in the oven and on the stove top. This means that we can always keep the food in the same pot just move it around as we need it.
Something that the slow cookers I have owned never did.
I also note that many slow cookers only have a low or a high heat and now with Crockpots you often have low, medium, high and keep warm.
Think about that next time you want to know which is best, Crockpot or Slow Cooker! And don't forget this is the slow cooker we recommend.
What Does A Crockpot Look Like?
A Crockpot looks like an oval shaped cooking pot. Depending on Crockpot model it can be stainless steel or stoneware and you can often get them in different colours too.
Or another easy way to explain what a Crockpot looks like is to give you a visual example.
Here is a link to the Crockpot we own, and you can see how it looks and then if you scroll through our slow cooker recipes category on Recipe This, you can see it in action via various recipes.
Stoneware Vs Stainless Steel Slow Cooker
I have one of each. My old school 1970's slow cooker is made from stoneware and I am always terrified that I am going to drop it!
Yet its still in amazing condition considering that it has been around for many years and had two owners.
However, I have replaced several stainless steel slow cookers and have now decided that a quality Crockpot is better for long term use.
The Slow Cooker Heating Element
I also love the slow cooker heating element. It gets to its warm temperature rather fast, and you can also use it to keep food warm.
Grab your air fryer baked potatoes that you already cooked and place them on keep warm in the slow cooker and they will be perfect for 2-3 hours. Making them ideal for when someone is late for dinner.
You also normally have the choice of keep warm, low, medium, and high. Though it can differ depending on where you buy your slow cooker from.
Did You Know We Have A Podcast?
We started the Magic With Gadgets podcast in the January of 2021 as a way to offer a different way to enjoy Recipe This. It focuses on cooking with kitchen gadgets. You can find out more about our podcast here.
With twice weekly episodes through September to December. This is episode 5 of the second season and you have the choice between reading this post, listening to the podcast or both.
If you would like to stay in the loop with our podcast, I recommend you subscribe below:
How To Listen To This Podcast Episode?
You can use the player above to listen to this episode of Magic With Gadgets. Alternatively search for Magic With Gadgets on your favourite podcast platform or click the links below:
Subscribe & Review
Thank you for listening to the Magic With Gadgets Podcast. Have some feedback you would like to share? Want to be featured in a future episode? Want to help us spread the word?
Browse other episodes (access them all here)
Leave a comment below the blog post
Share with your friends on social media
Share your thoughts in our Facebook Group (you can sign up here)
Ask me a question or submit a guest request by filling out the form below
If our podcast has helped you, please leave a review on iTunes. Your reviews help spread the word and without reviews our podcast will not get seen. Plus, I love reading each and every one of them.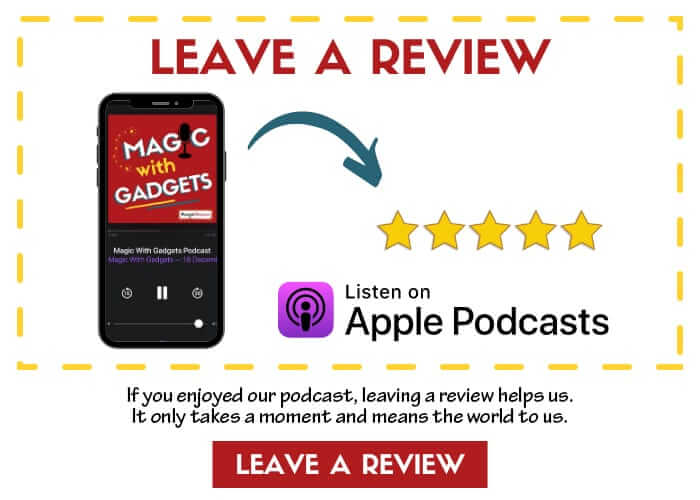 Can't listen now? Then pin it for later!