How To Clean Your Instant Pot Pressure Cooker
This Post Contains Affiliate Links. Click Here To Read Our Full Disclosure.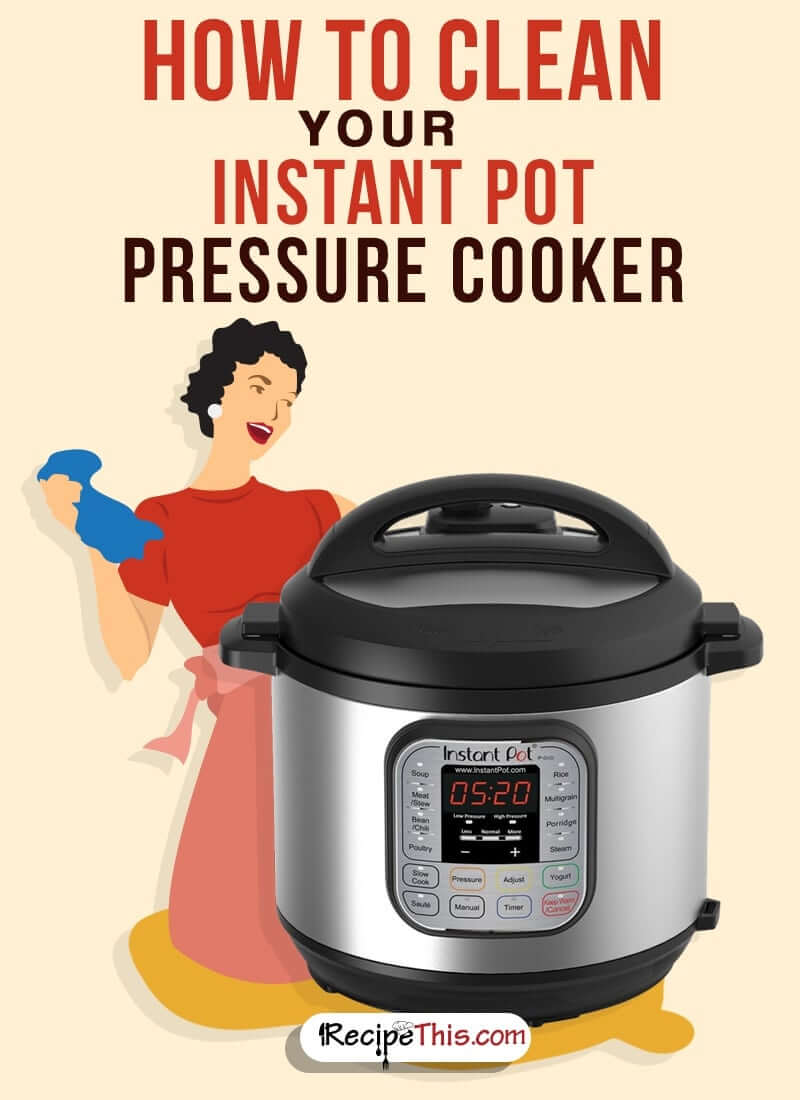 Welcome to How To Clean Your Instant Pot Pressure Cooker. Here at RecipeThis.com we have both the 6 and 8 sized Instant Pot Duo and this is EXACTLY how we keep the Instant Pots clean.
This week on RecipeThis.com we are dedicating the week to our Instant Pot. This is because it is exactly a year this week since we bought our first ever Instant Pot Electric Pressure Cooker.
Before that our idea of electric pressure cooking, was our grandmas old school pressure cookers exploding and us watching the horrible looking mushy peas explode onto the ceiling.
This happened a lot for our grandmas as the machines were very old school and we wondered how our grandmas that were often less than 5ft in height could possibly get that green gunge from the tall ceiling.
It made me very nervous about buying an electric pressure cooker and what we should expect in 2017 compared to what was achieved in the 1980s.
But I got one. Then I got another one and I soon fell in love with the art of electric pressure cooking and how simple it was to make great meals without much effort.
But that beautiful and shiny Instant Pot Pressure Cooker can't stay shiny forever and the more and more that you use it the more it is going to lose its shine.
So exactly how do you clean your Instant Pot or any other electric pressure cooker for that matter?
Cleaning & Maintaining Your Instant Pot Pressure Cooker
One of the first things I suggest is that you keep the box that it came in. That way if you plan to travel with it or if there is going to be a couple of days when it is not in action, it can be put away and then got out as needed.
As the Instant Pot is perfect for taking with you on a road trip and to then use in the hotel room rather than spending a small fortune on local restaurants. You can then store all your accessories inside it and its amazing how easy it can make travelling.
Update: During the summer of 2018 we took our Instant Pot travelling across 8 different countries. It cooked Instant Pot Ragu, Instant Pot Garlic Spaghetti, Instant Pot Tomato Soup and many other recipes. You can read how to travel with your Instant Pot here.
We have our 6 litre (6 quart) Instant Pot in its box and only get it out if we are making a bigger than usual meal or are preparing freezer meals. Then the rest of the time it is staying in the box, safe from toddlers and teens and food splatter and it helps maintain it.
Then our 8 litre (8 quart) Instant Pot is out all the time and has a place on our kitchen worktop. It is sat to the left, with our kettle to the right and our Airfryer in the middle.
It is used the most for steaming vegetables for our under 3's dinner and also gets a lot of use for making jacket potatoes and for stews and casseroles.
If you want your Instant Pot to last then I suggest the following:
#1 Prevent Your Instant Pot Sealing Ring From Getting Dirty
I am a member of several Instant Pot groups on Facebook and the biggest issue of all is that people are having to replace their Instant Pot Sealing Rings A LOT.
We are on sealing ring number 2 and it's been a year. That means that over a year we have replaced it just the once.
You shouldn't be having to replace it every month unless you are having your Instant Pot on for 24 hours a day, which I very much doubt people are doing.
Here are 2 stages to giving your Sealing Ring a deep clean:
First of all fill your Instant Pot inner pot with 2 cups (500 litre) of warm water. Squeeze a lemon into the water, add a tablespoon of white vinegar. Set the Instant Pot to sealing and cook on high pressure for 20 minutes. Allow natural pressure release (NPR).
When it has cooled down remove the sealing ring and soak it overnight in the inner pot in the lemon juice.
The next day you will wake up and it will be as good as new. I recommend that you follow this system and do this once a month.
#2 Add An EXTRA Inner Pot
One of the most talked about ways of cooking with the Instant Pot is the "pot in pot method" often referred to as PIP. Basically, what this means is that inside the Instant Pot Inner Pot you have your own pot.
This keeps the Instant Pot itself perfectly clean and it is a bit like the Instant Pot Inner Pot is your oven tray and then you are placing your baking tray onto it.
I use a mixture of the following inside my Instant Pot:
Though my all time favourite item to place in my Instant Pot is my ramekins. They are small and are perfect for mini dishes.
You can make a little quiche, a little frittata, a little cake or even bacon and eggs using this method.
Then use some good silicone gloves or a regular oven glove to remove your food once it is cooked.
Then worst case scenario all you have to do with your Instant Pot is to rinse out the hot water you used to cook with from the bottom of the Inner Pot. It's like magic.
Adding an extra inner pot is often associated with the Instant Pot jargon PIP cooking (pot in pot cooking). I recommend you read our Instant Pot PIP Cooking Method Guide.
#3 Clean The Instant Pot (As You Use It)
Treat your Instant Pot Inner Pot like you would any other cooking dish. If you cooked in a pan on the stove then you would give it a good clean after use with hot water and washing up liquid, let it dry on the draining board and then put it back away when dry.
Follow this exact same step when it comes to the Instant Pot. Rinse out the pot and then put it back for next time!
#4 Maintain The Instant Pot Weekly
Even though you are cleaning the inner pot as you use it, there is more to the Instant Pot than just the inner pot and you want to make sure the rest of it is cleaned and maintained so that you can have longevity.
I suggest that once a week that you:
Clean the outside of the Instant Pot with a cleaning cloth and some kitchen cleaning spray. We personally have flash on hand for this and just give it a few squirts.
Clean the rim with a cleaning brush. This will get into the little areas you can't quite reach with a cloth and you can use the same cleaning spray you used above.
Remove stains with your leftover lemon cleaning solution. Just give it a good wipe in the areas that the original sealing ring soaking failed to reach.
Wash the lid of the Instant Pot with warm soapy water. It will then look as good as new and will be perfect for your next round of cooking.
Remove and rinse clean the Instant Pot steam release valve. You can do this by just pulling it straight out. Then once you have dried it, then add it back to your Instant Pot.
The best bit about maintaining the Instant Pot weekly is that it can rid you of those horrible smells from a few meals ago.
When you have cooked sweet and sour pork and are now cooking meatloaf and you are worried that your meatloaf will smell like a cheap Chinese takeaway.
You can follow these options as often or as little as you like, just think about how much you're using the Instant Pot to how often you need to do this.
If You Have An Instant Pot Accident….
It happens to a LOT of us at some time when we first get an Instant Pot. You're trying out all these new recipes in the Instant Pot and it goes wrong and backfires on you.
The first time we ever made Instant Pot Rice Pudding we had a milk explosion and it was even worse when we first made Instant Pot Strawberry Jam.
You see when we made strawberry jam, I was too inpatient and wasn't prepared to wait, so ignored my family's advice of giving it 10 minutes NPR.
I clicked it over and I had boiling hot strawberry syrup exploding out of where the steam comes out of. It was disgusting and took me ages to clean the kitchen wall.
The top of the Instant Pot looked like this: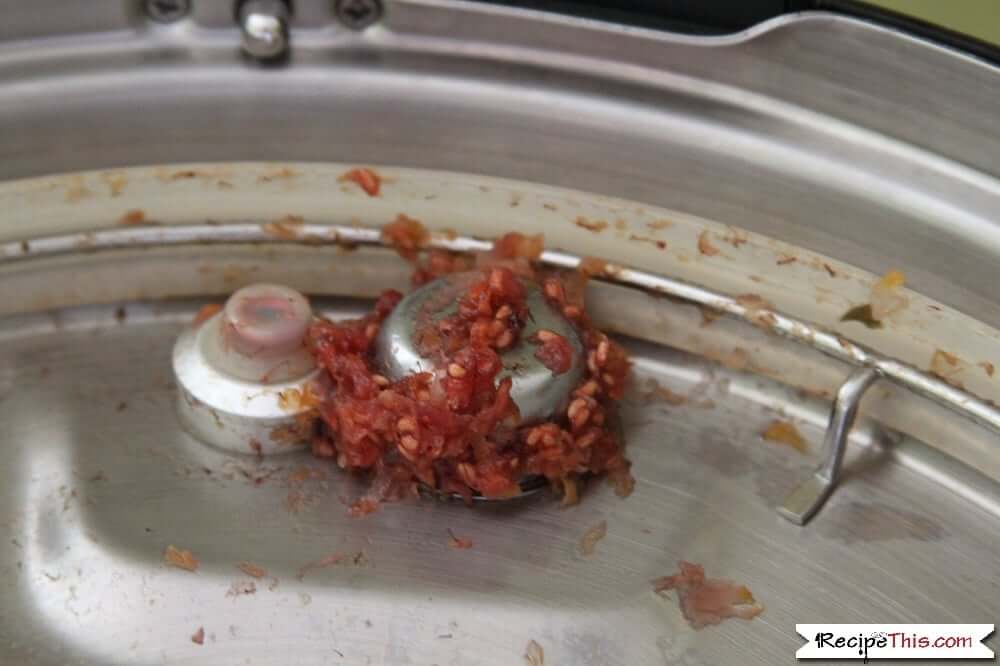 And it needed a quick clean up which included:
Taking the seal out and putting some water into the lid. With a little brush or knife pick around the vent, being careful not to damage the metal cover.
Once you have got rid of the seeds (from the strawberries) brush with some water and then rinse under a tap.
It should be clean and not sticky, the red pressure valve also needs cleaning with water as it can also get sticky and not work properly. Again, with a brush and some clean water.
Over all, the Instant Pot is very easy to clean up and I found it took longer to clean the kitchen walls than it did to clean the Instant Pot.
More Instant Pot Cleaning Tips
When you go travelling with your Instant Pot your inner pot can make an excellent washing up bowl.
The biggest cleaning area is the rim between the inner pot and the outer pot. Its very easy to spill herbs in this section. When you do just give it a quick wipe with a dishcloth.
Children will see you cook and will want to help. Don't leave the inner pot out unguarded.
If you have to clean the main pot (not the inner pot) make sure it is cold and not plugged into electric and wipe it clean with a damp cloth.
If You Don't Clean It Regularly…..
An Instant Pot is like any other kitchen gadget. If you look after it then it will last a long, long time.
If you don't then the chances are it is likely not to seal with you cook with it and the cooking time of recipes can dramatically increase.
Follow our tips above to maintain and clean your Instant Pot Pressure Cooker and I am sure if you do it will last for a long time.
Our 8 litre pressure cooker is now over a year old and our 6 litre is over 2 years old and they still look shiny and brand new.
If you don't have an Instant Pot yet then the one below is the one we have:
Instant Pot For Beginners PDF Cookbook
If you would like to get all the recipes mentioned above, along with all the extra tutorials, then click on the image above or click here.
Can't clean the Instant Pot now? Then pin it for later!

Join The RecipeThis.com Community:
Facebook Group | Pinterest | Twitter 
Plus, don't forget to subscribe below to join our email newsletter with updates of our latest recipes, latest freebies, our cooking stories, plus much more: