How To Travel With Your Instant Pot Pressure Cooker
This Post Contains Affiliate Links. Click Here To Read Our Full Disclosure.
Welcome To How To Travel With Your Instant Pot Pressure Cooker. After 72 days of travelling around Europe with our Instant Pot Pressure Cooker, we wanted to share our Instant Pot travel journey with you.
Let's start at the beginning. Early on in 2018 I suggested to my husband Dominic that we should travel around Europe in 2018.
The idea was to go on one big family holiday with our kids, before our eldest was too old for us parents.
We would go and visit family in the UK, do some research for a new product we have coming out in late 2018 and also visit a few new places.
In the end we visited 8 countries in 72 days. Dominic drove just short of 10,000 kilometres (6100 miles).
This included England, Portugal, Spain, France, Holland, Belgium, Luxemburg and Germany.
We of course had ups and downs, but overall it was an amazing road trip and will be forever in our memories.
But the main way we kept the costs down over those 72 days was by using our Instant Pot Pressure Cooker to cook our main meals in.
We wanted to share with you exactly what this was like and how you can also travel with your Instant Pot.
Packing Your Instant Pot For Travelling
Firstly, I always notice that all other travel Instant Pot guides start the same…..before you leave prep all your food, then you can just dump and cook.
Well you may be able to prep for your first day, but what about those other 71 days?
This meant we always had to focus on being able to prep as we go without doing anything in advance.
Inside our Instant Pot we placed:
The steamer shelf (trivet)
Steamer Basket
Hand Blender (ours is small and fits inside)
Plug
We then placed the lid on our Instant Pot and put it into the boot of our car. As our car was very tightly packed ready for travelling our Instant Pot didn't need a bag.
This is because it would never get the chance to move about and would be safe from damage.
We had a suitcase too.
Just a small one. It was about the same size as the suitcases you use as carry ons on the plane and it was our complete kitchen.
It included everything we could possibly need:
Plastic Plates and Bowls
Plastic Drinking Cups
Plastic Cutlery
Knives
Ladles, Wooden Spoons & Tongs
Oven Gloves
Tea Towels, Cloths, Scrubbers & Washing Up Liquid
Bin Bags
Plus, with our Italian seasoning we made it in advance and then went to the big tub whenever we cooked anything Italian. You can get our Italian Seasoning recipe here.
Away from our suitcase we also had our nest of bowls. This was particularly good because they stacked neatly inside one another and took up less space.
This meant we had measuring cups, the largest could be a washing up bowl and one was a sieve.
Plus if you wanted to marinate anything, then you had the right bowl size for that too!
Plus, we had a cooler bag
We started out with a huge one. I would store it in the front of the car with me and it would include lots of food along with plenty of ice packs. (these are the ice packs we had).
BUT it ended up with a hole in it and we ended up with a smell of gone off meat juices in the car. Then we changed to another smaller one like this one.
And that was our camping food set up.
Lessons Learned From Travelling With Our Instant Pot
#1 Fridges are a luxury
We soon learnt that getting a fridge where we were staying was few and far between. You have to prepare for this.
At one of our accommodations we got a fridge with a locker for free and it was amazing.
While we were away our time was split between:
Hotels
Apartments
Motels
Chalets
Tents
And I would say we only had a fridge 20% of the time. Its like going back to our Grandparents generation.
When they didn't have a fridge and had to shop daily. We would first go to our accommodation and see what fridge facilities we had.
If we had one, then we would shop like we did at home and make sure we had the freezer packs frozen for our next location.
That way if the next place had no fridge at least we could shop for that day with meat.
We avoided chicken if we had no fridge. Its always a worry that it will make you ill so its best to avoid it.
Here is a fridge we did manage to get while we were in France. It was like a locker and there was plenty of room for everything. It's the best fridge I have ever seen while camping.
#2 Shop like you have no fridge
Best thing to do is to have food available to you that you know you don't need a fridge for.
We ate a lot of white potatoes, tinned food such as tuna and sweetcorn and avoided buying things that melt easily.
We learnt this the hard way when we got out our butter and it melted all over everything!
#3 Have a food back up plan
There were times when we arrived late and the supermarkets were shut. Our the shock horror that French supermarkets close at lunch time on Sundays.
We would eat a lot of tuna and sweetcorn over baked potatoes or we got a true love for hash for breakfast!
#4 Plan meals with hardly any prep time
You don't have the space to carry a garlic presser, a masher and certainly can't take an air fryer too. You have to think of meals that can be made quickly on easy ingredients.
Our blender became our masher and we loved the speed of making soup in the Instant Pot.
#5 Bring a spare sealing ring
We didn't listen to this advice and as a result needed to get a replacement sent to one of the campsites we were staying at.
It was when we were in between Holland and Germany. The good news was that Germany has its own Amazon so it was soon sorted out.
Plus you can easily fit a spare sealing ring inside the Instant Pot while you're travelling.
#6 Plan your accessories
Imagine what Instant Pot accessories you use at home and plan which ones you are going to take with you. Here is the list of our Instant Pot accessories that we regularly use.
#7 Consider your kitchen working space
In reality you probably have a decent sized kitchen at home. This is the case for us and then you are in a hotel room with just one small office desk or the side of the sink.
You have to plan your recipes around this fact and then just like me you will be jumping up and down with joy when you get a decent space.
Here is my prep area on a campsite in central Portugal:
#8 Remember the extension cable
A big mistake we made was not having a cable to connect to the electric supply when we were camping in Luxemburg.
It meant that we had to go 3 days without any cooking and lived off pastries and sandwiches until we moved onto the next place.
#9 Easy clean up
As mentioned earlier on, we made sure we had all the cleaning supplies we needed. A couple of clothes, some washing up liquid and a tea towel was the answer to our prayers.
We could then easily get everything clean again and ready for next time.
#10 Stick with plastics
I know we want our fancy plates from home, but plastic doesn't break like ceramic does.
We took plastic plates, bowls, drinking cups, cutlery and it washed perfectly and we never had to worry about breakages.
Plus, it also meant that we could trust the kids eating their own food from their plates.
Top 10 Instant Pot Travel Recipes
I am sure if you are planning a road trip with your Instant Pot, that you want some quick go to recipes that you can rely on.
I have put together 10 of our Instant Pot Recipes that we cooked time and time again while travelling.
#1 Instant Pot Cheese & Onion Mash
I call this my hotel room mash because I cooked it late at night, without any prep in a Premier Inn hotel room in southern England. It tasted amazing and is just like a mash version of sloppy joes.
#2 Instant Pot Sloppy Joes Baguettes
Talking about Sloppy Joes this is our classic Sloppy Joes using French baguettes that we cooked while staying at a campsite in France. So good and I could make these over and over again.
#3 Instant Pot Garlic Spaghetti
This one is another favourite of ours during our camping trip this summer. Just using the saute setting slightly, its so fast and uncomplicated and perfect if you are without a fridge.
#4 Instant Pot Ham Bone & Bean Soup
This is another recipe we made on a campsite in France. We first bought ham shanks from the market in France, then we ate most of them for lunch, then the leftovers made the biggest batch of ham bone soup that you have ever seen!
This is one of those super quick meals and is perfect for camping. Buying the mince fresh on the day and then throwing everything in, meant that this was a regular for lunch.
#6 Instant Pot Crash Hot Potatoes
I remember one week, having just these everyday for our lunch. Potatoes were easy to travel with and this recipe is a family favourite of ours.
Nobody complained though and we all argued over who got seconds.
There is nothing more simple than baked potatoes (or jackets as the Brits call them) and then load them up with your favourite toppings.
We would buy some cans of tuna and sweetcorn and maybe add some cheese to ours.
#8 Instant Pot Cheeseburger Macaroni Cheese
This is another of our favourite recipes that is perfect for a dump meal. Buying fresh mince on the day, along with loading it up with my favourite cheese and pasta this is a family camping winner.
Now this has to be the ultimate camping snack. Make this on the road as you travel and its so quick and easy.
You can make it in bulk, then do it into little sandwich bags and then take it with you as you travel. Especially good for a snack for the kids in the car.
#10 Instant Pot Spanish Potato Hash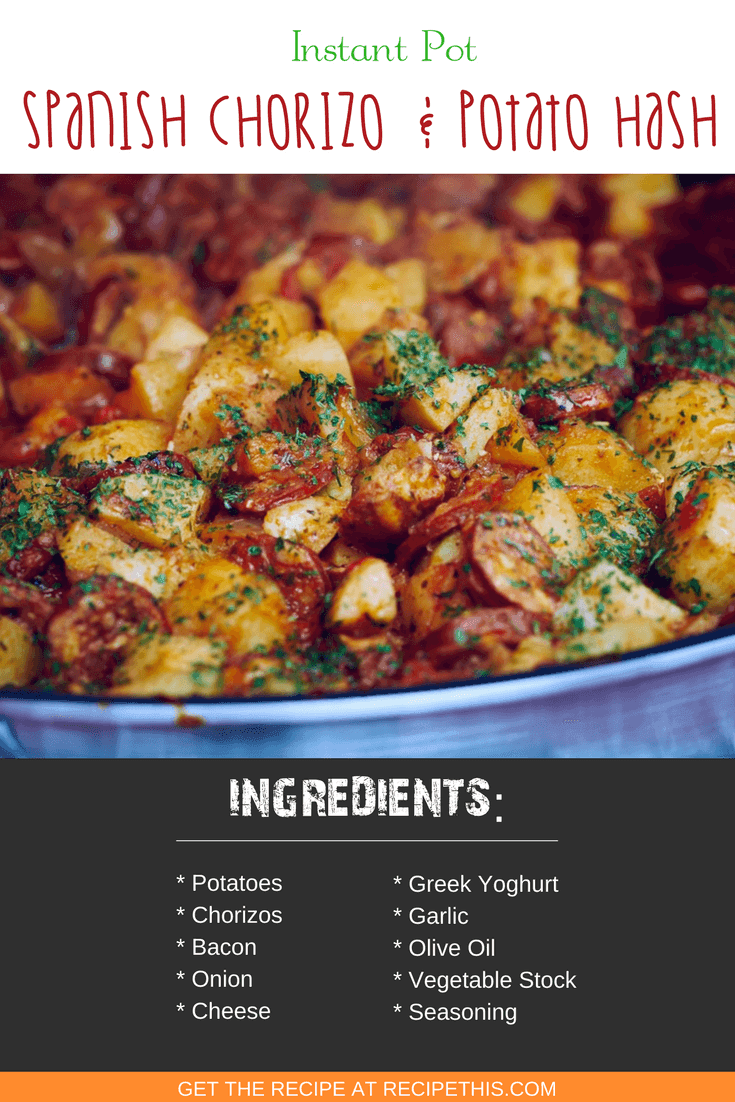 What's for breakfast? Hash I would say. This became the breakfast the majority of the time.
I would chop the potatoes the night before to save time, then we would load it up with chorizo or whatever other meat we had that needed using up.
It was a camping winner and a recipe we have loved for years.
If you would like your own Instant Pot then this is the one we recommend: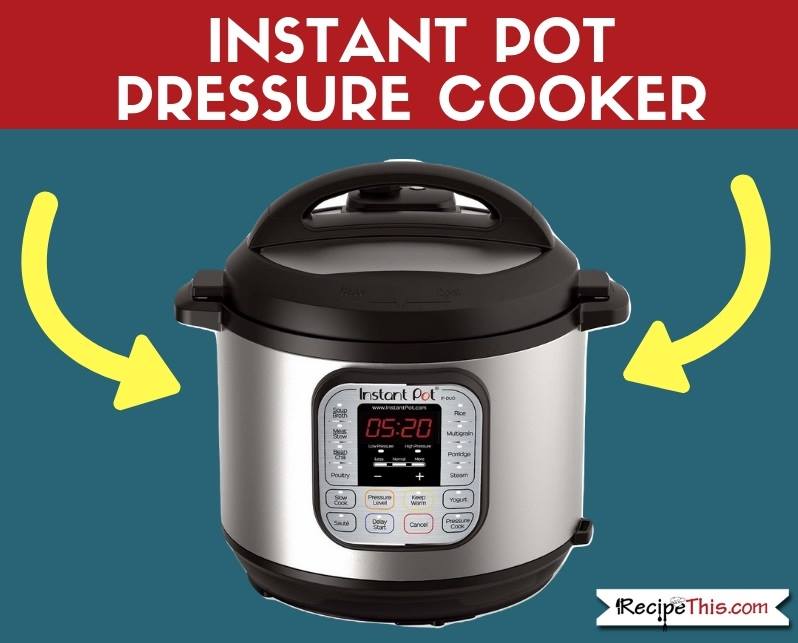 You can get it in either a 6 quart/litre or the 8 quart/litre. We are greedy and have both sizes and they work well for us as a family of 5 for easy home cooking.
When we went travelling with our Instant Pot, we took our 6 litre version because we had limited space and as we had no plans for leftover meals it was going to be perfect for us.
However, for summer 2019 we will be travelling with our new Mealthy, which in my opinion is the biggest rival to the Instant Pot.
I would recommend you check it out as it comes with all the accessories you need and offers better value for money. You can check it out here.
Or if you already have an Instant Pot, I recommend that you check out our Instant Pot Accessories to see if you have everything you need for effortless Instant Pot cooking.
Can't Read it now? Then pin it for later!
Join The RecipeThis.com Community:
Facebook Group | Pinterest | Twitter 
Plus, don't forget to subscribe below to join our email newsletter with updates of our latest recipes, latest freebies, our cooking stories, plus much more: