Best Instant Pot Steamer Basket. Introducing you to the best steamer baskets for your Instant Pot or other brand of electric pressure cookers.
Best Instant Pot Steamer Basket
If you're reading this the chances are that you have purchased an Instant Pot, or another brand of electric pressure cooker and you need a good steamer basket to cook all your favourite steamed foods in the Instant Pot.
Well that was me too a few years ago.
We bought our first Instant Pot and the idea of steaming food in the Instant Pot, really appealed to us. In fact, we soon realised that it would this type of cooking that we would do the most with our Instant Pot.
Fast forward to those first thoughts in the winter of 2016 and I would say today, that the food we cook the most in the Instant Pot, is steamed or cooked using the Instant Pot steam function.
We love to cook Instant Pot Baked Potatoes, Instant Pot Broccoli, Instant Pot Carrots and Instant Pot Rutabaga the most.
But when you first buy an Instant Pot, you will have just a steamer shelf or what others call a trivet. This is not enough for steaming all your favourite foods and that is why today I wanted to share with you my best instant pot steamer basket ideas. That way you can pick and choose which Instant Pot steamer accessories are right for you.
How To Use The Instant Pot Steamer Trivet?
Firstly, before I share with you the Best Instant Pot Steamer Basket, what you need to think about is the mechanics of how you are going to steam food in your Instant Pot.
When you bought your Mealthy, you will have got a trivet that looks like this:
It is a steamer shelf that allows your food to be steamed in the Pressure Cooker. When you steam food, it needs to be cooked out of the water, so you're using the steamer shelf as a stand to hold your food container on. Or you might be cooking food directly on the trivet.
But not all steamer shelf trivets are the same size. For example, you can buy an extra tall steamer trivet on Amazon or you can use the one that came with your Pressure Cooker. However, if you look in the photo below you will see my Instant Pot trivet and my Mealthy trivet side by side.
As you can see the Mealthy trivet is taller than the Instant Pot. This makes it even better for cooking because having a little extra height on it is perfect for Instant Pot steamed meals.
When it comes to steaming food in the Instant Pot you would either rest your food onto the Instant Pot trivet or use a different device that comes with its own stand.
Instant Pot Steamer Basket Instructions
Above you will find the cooking times for various favourite steamed foods for the Instant Pot. As well as this below you will find all the best Instant Pot Steamer Basket options but whatever you choose, you can follow the same general Instant Pot Steamer Basket Instructions.
Place a cup of water into the bottom of your Instant Pot inner pot.
Add your steamer basket with the desired food.
Place the lid on the Instant Pot and set the valve to sealing.
Set the required time using the steam button.
When it beeps manually release pressure.
Use silicone mitts or a steamer holder to remove your steamed food.
Serve and enjoy!
Instant Pot Steamer DIY
When I first got my Instant Pot, I just wanted to steam food, yet here I was with my brand new 6 litre Instant Pot and no steamer basket. That is when my Instant Pot Steamer DIY came into play.
I had this old looking steamer basket from my soup maker machine: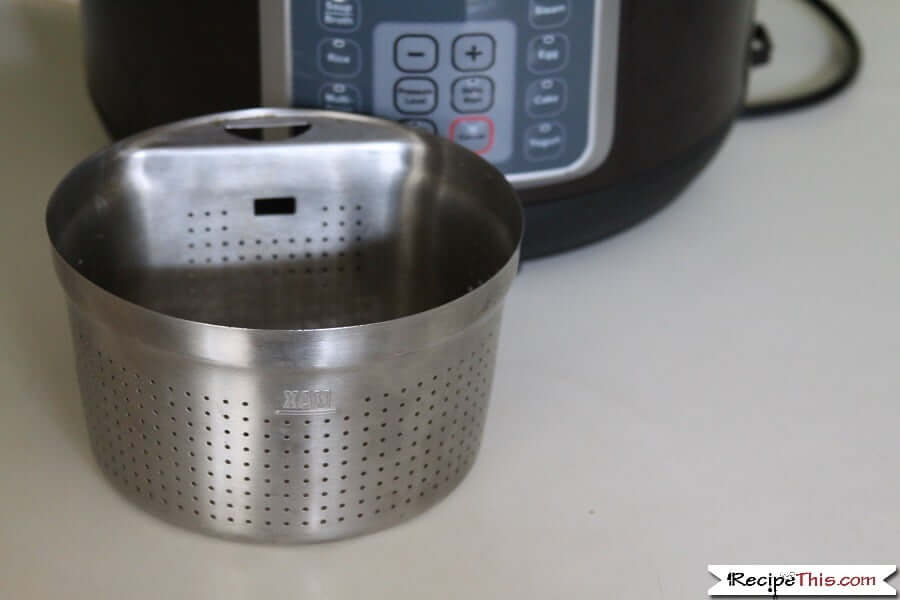 Doesn't it look old and past its best?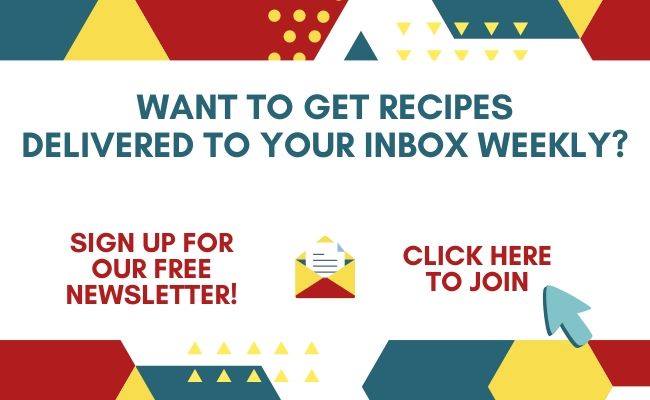 This steamer basket is what I used for the first year of Instant Pot steam recipes. I had used it so many times with my old soup maker. It had made my daughter all her food for when she was being weaned off the breast and onto pureed baby food. It had also served up a lot of different soups too.
It was sat in our pantry waiting for a new purpose.
That's what I am telling you today. If you have just bought your Instant Pot and just want to get it out and get it used, then find an Instant Pot Steamer DIY option. Plus, it will give you great experience with learning how to steam in the Instant Pot using a steamer basket.
I also don't like to waste money and I would recommend that if you have something in your kitchen that will work as an Instant Pot Steamer Basket to give it a go first.
Best Vegetable Steamer For Instant Pot
For my favourite best vegetable steamer for the Instant Pot it is the Kitchen Deluxe Vegetable Steamer Basket. It is like magic. The magic is so good that I can't get my kids off it. They keep opening the vegetable steamer and then closing it. They think it is their new kitchen toy!
How it works is that this vegetable steamer is on its own legs, so you don't need to use the trivet that comes with the Instant Pot. You simply load up your food into the basket and you can expand the size of it while it is sat in your Instant Pot. That way if you have more food you can make room for it.
BUT this means that it is so much better for if you have a smaller or larger Instant Pot as you can make the size work with the space you have to work with.
It is made with 100% stainless steel and it is also perfect for travelling with. We took it with us this summer to Spain for a week with our Mealthy Multipot and it was such a space saver. This also makes it perfect for if you are living in an RV.
Best Steamer Basket For Instant Pot 8 Quart
Let's start with a bit of cultural trivia. If you are new to our blog, you might not know that we live in Portugal and that the European measurements and cultures can be somewhat different. Well one of those famous differences is that the 8 quart is called 8 litre and the 6 quart is the 6 litre. Just like we work off litres and that cups are alien to us.
That being said, we have the 6 litre and 8 litre Instant Pot in our kitchen as well as the 6 litre Mealthy Mulipot or quarts to you!
I have always wondered about sourcing the Instant Pot Accessories and how different it is for the 8 but have found that it's a little bit deeper making it perfect for this double expandable steamer basket that I have.
Just like the one above, except this one is a 2 in 1 and you can cook a lot more food in it. Sadly, when I placed it in my 6 it was slightly too tall.
But if you have the 8 quart it is PERFECT.
Best Stackable Steamer For The Instant Pot
I would highly recommend this stackable steamer for the Instant Pot. It is by far the best stackable steamer you could own, as long as this is the kind of food you want to cook in it.
That is because this best stackable steamer is meant for when you want to cook more than one thing at the same time, but keep the food separate.
It is perfect if you plan on cooking Instant Pot Meatloaf in one unit and then Instant Pot Mashed Potatoes in the other.
BUT if the Instant Pot Steamer for you just means steaming your vegetables or making baked potatoes, then I would consider a stackable steamer as an unnecessary extra.
Best Instant Pot Steamer For Eggs
One type of cooking that is always mentioned in the Instant Pot, is eggs. It like you have an Instant Pot now so you must cook eggs in it and it can be a bit overwhelming for Instant Pot Beginners.

However, as I am sure you would expect there are accessories for cooking eggs in the Instant Pot. Not just the one either, there are several. Therefore I wanted to share with you the best Instant Pot Steamer accessories for cooking eggs.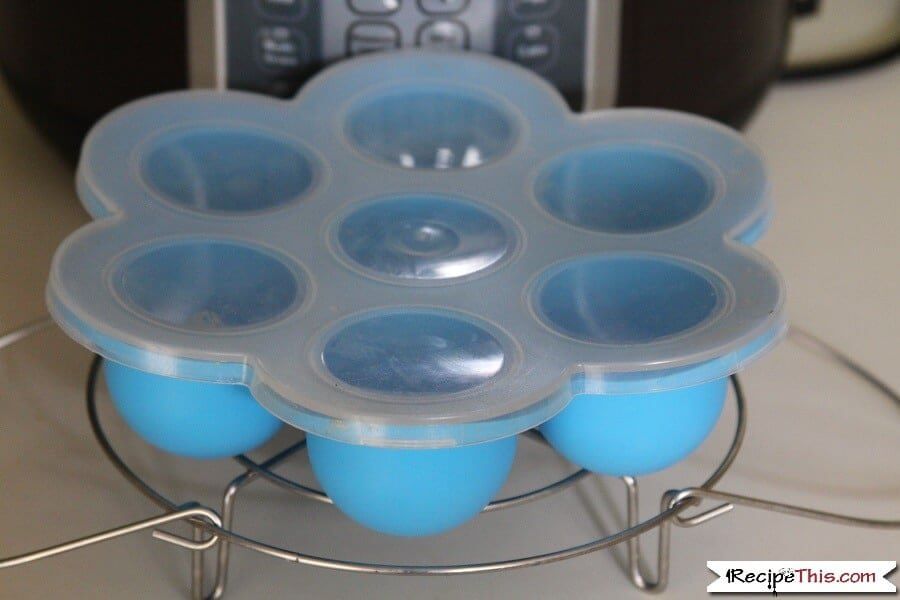 Egg Moulds – Place the egg mould on top of your steamer trivet and it will cook the most amazing Starbucks Egg Bites. Unlike many egg moulds I see in recipes for egg bites, this one comes with a silicone cover. This means you won't have any leaks and it is easier to transport your egg bites to and from the Instant Pot without burning yourself. The egg mould is also perfect for any type of shaped food for example you could do cute little meatloaves in the Instant Pot too.
Double Egg Trivet – This is perfect if you love steaming soft or hard boiled eggs in the Instant Pot. You could double it up and have two layers of eggs or just stick with one layer. We're only a family of 5 with 1 egg hater in the family, so its rare we do a double shelf.
Best Instant Pot Steamer Basket Alternative
A lot of these Best Instant Pot Steamer Basket options I have shared with you are like magic and are rather unusual to a brand-new Instant Pot user. You might just want something that is simple and straight forward and reminds you of how you cook right now.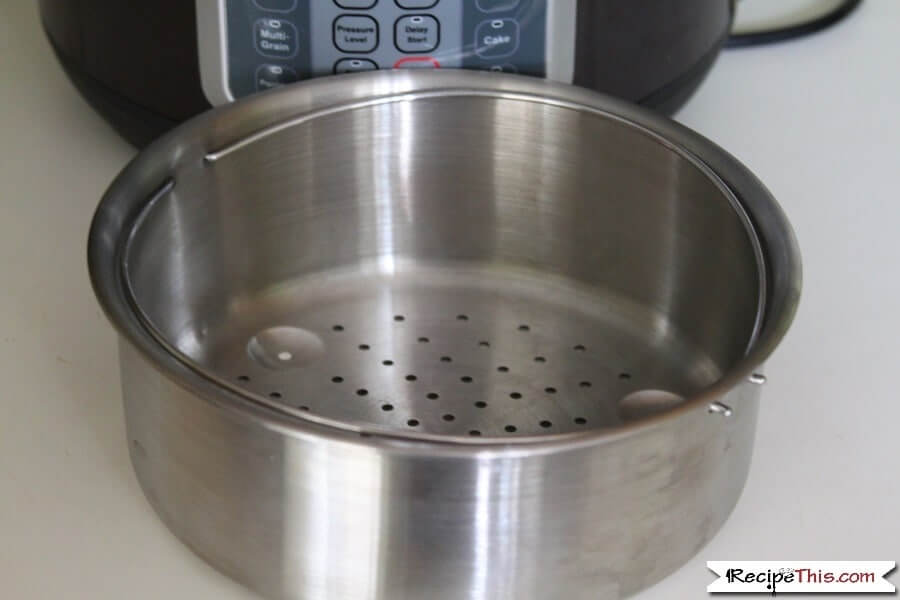 If that is YOU then a big standard steamer basket is right up your street. We use the one we received with our Mealthy Multipot but here are a few other versions.
Instant Pot Steamer Set
Another option is to buy an all in one Instant Pot Steamer Set. This is particularly useful if you are just starting out with Instant Pot Accessories and want to save yourself time and hassle.
It comes with a lot of Instant Pot Steamer accessories as well as many other essential Instant Pot tools.
Some of the Instant Pot Accessories that are included that are also mentioned above include:
Egg Bite Moulds
Egg Trivet
Steamer Basket
Tall Trivet
Steamer Divider
Best Steamer For The Instant Pot?
I have introduced you to all the best steamers for the Instant Pot, but I bet what you're really wondering is which is the best of the best? If you could only buy one, which Instant Pot Steamer Basket would I buy?
RecipeThis.com Opinion: Well the truth is it comes down to personal opinion and what you plan to steam in your Instant Pot. We own all the Instant Pot Steamer Baskets that I have mentioned above and the one we use the most is this one. We use it for steaming vegetables and love the fact that as a single tier steamer basket it expands whenever we need it to.
Best Instant Pot Steamer Basket Unboxing
Above you can watch the video as we unboxed our new Instant Pot Steamer Basket Accessories for the first time and see what they look like up close. It makes a great introduction to the Instant Pot Steamer Basket options.
Where To Buy Your Instant Pot Steamer Basket?
You can click here and buy the steamer basket that we use the most (the one tier expandable one) via Amazon.
But if one of the other Instant Pot Steamer Baskets that we have mentioned today appealed to you more, then here is the quick links to the rest of the Instant Pot Steamer Baskets that we mentioned: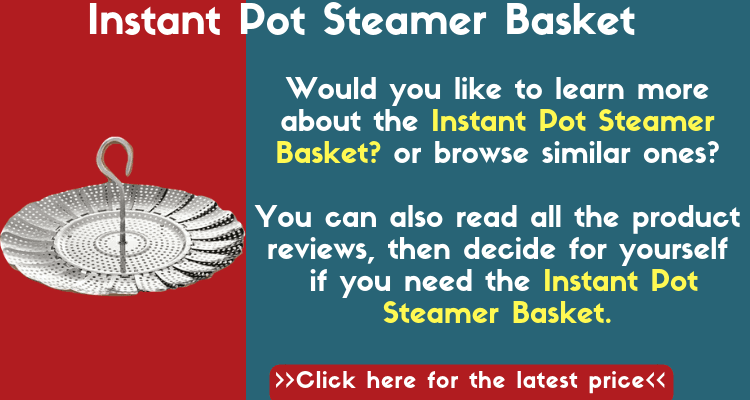 Can't buy it now? Then pin it for later!
Join The RecipeThis.com Community:
Facebook Group | Pinterest | Twitter
Plus, don't forget to subscribe below to join our email newsletter with updates of our latest recipes, latest freebies, our cooking stories, plus much more: